Sports
Seniors Parker, Legel lead CdA to state
Thu., Feb. 16, 2012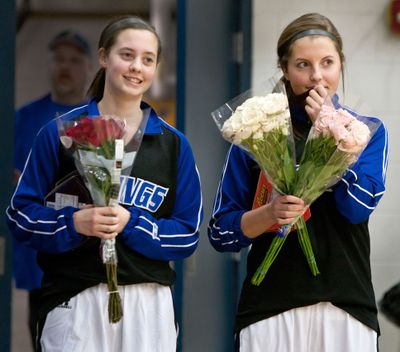 The scoring averages may not show it, but the Coeur d'Alene girls basketball team's two seniors, Kyeli Parker and Erin Legel, have had more of an impact this season than their two previous years on varsity.
Balance is the word that best describes Coeur d'Alene's starting five. Not one player scores in double figures, yet each is capable of a big game. Fewer than three points per game separate the five starters. Legel averages 9.2 points and Parker averages 6.7.
On a team loaded with interchangeable parts, Legel shares point guard duties with junior Caelyn Orlandi. Parker is a shooting guard but also handles the point at times.
Legel signed with the University of Great Falls, an NCAA Division II school in Montana. Parker's basketball career is coming to an end with the 5A state tournament that begins today in Nampa. She doesn't plan on pursuing athletics in college.
"Erin has grown up a ton," CdA coach Dale Poffenroth said. "Basketball is very serious to her."
So serious, in fact, that when Legel was a freshman she made Poffenroth sign a contract guaranteeing that he would be around until she finished at CdA.
Legel still has the contract that Poffenroth signed.
The contract reads: "Mr. Poffenroth will not retire until after the year 2012. If he does every day after basketball practice I will come to his house and bug him. That way he will get so annoyed that he will have to come out of retirement."
Poffenroth chuckled when he recalled signing the contract. Although he plans to return for a ninth season, he won't be signing any contracts with other players.
"If a kid is already in high school, there's a good chance I'll coach until the player graduates," he said. "But I won't guarantee a sixth-grader that I'll be around that long."
Poffenroth has watched his seniors blossom the past three years. Legel, painfully shy at times, is a paradox of her personality on the court. She has no fear shooting the 3-pointer and plays solid defense.
Parker wears her emotions outwardly, and most of the time she wears an ear-to-ear grin.
"Her smile is infectious," Poffenroth said.
Parker is the vocal leader, Legel is the leader by example. It's a CdA tradition that a senior gives a pep talk to the players before each game. That role belongs to Parker. Legel might add something here and there but she mainly nods her head in support.
Poffenroth has been pleased with both players this season. Both are two-year starters.
"Kyeli has played so much better than last year," Poffenroth said.
As one of the first players off the bench as a sophomore, Parker has grown from a player with deficiencies in ball handling and defense to one without any glaring liabilities.
Legel also was one of the first players off the bench as a sophomore. She was starting last year when about halfway through she asked Poffenroth to come off the bench instead of starting. It coincided with the return of a player who had recovered from an ACL injury.
Legel told a reporter that she felt more comfortable coming off the bench than starting. Poffenroth never asked Legel for a specific reason, but he suspected she was taking a mature course trying to help team chemistry.
She admitted this week that she did what she thought was best for the team.
"It was a mixture of both," Legel said. "I was looking out for the chemistry. That's all I'm going to say."
Legel was always on the court at the conclusion of games. In fact, she took CdA's last shot of the season a year ago.
CdA trailed by three points in the championship game to Lewiston, and Poffenroth called timeout to draw up a last shot. He designed it for Legel.
Legel came off a screen and launched a 3-pointer that bounced off the rim. Both Poffenroth and Legel claim she was fouled. The referees didn't see it that way.
"I got hit and fell to the court," Legel said.
Parker contemplated not turning out this year.
"Over the summer I made up my mind I wasn't going to play," Parker said. "I talked to some friends. Everyone I talked to said it's my senior year and that I'd regret it."
She had a change of heart.
"I'm definitely glad I changed my mind," Parker said.
The seniors want a state championship for their own. They were part of the team that won two years ago, but it wasn't their title.
They say defense will be the key.
"If we can stop people, our offense will come sooner or later," Legel said. "I'm not too worried about offense."
"If we can hold teams down like we have all season, we have a good shot at bringing home the state championship," Parker said.
Local journalism is essential.
Give directly to The Spokesman-Review's Northwest Passages community forums series -- which helps to offset the costs of several reporter and editor positions at the newspaper -- by using the easy options below. Gifts processed in this system are not tax deductible, but are predominately used to help meet the local financial requirements needed to receive national matching-grant funds.
Subscribe to the sports newsletter
Get the day's top sports headlines and breaking news delivered to your inbox by subscribing here.
---