Sports
Next stop for U.S. boxing trio: China
Sun., Feb. 19, 2012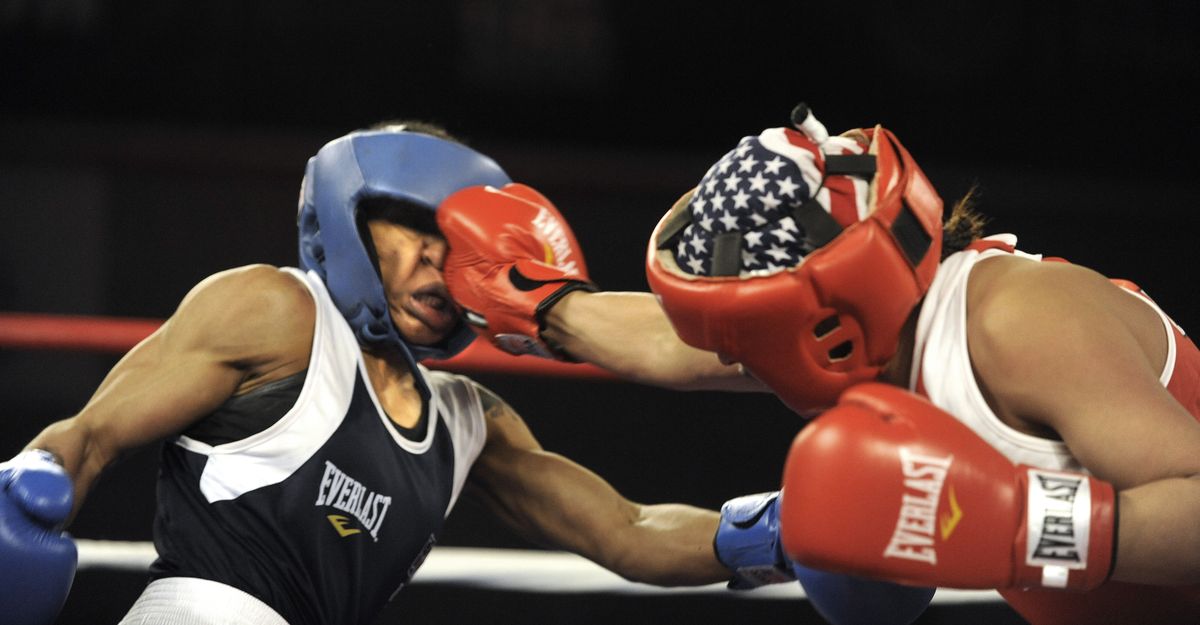 Marlen Esparza, right, tags her opponent, Tyrieshia Douglas, during their flyweight championship match. (Christopher Anderson)
Here's the thing about the boxing trials that decide the U.S. Olympic team: They aren't over even when they're over.
For Marlen Esparza, Claressa Shields and Queen Underwood, the road to London this summer now takes a detour through China.
So it wasn't exactly anti-climactic Saturday night in the final round of the U.S. Olympic Team Trials for Women's Boxing at Northern Quest Casino – but there weren't any exuberant demonstrations of joy from the three champions, either.
"It's all over at once," said Underwood, "but for me this is just the beginning."
That's because Olympic qualifying requires fighters to finish in the top eight in their weight class at the AIBA World Championships in Qinhuangdao, China, May 9-20. Failing that, they can also hope to be one of four additional entrants selected by committee.
As a result, the sense of accomplishment seemed muted, though the relief of surviving this double-elimination ordeal – and not have to contend with a box-off today – was tangible.
"I don't believe in second chances," said Underwood, the 27-year-old Seattle lightweight who carried the pressure of being a prohibitive favorite if only because she was the focal figure for all the pre-event publicity.
"I know I had the opportunity to come back (today) if everything didn't go as planned, but that wasn't in my rulebook. I told myself I wanted to fight four times and I did."
Underwood fulfilled her plan by punching out a 22-19 decision over Mikaela Mayer of Los Angeles – a rematch of Tuesday's winners' bracket semifinals and a fight that looked considerably more one-sided. But apparently it was only one-sided in the first round – the former Garfield High School sprinter staked herself to a rare early lead, 7-3.
"You guys have seen a lot of me coming back from losing the first round," she said, "and tonight I wanted to prove to you differently that I could come out and win the first round. "
Esparza's game plan was a considerable contrast to that.
The 22-year-old Houston flyweight was content to let Tyrieshia Douglas do the heavy throwing the first round with the expectation that she'd run out of gas – and it played out as scripted in a 32-17 decision.
"I knew she was going to get tired because she always does," Esparza said, "and then I could relax and throw what I wanted to throw.
"She tries to get you scared – and she really does scare people. It's intimidating at the time. She looks fearless. But I've watched her over and over and her first 30 seconds are like the best 30 seconds of your life. She's always the hardest hitter."
For Esparza – a six-time national champion who will eschew time off to shoot for an unprecedented seventh just a week from now – the victory felt like vindication, even if she was the top seed in her division.
"Everybody always says they're better than me, but that they do this wrong or that wrong and next time … I always hear about it," she said. "But everybody got two chances (here) and I still won."
Tika Hemingway had two cracks at Shields, losing to the 16-year-old wonder 23-15 on Thursday night. It was closer Saturday – judges had it 23-18 – but Shields didn't let herself get nearly as frustrated with the muscling and wrestling.
"Tika always gives a good fight," she said. "She's strong and comes into the ring with confidence to win, but I've beat her three times now."
And this time, Shields didn't pout over the score.
"The points don't matter – I won," she said, displaying a broad smile. "I've been working for this since I was 12 years old and four years later, I finally got it. Now I can really say that Claressa Shields is No. 1 in America at 165."
Local journalism is essential.
Give directly to The Spokesman-Review's Northwest Passages community forums series -- which helps to offset the costs of several reporter and editor positions at the newspaper -- by using the easy options below. Gifts processed in this system are not tax deductible, but are predominately used to help meet the local financial requirements needed to receive national matching-grant funds.
Subscribe to the sports newsletter
Get the day's top sports headlines and breaking news delivered to your inbox by subscribing here.
---