News > Spokane
Faith, memories of slain mother and sons sustain mourners
Hundreds attend funeral service
Mon., Feb. 20, 2012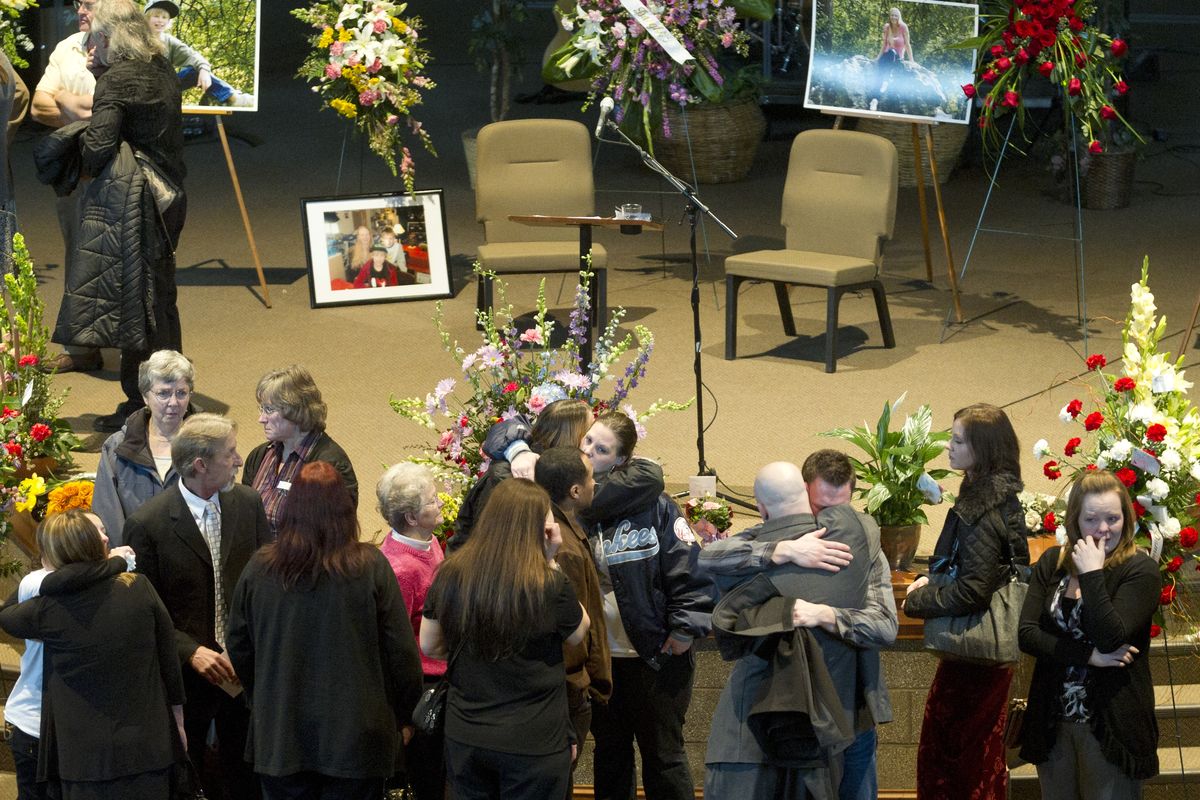 After the funeral service for Tracy Ader and her sons, 10-year-old Damien and 8-year-old Kadin, friends and family console one another Sunday at the Turning Point Open Bible Church. The three were found slain in their north Spokane home Feb. 10. (Colin Mulvany)
Tracy Ader, 32, was remembered for her contagious smile, her positive attitude and her love of her two sons. Damien, 10, was on the basketball team at Willard Elementary School and looked out for his brother, Kadin, 8, who liked to make people laugh.
Hundreds of people filled the Turning Point Open Bible Church in Spokane on Sunday to remember the three.
Although she missed her sister and nephews already, "I'm happy they don't have to be without one another," said Gabrielle Ponsness. The mother and her sons were found murdered Feb. 10. Police believe a family friend, Dustin W. Gilman, was responsible. Gilman, who had been staying with the Ader family, was found dead Feb. 13 from an apparently self-inflicted gunshot wound.
"Nobody can ever prepare you for something like this," said Tracy Ader's stepfather, Steve Ponsness. "How do you even put words to something like this?"
But Sunday's service wasn't about dwelling on how the three died. It was about celebrating how they lived.
Steve Ponsness said his grandsons often tried to compete with each other. But Damien, a fifth-grader, was always looking out for Kadin, a third-grader, he said.
And "Tracy worked her tail off," he said. She worked at Pitney Bowes, and she and Ponsness often talked about working in sales.
Crystal Bettencourt had known Tracy since high school. She said her children and Tracy's children were close, almost like cousins.
"It's hard," she said. "We'll miss her."
Bettencourt said she is remembering the good times she spent with Tracy. There were nights out on the town, swimming in the backyard, and big events, such as Tracy's wedding to Nick Ader, who was in the hospital when his family was killed.
"Her wedding was amazing," Bettencourt said.
Family photos were displayed in the church lobby and in a presentation during the funeral. There were Christmases, picnics and family vacations to the beach. There were photos of everyday activities: the boys helping Nick mow the lawn, climbing trees and playing sports. There were many of Tracy smiling. Steve Ponsness said faith in God has sustained him and the rest of the family through the past 10 days. He knows that members of the community have been praying for them, he said. If it weren't for the prayers, he said, he could have curled into a ball this past week.
Ponsness' brother, David, presided over the service Sunday.
"It's not a 'Goodbye forever,' " he told the mourners. "It's just a 'So long for now.' "
After tragedy, many are often left with questions about why something so terrible could happen. But Tracy's friend Bettencourt said she takes comfort in the family's life after their death.
"God picks his angels carefully," Bettencourt said.
Local journalism is essential.
Give directly to The Spokesman-Review's Northwest Passages community forums series -- which helps to offset the costs of several reporter and editor positions at the newspaper -- by using the easy options below. Gifts processed in this system are not tax deductible, but are predominately used to help meet the local financial requirements needed to receive national matching-grant funds.
Subscribe now to get breaking news alerts in your email inbox
Get breaking news delivered to your inbox as it happens.
---