Sports
Newport athlete Wiley turned his life around
Thu., Jan. 12, 2012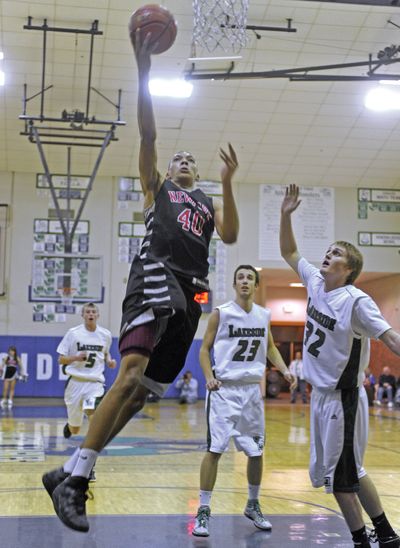 NEWPORT – Teachers at Lakewood High near Long Beach, Calif., would be stunned to learn that Jake Wiley will graduate this spring at Newport.
Additionally, they'd be shocked that he's landed a scholarship to play basketball at the University of Montana.
That's because Wiley passed one class his freshman year at Lakewood. He spent more time ditching classes rather than attending classes.
"There were teachers that told me I wasn't going to do anything with my life," Wiley said. "I don't blame them. At the time I loved football more than basketball. One teacher asked me how many players from Lakewood have gone on to play in college. I said I didn't know. The teacher said I wouldn't be one of them. I'm glad I've proved them wrong."
He moved with his father the summer before his sophomore year to Newport where a set of grandparents and other family lived, fleeing the drug- and gang-infested environment he was becoming all too familiar with for a fresh start.
By taking some classes online, he was able to catch up academically by the end of his sophomore year.
"I didn't have any lunches or breaks," Wiley said. "Any free time I had I was on the computer getting assignments done."
Fast forward to his senior year and Wiley is on track to graduate. His grade-point average his freshman year was 1.6; the GPA at Newport is 3.1.
Boys basketball coach Jamie Pancho has been not only a coach but a mentor for Wiley. He's kept Wiley on task in the classroom, and last fall he helped him send his transcripts to the NCAA to make sure he was eligible to enroll at Montana.
Wiley believes that had he stayed in Long Beach, he'd be a drop out and living a life going nowhere.
He didn't leave all the difficulties behind him when he moved to Newport. His life has had its share of trials the last three years.
His grandmother died in December 2010 and shortly thereafter his 50-year-old father died in his sleep, believed to be related to a previous heart issue, on Super Bowl Sunday.
The night before his father died, Wiley had a big game against Freeman, leading the Grizzlies to a district win.
The next morning Wiley opened up the newspaper and saw his name in a headline and a sizeable story about the game. He thought his dad was asleep on the couch. So he went to show him the newspaper.
"He wasn't breathing and I knew he was gone," Wiley said.
Wiley lives with his 82-year-old grandfather, Jack Wiley, near Diamond Lake.
"I'm overwhelmed with how well he's done here," Grandpa Wiley said. "He's had quite a time with his father passing away. I'm so proud of his accomplishments. I tell my friends that I used to be known around here as Jack Wiley. Now I'm known as Jake's grandpa."
Montana coaches became familiar with the 6-foot-7 Wiley through summer camps. Then Montana coaches and Wiley became reacquainted during AAU tournaments last summer.
After examining Wiley's transcripts last fall, Montana coach Wayne Tinkle invited Wiley for a visit. Just before Wiley returned to Newport, Tinkle offered a scholarship. Wiley accepted.
"Jake is a kid who is 6-7, has a nice frame on him, very bouncy, good perimeter skills – he can shoot it … ," Tinkle told The Missoulian newspaper when Wiley signed in November. "I feel, with time, adding some weight and so on, Jake could be a special player for us."
Wiley's been nothing short of special at Newport. A three-year starter in basketball and football, Wiley just went over 1,000 career points (1,044) last Saturday in his 66th career game.
Co-Most Valuable Player in the Northeast A League last year, Wiley is averaging 26.2 points, 10 rebounds and three blocked shots per game this season – not to mention about four dunks per game.
Last fall in football, Wiley had 52 receptions for 875 yards and eight touchdowns to go with two rushing TDs and two TDs on kickoff returns. He was a first-team all-league selection.
"He could easily play football in college," Newport football coach Adam Daniel said. "I love him. He's had a tough life and overcome a lot of hardships."
Pancho agrees.
"I'm from Sacramento and I understand what Jake has gone through – the peer pressure and outside influences," Pancho said. "He's endured a lot of trials the last three years. Given the hand he's been dealt, he's such an even-natured kid. He's still making strides in being accountable with grades and education and realizing the bigger picture.
"I've told him he's going to Missoula to get an education first. The team is second and a social life is third. That's what he's trying to practice here at school. It's hard to tell a kid that and for him to get it straight all the time, but he's working toward that."
On the court Wiley can't be missed. He shoots consistently well from 15-16 feet, has 3-point range and is active on defense.
Wiley has one goal this season. He wants to lead Newport to state for the first time since 1980. The Grizzlies (8-5 overall, 2-2 league) got a big league road win last Friday at Freeman.
"I hate losing more than I like winning," Wiley said.
That's music to Pancho's ears.
"He changes games and how teams defend us," Pancho said.
Wiley said he wouldn't be where he is today without his coaches, especially Pancho.
"When I got here, he told me what I needed to do and told me to go do it," Wiley said. "He sort of gave me a blueprint. He set me on a path. He's a great coach and a great mentor. He's a guy you want to be like."
Wiley is looking forward to Jan. 27 – Newport's final regular-season home game and Senior Night.
His mother, who is a court reporter and lives in Long Beach, will be on hand to see her son play for the first time in high school.
"I didn't know what I was getting into when I moved up here three years ago," Wiley said. "But it definitely worked out."
Local journalism is essential.
Give directly to The Spokesman-Review's Northwest Passages community forums series -- which helps to offset the costs of several reporter and editor positions at the newspaper -- by using the easy options below. Gifts processed in this system are not tax deductible, but are predominately used to help meet the local financial requirements needed to receive national matching-grant funds.
Subscribe to the sports newsletter
Get the day's top sports headlines and breaking news delivered to your inbox by subscribing here.
---
Subscribe and log in to the Spokesman-Review to read and comment on this story