News > Washington Voices
Piper Swaney's journey led her to Asian-inspired art
Sat., Jan. 21, 2012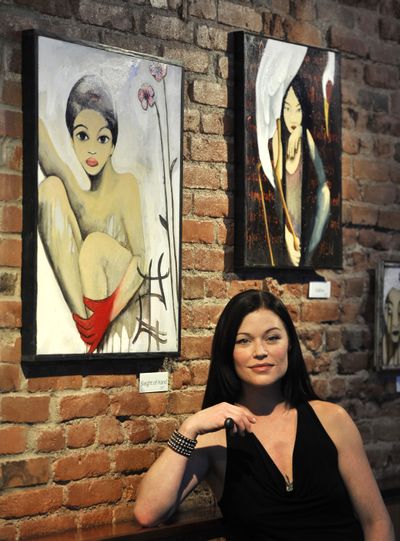 Piper Swaney keeps a diary, a visual diary, representing her emotions in oil paint. She often asks herself why she is bringing forth a certain image and months later, she will recognize that the finished piece somehow corresponds to what she was going through at that time.
"I'm processing emotions," she said, "and processing the world."
Swaney, 38, grew up in Otis Orchards. In the eighth grade, she won a state art competition and $500. In high school, she created a calendar for a bank but art took a back seat to partying. She graduated from East Valley High School and headed west for college. Starting as a psychology student at Central Washington University, she eventually switched to art.
"I was really into experimental psychology but I knew that was a risky choice and so is art," she said. "I decided on art."
She graduated with a bachelor's in fine art and oil painting and moved to Seattle, and then to Germany where she almost married. Instead, she moved back to Seattle where she worked as a publicist at a movie studio for the next four years. She got pregnant and moved back to Spokane just before giving birth to her first son.
"An important aspect to the continuation of painting for me through my adulthood came after my first son. I vowed I would live as I spoke, that when you love to do something you should do it," she said. "I wanted him to see that life is not just a lust for money or lack of, but a journey."
While living in Seattle, Swaney organized her own exhibits in buildings and cafes. In Spokane, she showed her work at the Artist's Tree Gallery before it closed. Currently, 20 new paintings hang on the walls of Agave, 830 W. Sprague Ave. In February, she will display her work at Brews on Washington, 7 S. Washington St.
Looking at Swaney's work, you might assume she's Asian because of the herons, cranes and Asian women, but she's not. Her inspirations come from the décor in her childhood home, her desire to be Asian as a little girl, Korean friends and an article she read about the Korean War. "Much of their artwork was lost during times of war," she said.
To her, Korea became a symbol that then became the basis of her painted storytelling and her views of the world.
"I have always tried to draw lines between coincidences with numbers, phrases and colors," Swaney said. "In the paintings I use this iconography of my own to convey a story in a picture."
The Verve is a weekly feature celebrating the arts. If you know an artist, dancer, actor, musician, photographer, band or singer, contact correspondent Jennifer LaRue by email at jlarue99@hotmail.com.
Local journalism is essential.
Give directly to The Spokesman-Review's Northwest Passages community forums series -- which helps to offset the costs of several reporter and editor positions at the newspaper -- by using the easy options below. Gifts processed in this system are not tax deductible, but are predominately used to help meet the local financial requirements needed to receive national matching-grant funds.
Subscribe to the Coronavirus newsletter
Get the day's latest Coronavirus news delivered to your inbox by subscribing to our newsletter.
---
Subscribe and log in to the Spokesman-Review to read and comment on this story