Sports
Area women's basketball: Gonzaga starts slowly, rallies to win
Sun., Jan. 22, 2012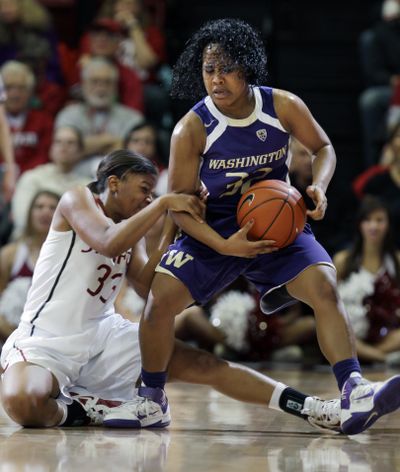 Katelan Redmon led a balanced attack with 12 points and Gonzaga rallied after a slow start and beat host San Diego 54-44 in West Coast Conference women's basketball play on Saturday.
The Bulldogs, ranked 25th in the coaches' poll, scored just eight points in the first 12 minutes and trailed 22-11 before closing the first half on a 12-1 run.
GU's Haiden Palmer scored 11 points and Kayla Standish added eight.
The Bulldogs improved to 17-3 overall and 6-1 in the WCC. The Toreros fell to 13-5 and 4-2.
On Thursday, Gonzaga plays host to Loyola Marymount at 6 p.m.
Fresno State 72, Idaho 49: Ki-Ki Moore scored 16 points and grabbed 15 rebounds as the Bulldogs pulled away in the second half and beat the Vandals in Western Athletic Conference play at the Cowan Spectrum in Moscow, Idaho.
Idaho committed 29 turnovers and was outrebounded 47-32. Fresno State (15-4, 3-0) held a 24-5 advantage in offensive rebounds.
Alyssa Charlston scored a team-high 15 points on 7-of-11 shooting for the Vandals. Krissy Karr added 11 points.
Idaho (5-14, 0-3) is host to Nevada on Monday.
(4) Stanford 65, Washington 47: Nnemkadi Ogwumike scored 17 points, Chiney Ogwumike had 15 points and 11 rebounds and the fourth-ranked Cardinal beat the Huskies in Pac-12 action in Stanford, Calif.
Taylor Greenfield came off the bench to score 12 points and spark a late rally for the Cardinal (17-1, 8-0), who won their 73rd consecutive home game and 65th straight against a conference opponent.
Jazmine Davis scored 16 points to lead the Huskies (10-7, 2-5), who lost their 12th straight against Stanford. Mercedes Wetmore added 11 points.
North Idaho 84, Colorado Northwestern 74: Angela Woods made four 3-pointers and finished with 18 points and six rebounds as the Cardinals stayed perfect in the Scenic West Athletic Conference with a win over the Spartans in Rangley, Colo.
Korina Baker and Ashleigh Kelman-Poto each added 14 points for NIC, which won for the 10th consecutive time.
The key to the game was the Cardinals' efficient free-throw shooting. NIC made 24 of 30 from the line while Colorado Northwestern made 3 of 5.
The Spartans were led by Jaynelle Johnson's game-high 20 points.
NIC improved to 16-2 overall and 5-0 in the SWAC. Colorado Northwestern fell to 9-10 and 0-5.
Local journalism is essential.
Give directly to The Spokesman-Review's Northwest Passages community forums series -- which helps to offset the costs of several reporter and editor positions at the newspaper -- by using the easy options below. Gifts processed in this system are not tax deductible, but are predominately used to help meet the local financial requirements needed to receive national matching-grant funds.
Subscribe to the sports newsletter
Get the day's top sports headlines and breaking news delivered to your inbox by subscribing here.
---