Sports
Choosing basketball over baseball paid off for Shadle's Boese
Thu., Jan. 26, 2012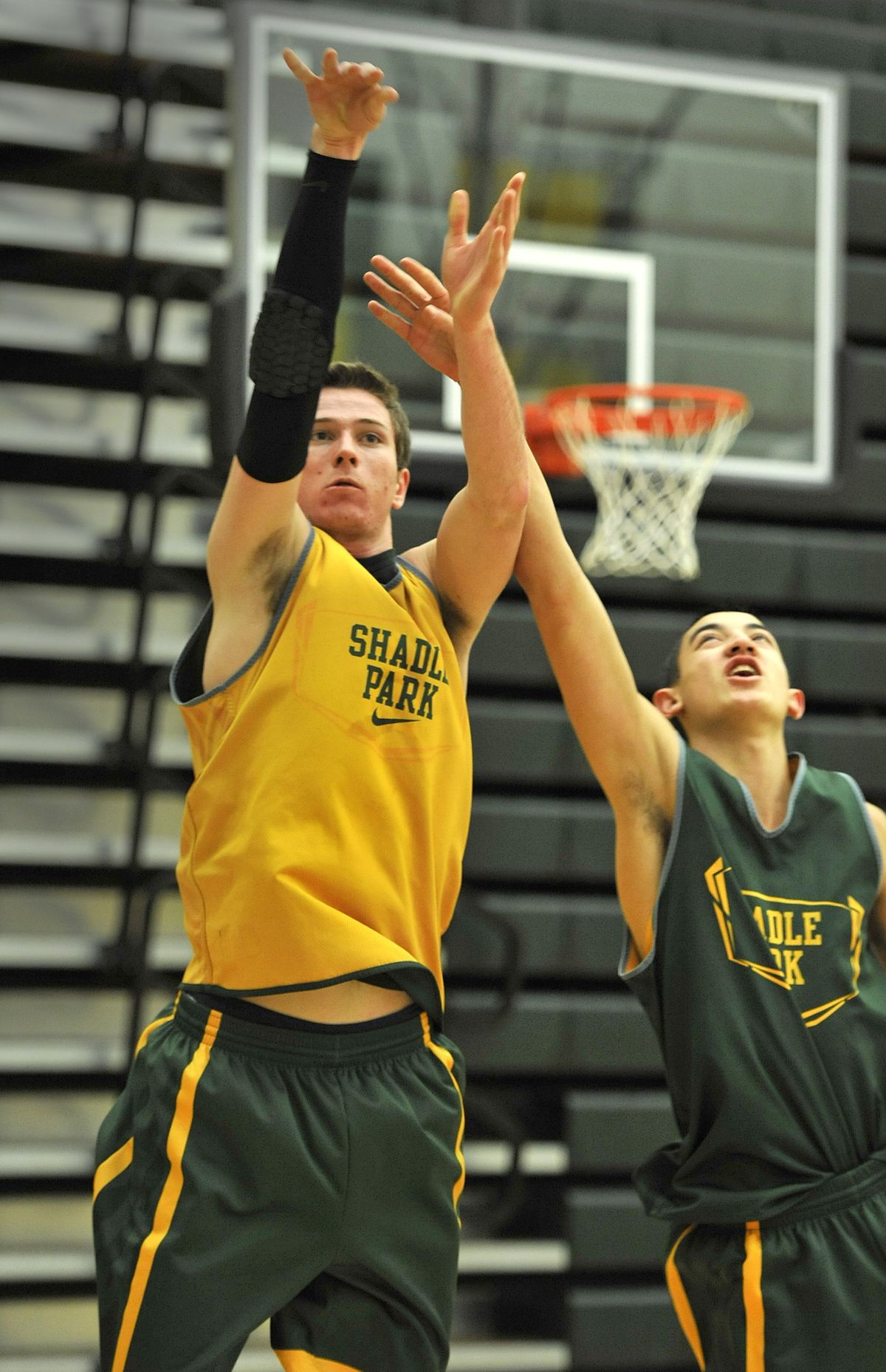 Shadle Park's Brett Boese, shooting over George Pilimai during practice, is committed to WSU. (Dan Pelle)
Going into his freshman year, Brett Boese thought his eventual path to college would be baseball.
A glance and an injury, though, steered the Shadle Park senior toward basketball. It started the spring of his freshman year and was confirmed by a baseball injury a few months later that summer.
Boese was with the baseball team practicing in Shadle's auxiliary gym when he noticed some older Shadle athletes playing basketball in the main gym.
"That was the day I knew I wanted to be a basketball player," Boese said. "We were practicing, but I kept peeking over and seeing Anthony Brown, Robby Douglas, Jake Rodgers and Taylor Pettersen playing."
Boese (pronounced "base") walked away from baseball for good after attending the Baseball Northwest Showcase camp in Portland in August.
"I felt pain in my throwing elbow and I when I came home I went to the doctor," Boese said.
The doctor discovered Boese had a rare bone disease – osteochronditis dissecans. It's a condition in which bone can die because of lack of blood circulation.
"The doctor told me I needed surgery," Boese said. "I asked him to hold off until after the basketball season."
So when basketball concluded – he was the sixth man as a sophomore as Shadle placed sixth at state – Boese had another X-ray. The doctor discovered the bone in his elbow had healed by 80 percent and was still healing.
"It really was a miracle," Boese said. "I was told healing occurs in one out of every 500 cases. So I didn't have to have surgery."
Boese believes he was destined to be a basketball player.
"I knew I was going to have to pick between baseball and basketball at some point," he said. "I think (the baseball injury) was a blessing in disguise. It forced me to pick basketball, in a way. I loved baseball, too, but basketball was my No. 1 sport."
Boese never would have guessed, though, during that freshman year he'd be heading to an NCAA Division I school to play basketball.
The path toward that reality took on a life of its own – despite a basketball injury this time.
Six games into his junior season, Boese broke the fifth metatarsal in his foot.
"I felt it pop and I knew immediately it was broke," Boese said.
A screw was inserted during surgery. Boese was cleared to start playing again a week before the first AAU tournament in April.
It was the start of a highly successful club season. He received several scholarship offers, including a request to walk on at Gonzaga University, where he could have free tuition because his mother works there.
He narrowed his list to four – Washington State, Portland, Saint Mary's and Texas-El Paso, and he visited each. His next-to-last visit was to Saint Mary's.
"I thought at the time it was the program that best fit me," Boese said.
His final visit was to WSU.
Two uncles – former Shadle boys head coach Jim Meredith and his brother, Dave – played at WSU. Jim Meredith was a three-year starter in Pullman, where he was a 6-7 wing.
"There were a number of selling points," Boese said. "I love the proximity so family and friends can watch me. Another was when I learned about the credentials of the business school."
Boese didn't need long to decide. Hours after returning home and talking with his parents, he called WSU coach Ken Bone to give an oral commitment. He signed in November.
"I wanted to play at the highest level possible and WSU gives me that chance in the Pac-12," Boese said.
Boese, who is also a standout in the classroom with a 3.95 grade-point average, is grateful for the impact he's had from a number of people. Chiefly among those are his Uncle Jim, who coached his younger AAU teams and calls before each game to encourage him; Jim Psomas, coach/director of the Eastern Washington Elite AAU program (the boys equivalent of the highly successful Spokane Stars girls program); and Tim Gaebe, his coach at Shadle.
"I've been so fortunate to have Uncle Jim preach the fundamentals to me," Boese said. "He tells me my shot resembles his and he could flat out shoot it at WSU. Jim Psomas has been one of the best coaches I've had. He's been a friend and a mentor. He's shown me the most confidence of anybody I've been around. He knew I was a Division I player before I did. And Coach Gaebe and I have been together for four years. We've had a great run together and he's helped get me to where I am now."
After having an outstanding summer, Boese looked forward to his final season at Shadle. He's struggled shooting from the floor, though. Going into the week, he was shooting just 26 percent from 3-point range, 39 percent inside the arc and 35 percent overall. The most redeeming shooting statistic has been at the free-throw line, where he's firing at an 81-percent clip.
"Early in the season I was thinking too much," Boese said. "Now I'm just letting it go and having a shorter memory."
He's averaging 15.3 points in league and 15.7 overall along with 9.2 rebounds.
"He just hasn't shot the ball as well as he can yet," Gaebe said.
Psomas watched Boese knock down shots regularly against Division I level players all summer.
"He just needs the slightest window and the shot is down," Psomas said. "I told him this summer he had to score for us to be successful and he did."
Gaebe believes Boese is harder on himself than anybody else is.
"I have a very competitive nature – in the classroom, too," Boese said. "Part of the problem is I'm over analytical and a perfectionist. I'm my own worst enemy."
He draws the best defender from most teams. And he said some of the best defense in the state is played in the GSL.
If Boese could rewind his senior season and start over, he'd do something different.
"In a way I sort of thought I had to prove myself after I missed most of last year," Boese said. "In reality I didn't. But if I could start the season over, I'd let the game come to me more. There goes my analytical side again."
"He's got a cerebral view of things," Meredith said. "He has a high basketball IQ. He's not the quickest kid around, but he's one of the smarter kids in how to play the game."
Psomas agreed.
"He's got a charismatic personality," Psomas said. "He has a great will to win. He's the kind of kid you'd want your daughter to marry. He's the whole package. He's going to be very successful in life."
Local journalism is essential.
Give directly to The Spokesman-Review's Northwest Passages community forums series -- which helps to offset the costs of several reporter and editor positions at the newspaper -- by using the easy options below. Gifts processed in this system are not tax deductible, but are predominately used to help meet the local financial requirements needed to receive national matching-grant funds.
Subscribe to the sports newsletter
Get the day's top sports headlines and breaking news delivered to your inbox by subscribing here.
---