A&E > Food
Red, white and divine holiday treats
Wed., July 4, 2012
Don't let the middle-of-the-week holiday stop you from pulling together a quick, patriotic dessert for your Fourth of July festivities.
Here are four festive recipes that can be made today and served after the barbecue tonight:
Star-spangled Strawberry Shortcakes
This recipe from the Smitten Kitchen website easily becomes a fun holiday dessert by using a cookie cutter to make star-shaped shortcakes. You can find step-by-step instructions (minus the star-shaped cookie cutter) on the original post at smittenkitchen.com. Search for "strawberry shortcakes."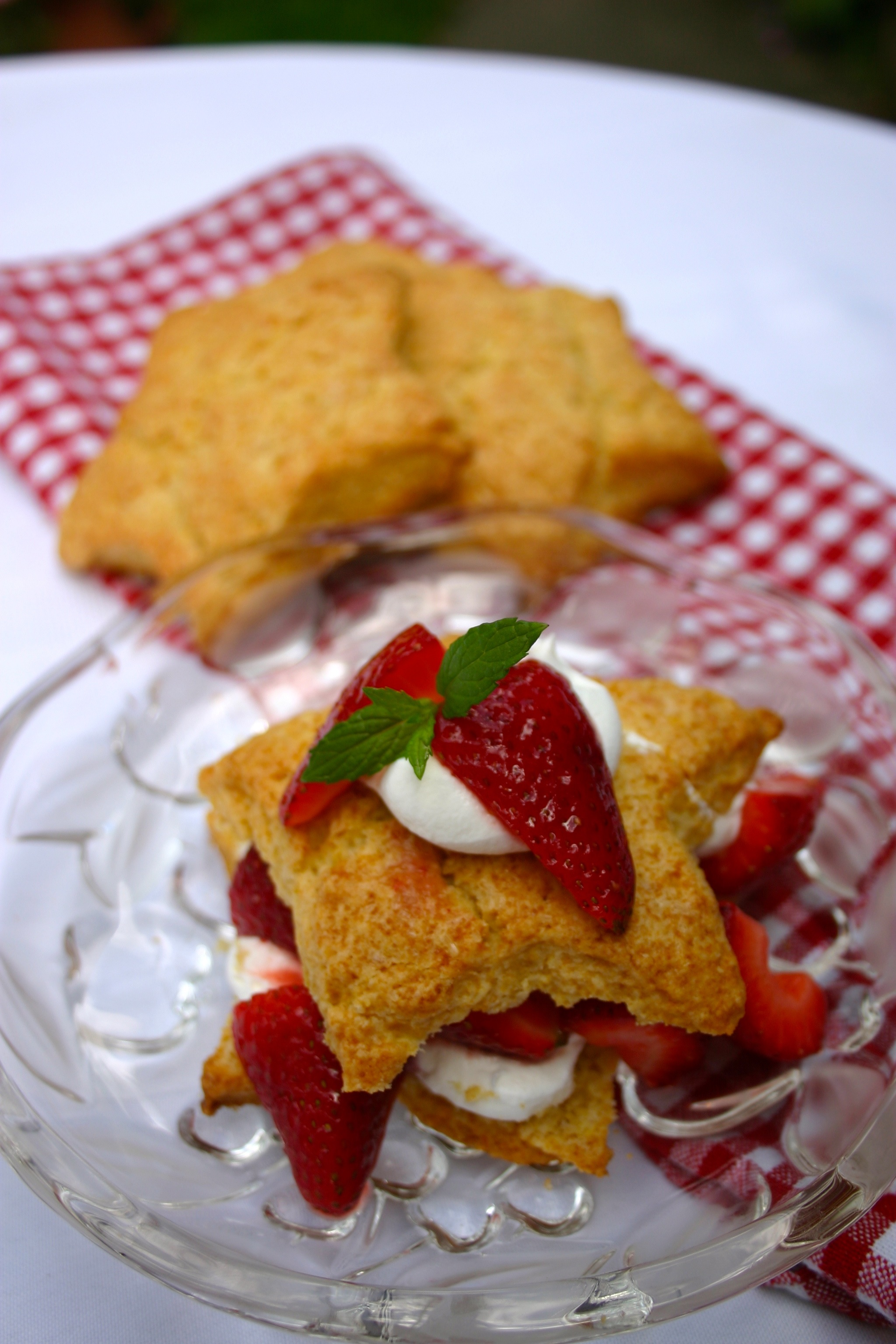 Strawberry Shortcakes
From www.smittenkitchen.com. Adapted from Claudia Fleming and Russ Parsons
1 2/3 cups all-purpose flour
3 1/2 tablespoons sugar
1 tablespoon plus 1/2 teaspoon baking powder
2 hard-boiled egg yolks
1/8 teaspoon salt
6 tablespoons cold unsalted butter, cut into 1/2-inch cubes
2 teaspoons lemon or orange zest (optional)
2/3 cup plus 1 tablespoon heavy cream
Coarse sugar for sprinkling
For shortcake assembly:
1/2 pound strawberries, washed, hulled and quartered
2 tablespoons sugar
1 tablespoon lemon juice
1 cup whipping cream, whipped to soft peaks
In the bowl of a food processor, combine the flour, sugar, baking powder, egg yolks and salt. Pulse to combine. Add the butter and zest, if using, and pulse until the flour resembles coarse meal. Add 2/3 cup of cream and pulse until the dough comes together.
Turn the dough out onto a lightly floured work surface and gather into a shaggy mass. Knead a couple times to make it into a cohesive mass and then pat it into a rough circle about 6 to 7 inches in diameter, and 3/4 to 1 inch thick.
Using a sharp knife, cut the circle into 6 wedges and arrange on a parchment-lined baking sheet. Alternately, you can use a cookie cutter to make shapes of your choice. Chill for 20 minutes (and up to 2 hours).
Preheat oven to 350 degrees. Brush the tops of the shortcakes very lightly with heavy cream and sprinkle lightly with the coarse sugar. Bake until risen and golden brown, 18 to 20 minutes. Turn the pan around halfway through to ensure even cooking.
While the shortcakes are baking, toss the strawberries, sugar and lemon juice together in a bowl. Let stand several minutes. (If the strawberries are extremely firm, do this 30 minutes in advance.)
Split the shortcakes in half horizontally and set the tops aside. Place the bottoms on dessert plates and heap strawberries over them. Spoon whipped cream generously over the strawberries and replace the shortcake tops. Serve immediately with any remaining whipped cream on the side.
Yield: 6 servings
Strawberry-Blueberry Mint Coolers
These are a tasty way to show your red-and-blue stripes. A recipe for Strawberry-Honeydew Coolers in the July/August issue of Cuisine At Home inspired this version of a frozen dessert treat. Instead of using honeydew and basil, I decided to substitute blueberries and mint for holiday-inspired version.
The result is a refreshing, beautiful and calorie-conscious cooler that is perfect for a hot day.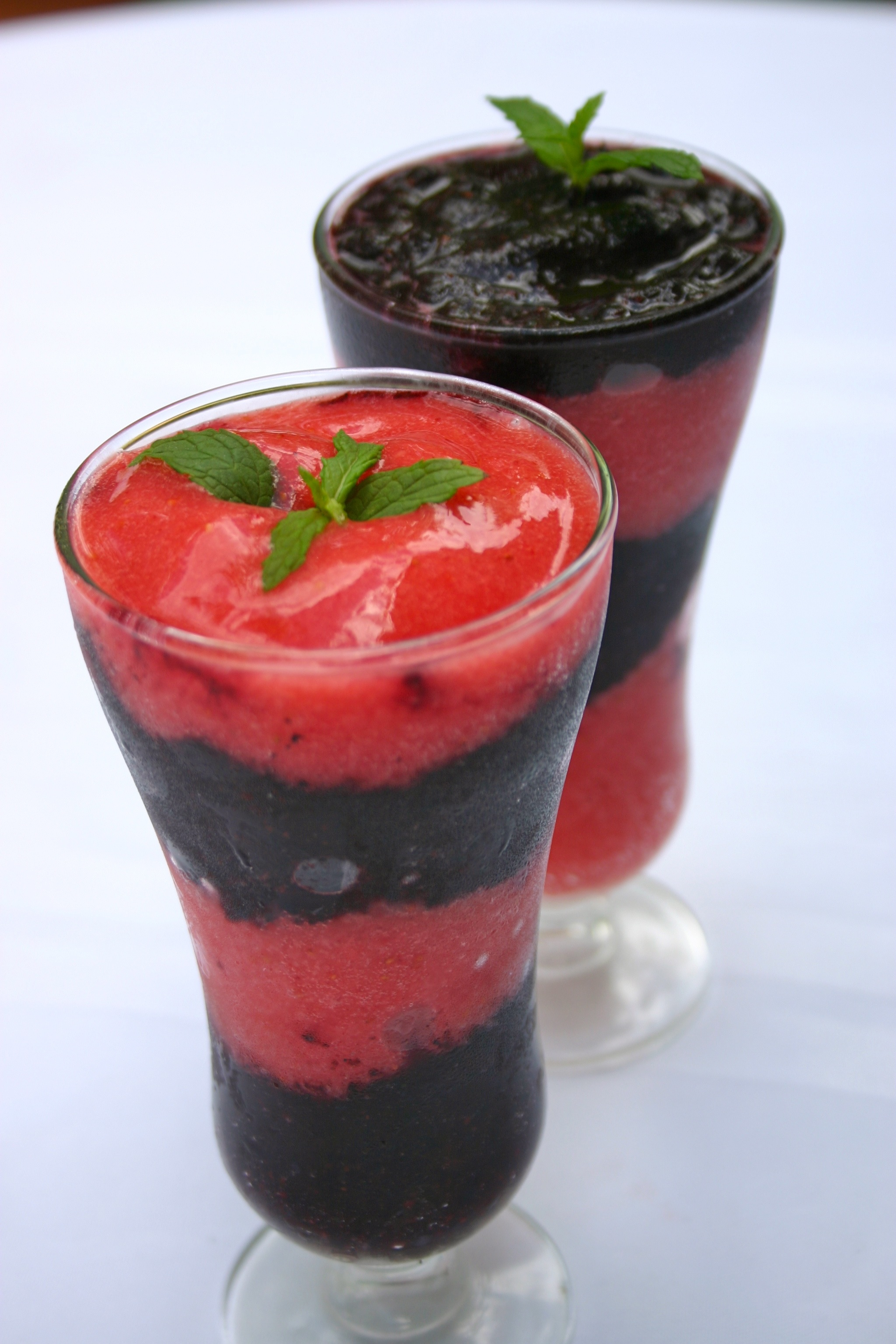 Strawberry-Blueberry Mint Coolers
Adapted from "Cuisine At Home," July/August 2012
3 cups blueberries, frozen
1 1/2 cups water, divided
4 tablespoons sugar, divided
1/4 cup fresh mint leaves
3 cups strawberries, hulled, halved and frozen
Puree blueberries, 3/4 cup water, 2 tablespoons sugar (or to taste) and mint in a food processor or blender until smooth. Remove puree from processor. Set aside.
Puree strawberries, remaining 3/4 cup water and remaining 2 tablespoons sugar (or to taste) in a food processor or blender until smooth.
Scoop half the puree into 4 tall narrow glasses; top with some blueberry puree and continue layering to top of glasses. Serve coolers immediately
Yield: 4 servings
Patriotic Parfaits
These pretty red, white and blue layers will make both the kids and the adults happy. If you don't have the time or the patience to wait for the layers to chill, just make red and blue gelatin and put it into the refrigerator in the morning.
When it is time to serve, layer the colored gelatin with whipped topping to get the same effect. The inspiration for these is on www.glorioustreats.com.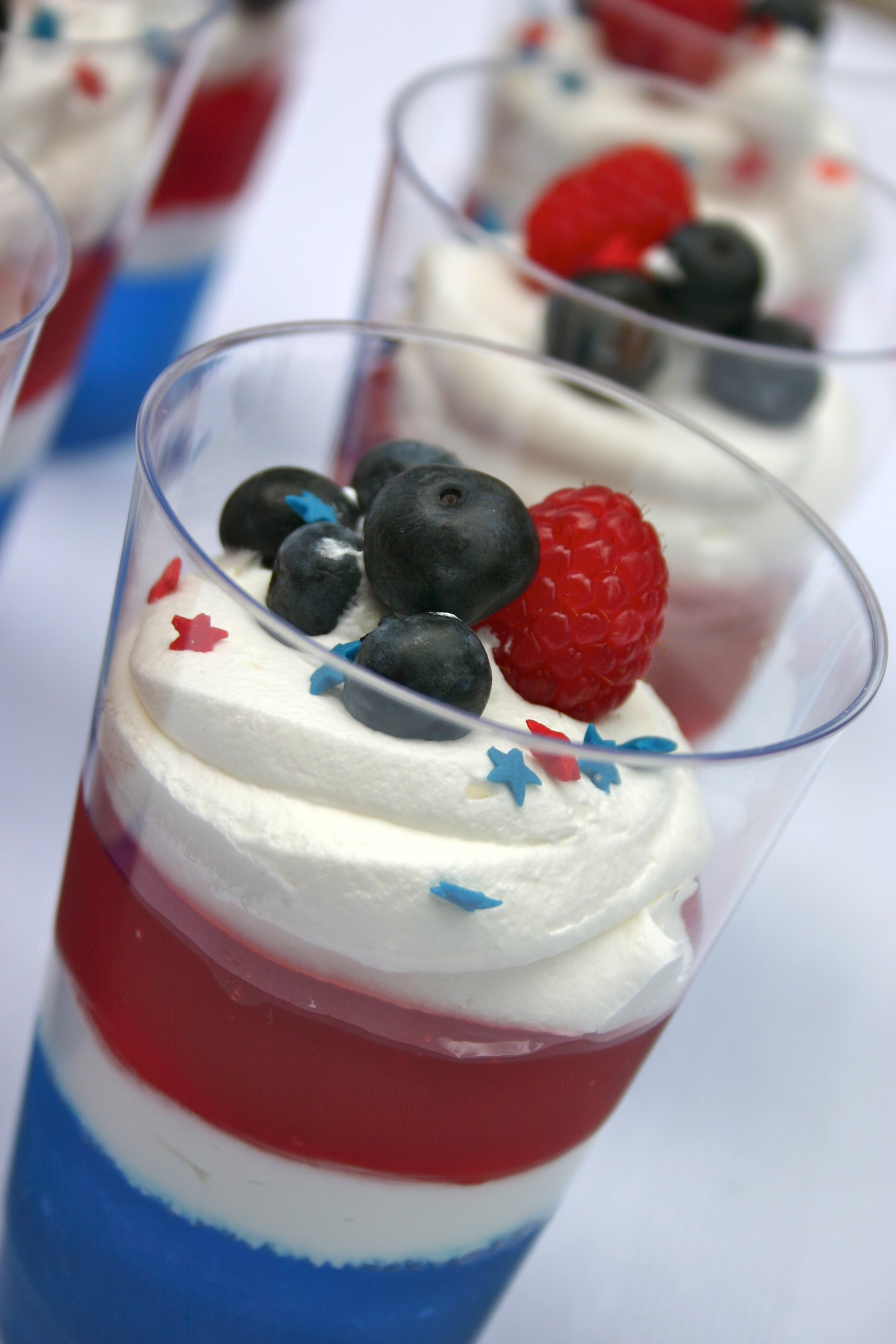 Patriotic Parfaits
1 small box of blue gelatin, such as Jell-O
1 small box of red gelatin
2 containers of whipped topping, such as Cool Whip
2 cups boiling water
2 cups cold water with ice cubes
Raspberries, strawberries, blueberries and sprinkles
Mix blue gelatin according to the quick-set method on package. Put 1/3 cup of gelatin in each of 6 8-ounce glasses.
Allow it to just set, about 45 minutes and then layer with whipped topping. Be sure to seal the whipped topping to the edges and try to remove any air bubbles so the red gelatin doesn't slide through that layer.
Chill in fridge while you make the red gelatin with the quick-set method.
Put red gelatin in fridge for about 15 minutes until it begins to thicken. Slowly pour over whipped topping layer.
Place cups in fridge and allow it to set for 2 to 4 hours.
Before serving, top with whipped topping, berries and sprinkles.
Yield: 6 servings
Red, White and Blue Meringues
These meringues are a bit harder to tackle, but could be fun if you're looking for a holiday kitchen challenge. Heather Scholten, of Cheney, made these eye-catching meringues for her blog, Farmgirl Gourmet at www.farmgirlgourmet.com.
She said she was inspired by the Orange Meringues on the cover of the May issue of Martha Stewart Living magazine.
The trick is to make sure the sugar is completely melted into the egg whites. "You want to make sure that the liquid is totally clear before you start whipping it," she said.
The first meringues will be more vibrant than those piped from the last quarter of the bag.
Here's Scholten's recipe: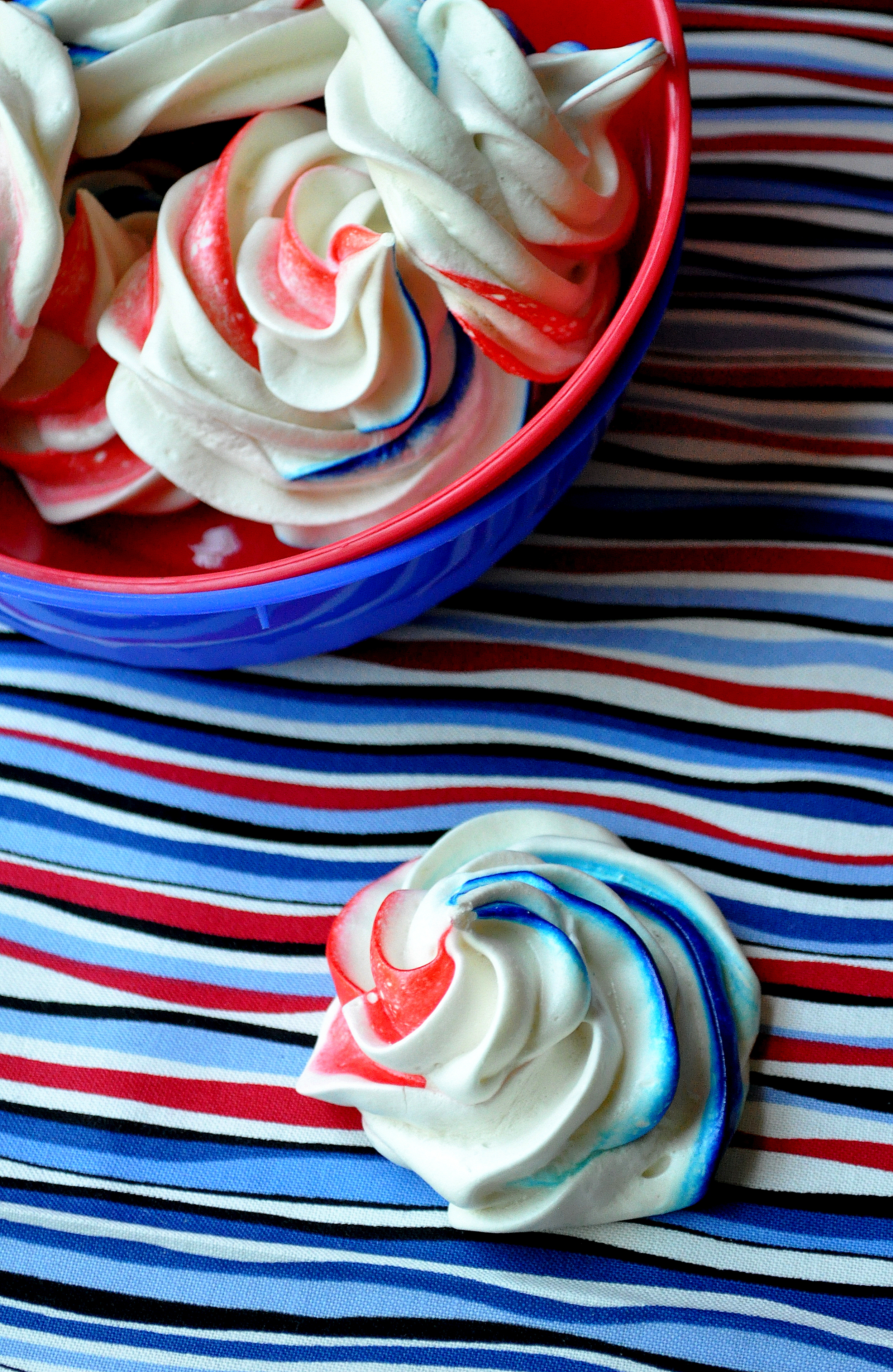 Red, White & Blue Meringues
"A super-easy recipe for deliciously sweet and crunchy meringues," Scholten wrote. Adapted from www.marthastewart.com.
3 large egg whites, room temperature
3/4 cup white sugar
1 teaspoon vanilla extract
Pinch kosher salt
Pinch cream of tartar
Red gel food coloring (such as Wilton)
Blue gel food coloring
16 ounce disposable piping bag
1M star tip
Preheat oven to 200 degrees. Line 2 large baking sheets with parchment paper and set aside.
In the metal bowl of a stand mixer (or a regular metal bowl) add the egg whites, sugar and vanilla. Place over a medium saucepan of simmering water. Stir until the sugar melts and the mixture is almost clear.
Place the bowl into the stand mixer and using the whisk attachment, whip for 7 minutes on medium-high. The meringue should be glossy and stiff.
Using a small paint brush, brush a line of red food coloring from the piping tip up the inside of the bag. Repeat with the blue on the opposite side of the bag. Fill with the meringue and pipe into roses or whatever shape you desire. Place in the oven and bake for 1 1/2 hours. Remove and cool completely on a wire rack. These cookies are best eaten the same day they are made.
Yield: About 25 cookies
Subscribe to the Spokane7 email newsletter
Get the day's top entertainment headlines delivered to your inbox every morning.
You have been successfully subscribed!
There was a problem subscribing you to the newsletter. Double check your email and try again, or email
webteam@spokesman.com
---
Subscribe and login to the Spokesman-Review to read and comment on this story