News > Spokane
Eight suspected Spokane brothels raided by police
July 10, 2012 Updated Tue., July 10, 2012 at 2:31 p.m.
Eight suspected brothels, including the Oriental Spa South at 515 S. Maple Ave., were raided across the Spokane area today by a multi-agency law enforcement task force. (Colin Mulvany photo)
A yearlong investigation into widespread prostitution in Spokane County culminated Tuesday with raids at eight suspected brothels in what authorities say is an attempt to permanently close the longtime businesses. Complaints from Northern Quest Casino officials about prostitution activity prompted the Airway Heights Police Department to conduct undercover stings of suspected prostitutes who in turn agreed to work as confidential informants. Police learned of websites that advertised prostitution services and realized they were connected to business in Spokane that appear to be day spas and massage parlors but are actually fronts for brokered sex deals, said Lee Bennett, Airway Heights police chief. Local agencies and federal investigators are assisting in the probe. "We don't believe that anyone is going for a legitimate massage," Bennett said. "We have not found any typical massage-type equipment in these spas." At least five people who own four of the suspected brothels were arrested Tuesday, and more arrests are expected. Six residences belonging to the owners were searched, along with six businesses in Spokane and two in Spokane Valley. Many of the businesses have been operating for years along busy streets. Customers were present during some of the raids, which occurred simultaneously at noon, but they were not arrested on what would be misdemeanor charges of soliciting a prostitute. Bennett said authorities are focusing on the business owners, who face felony charges of promoting prostitution as well as money laundering and criminal profiteering. Store managers may also be charged. "We're wanting to curtail the activities of these spas," Bennett said.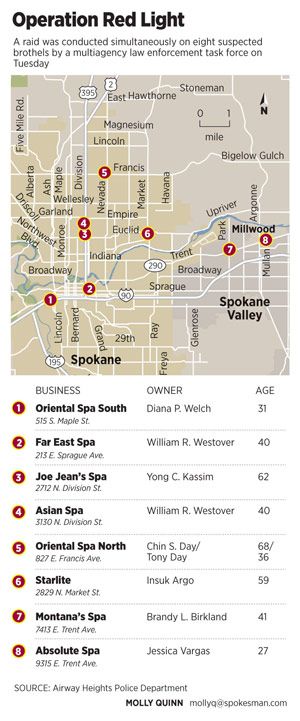 Yong Cha Kassim, 62, owner of Joe Jean's Oriental Health Spa at 2712 N. Division St., bragged during her arrest that she'd been in business for 30 years, Bennett said. Also arrested were Tony Ray Day, 36, and his mother, Chin Sim Day, 68, who own Oriental Spa North at 827 E. Francis Ave.; Insuk Argo, 59, who owns Starlite at 2829 N. Market St.; and Jessica Vargas of Moses Lake, who owns Absolute Spa at 9315 E. Trent Ave. Bennett said 200 to 250 women "cycle through the spas." Informants have reported earning about $6,000 a month while some of the businesses earn about $10,000, Bennett said. Bennett said the women range from 20 to 40 years old. Police have not found any underage girls nor have they found women being held against their will, but the investigation is ongoing. "We're hoping that people will come forward to talk to us about that," Bennett said. Bennett said he doesn't believe large prostitution rings are unique to Spokane County. "I think it happens in every city in the United States, and the larger the metropolis, the more you're going to have it," Bennett said. "I think a lot of people are spending money on places they shouldn't be spending money on." Bennett said confidential informants were crucial to the investigation and allowed them to learn how the spas operate. Some have security screenings that require references. Bennett said police working undercover arranged to meet prostitutes at Northern Quest then arrested them after brokering a proposed sex deal. Prostitutes and johns then agreed to work as confidential informants. Bennett said one undercover officer was targeted for robbery by a prostitute he'd arranged to meet. "There's probably lot of robberies or other issues that are going on that are not reported," Bennett said. "It's all criminal-based. It's a criminal activity." Major Craig Meidl of the Spokane Police Department said undercover police investigations involving prostitutes can be difficult because the women often test potential customers by trying to get physical before brokering a deal, knowing police won't do that. "Ethically, morally and even legally, it would be inappropriate for us to engage in what they call 'heat checks,'" Meidl said. Police have long suspected illegal activity at the businesses but haven't been able to prove it, said Officer Jennier DeRuwe, Spokane police spokeswoman. The investigation, called Operatoin Red Light, began 14 months ago and involved the appointment of a special inquiry judge and prosecutor, a secretive and rare investigative technique in Washington state that's similar to a federal grand jury. Special inquiry judges have subpoena power. Prosecutors have not yet filed formal charges. The suspects arrested Tuesday are expected to appear in court Wednesday. It's not the first police raid targeting prostitution activity in Spokane this year. In February,
police searched motel rooms in Airway Heights and Spokane
as part of an investigation into a group of traveling prostitutes who said they were making good money here because the local competition is so ugly. In 2007,
the operator of a large-scale Spokane escort service
was arrested for laundering profits from her prostitution ring through Northern Quest Casino. Cheryl Mae Larson was sentenced to two years in prison for money laundering, possession with intent to distribute cocaine and three counts of second-degree promoting prostitution. Airway Heights police were assisted in the most recent investigation by Kalispel Tribal Police, Washington State Gambling Commission, Homeland Security Investigations, U.S. Border Patrol, United States Marshals, Spokane County Sheriff's Office, Spokane Valley Police Department, Spokane Police Department, Liberty Lake Police Department and Cheney Police Department. "It's beyond my scope to do this," Bennett said. "This affects everybody. It affects every jurisdiction, every neighborhood in this community. And so we have to do something about it." Jim Wynecoop, chief of the Kalispel Tribal Police, said casino employees and his police force were committed to helping investigate prostitution at Northern Quest. "And we'll continue, because it's probably not going to stop," Wynecoop said.
Local journalism is essential.
Give directly to The Spokesman-Review's Northwest Passages community forums series -- which helps to offset the costs of several reporter and editor positions at the newspaper -- by using the easy options below. Gifts processed in this system are not tax deductible, but are predominately used to help meet the local financial requirements needed to receive national matching-grant funds.
Subscribe now to get breaking news alerts in your email inbox
Get breaking news delivered to your inbox as it happens.
---