News > Features
Discovering Dayton, Wash. worth the detour
Sun., July 22, 2012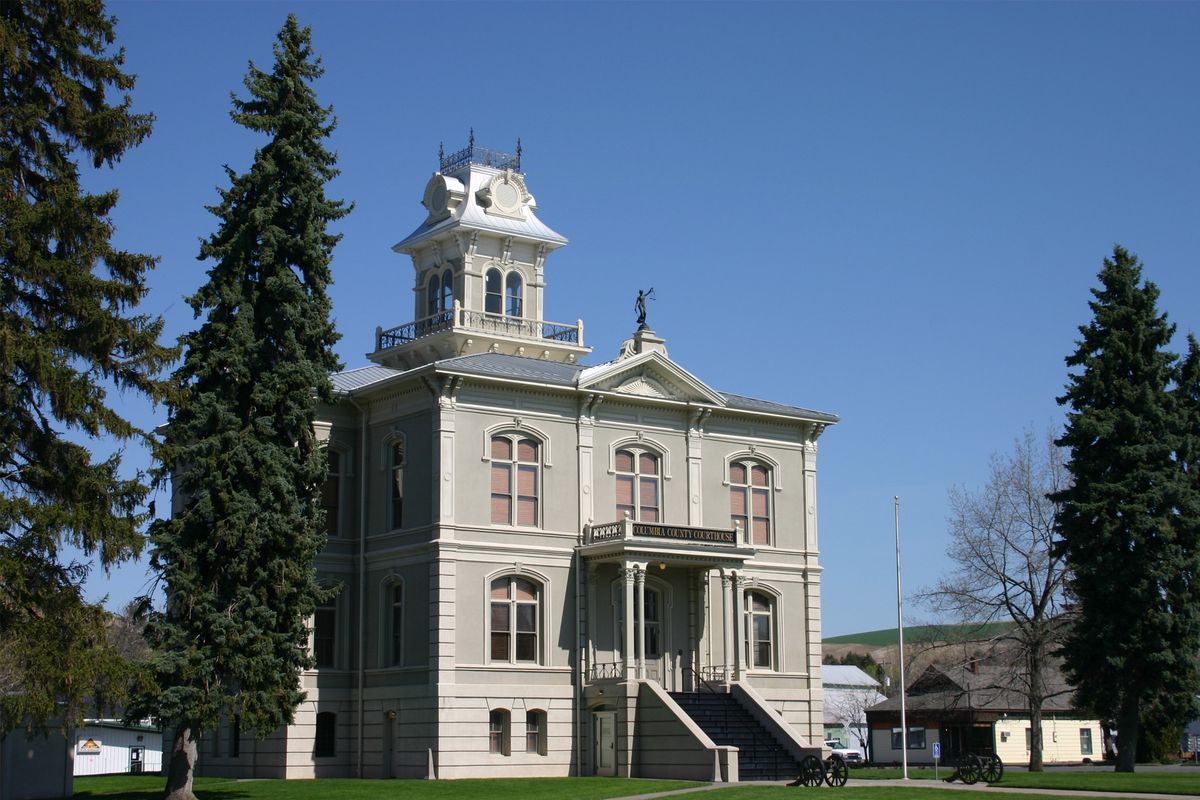 The Columbia County Courthouse in Dayton, Wash., is the oldest working courthouse in the state. (John Stucke)
DAYTON, WASH. – Please, do NOT tell this to the fine people of Dayton: Staying in their small town was not our plan.
We were looking for a last-minute, shoulder season getaway and, of course, we were thinking of a Walla Walla weekend. 
When we struck out on a hotel room in the city, my husband suggested this nearby small town. Why not? It would get us close enough to the wineries, restaurants and fun in the state's burgeoning wine mecca. So, we booked a room at the historic Weinhard Hotel, expecting to lay our heads there, but little else.
Here's what happened instead: We spent the whole weekend discovering the small town and scarcely got within 20 miles of Walla Walla. The getaway left us (too) full of great food and libations, relaxed and wiser about the history of Washington. 
The people of Dayton were so kind, I couldn't help but feel a tinge of guilt for thinking I would use their town as my Walla Walla crash pad. The town draws people for recreation at Bluewood Ski Area, the annual Mule Mania event, held this weekend, and visitors on their way to Palouse Falls. 
There's some new polish in the historic downtown as businesses are spiffing up spaces, but as a tourist destination, it's still a little rough around the edges, too. That was all part of the charm for me.
Here are seven great things we found there, plus three reasons for a return visit:
1. The Weinhard Hotel, 235 E. Main St., (509) 382-4032: Gary and Shellie McLeod are the owners and hosts at this comfy historic hotel. The building is named for Jacob Weinhard, who came to Dayton in 1880 after an apprenticeship with his uncle Henry Weinhard at Weinhard Brewery in Portland. At one time, Weinhard's Dayton domain included a malt house and outdoor German beer garden (now demolished), the Weinhard Theater (which burned in 1916) and a Victorian home overlooking town (on the National Register of Historic Places). The building that now houses the hotel was originally the Weinhard saloon and lodge hall.
The McLeods make homemade muffins for the continental breakfast and offer trays and cups so that you can enjoy coffee or tea in the nicely appointed room or the rooftop garden. The relaxing rooftop has a beautiful array of blooming plants, a gurgling fountain and propane fire table for chilly evenings. The view of the wheat-covered hills round town is interrupted by overhead wires, but the nighttime view of the stars is not dulled by big city lights.
2. The Dayton Historic Depot, 222 E. Commercial St., (509) 382-2026: For $5, guests can get a guided tour of the oldest surviving train station in Washington. The building was built in 1881 and moved to its current site in 1899. It was originally built on the west side of the Touchet (too shee) River by the Oregon Railroad and Navigation Co. and interpretive signs show what must have been the back-breaking process to move it. It was later purchased by the Union Pacific Railway. The tour includes the ticket counter and waiting area, as well as the station master's former home upstairs. The depot is open 10 a.m. to 5 p.m., Wednesday through Saturday during the summer. They close for lunch during the noon hour.
Also, don't miss the beautiful Columbia County Courthouse nearby. It is the oldest working courthouse in Washington state and was added to the historic register in 1975. The downtown historic district includes 29 buildings within four blocks. There are a total of three historic districts and 117 buildings on the register in Dayton, now home to about 2,500 people. Walking tour maps are available around town.
3. Mace Mead Works, 250 E. Main St. (509) 540-0000: Discover the nuances of honey wines at this mead bar owned by Reggie and Minnie Mace. Reggie Mace learned the cold fermentation technique he uses, in part, by working with a winemaker at Dunham Cellars in Walla Walla. He uses local honey and tries to preserve the flavors. The mead and red wines for his Mortal Vintner label are made on site and guests can see the wine barrels through a window behind the bar. 
We slipped down for a mead cocktail one evening and found the bar busy with locals. Our waitress gave us an overview of the winemaking process and tastes of the dry and semi-sweet meads before we picked out a cocktail. We sipped a ginger-spiked mead cocktail, as well as a hibiscus lavender concoction.
4.  Skye Book & Brew Pub, 148 E. Main St., (509) 382-4677: It was a cool spring evening when we arrived in Dayton, so the Johnny Mac's Scottish Ale and homemade potpies at Skye Book and Brew were a welcome way to start our visit. It also felt historically appropriate given the brewing history of the town. I forgive them for warming the pot pies in the microwave (which made the wheat crust a mushy mess) because it was still tasty. Brewmaster Michael McQuary also brews root beer and the quirky pub/used book store is family friendly.
5. Weinhard Café, 258 E. Main St., (509) 382-1681: Owner Brad McMasters kindly pointed us down the street to a new neighboring restaurant on the morning his place was closed. So, we returned the next day for brunch.
The chef came out of the kitchen to help greet us and convinced my husband to try the poblano sausage he had made that day. The resulting breakfast burrito was hearty and delicious. My quiche with wild mushrooms and goat cheese was a nice way to start the day. The restaurant offers Sunday brunch 9 a.m. to 2 p.m.
6.  Patit Creek Restaurant, 725 E. Dayton Ave., (509) 382-2625: I was determined to be unimpressed with the Patit Creek Restaurant, which still touts a four-star rating earned a long time ago. Dark wood paneling and stained glass windows in the small restaurant make it seem even cozier, and it was a day when I wanted to be outside in the warm spring air.
Bruce and Heather Hiebert have been running Patit Creek since 1978 – he makes the entrées while she oversees the dining room and makes desserts.
Any notion that Patit Creek had outlived its reputation was quickly put to rest. The service was attentive and thoughtful. (The waitress was delivering dishes to a large party just after we arrived, but she swooped by us with each dish on her way, making the menu almost unnecessary.)
Our entrees were well prepared and the desserts (including my husband's favorite gooseberry pie) divine.
What really stole my heart was the celebratory feeling there that evening. People at two different tables were there for birthday dinners, including a man turning 96. They came together for an impromptu birthday embrace when everyone realized it. 
Then, a woman with a voice 10 times as big as Patit Creek led everyone in a round of "Happy Birthday."
7. Waitsburg: OK. We weren't Dayton purists. Ten miles down the road in Waitsburg, beer lovers will find Laht Neppur Brewing Co. is well worth the stop. WhoopemUp Hollow Café serves craveable Southern food in a beautifully restored, bright space downtown. At the new jimgermanbar, proprietor Jim German is helping guests rediscover classic cocktails served with tasty snacks. Paella parties and chef's dinners are also occasional offerings there.
Reasons to return:
1. Monteillet Fromagerie, 109 Ward Road, (509) 382-1917. I was so full from our foodie exploits that we didn't even stop at Dayton's Monteillet Fromagerie despite its reputation. Owners Pierre-Louis and Joan Monteillet make goat cheese on the farm from their goats' milk. The fromagerie is open for tours 1 to 6 p.m. on weekends and weekdays by appointment. We won't miss it again.
2. Boldman House Museum, 410 N. First St., (509) 382-2026. We walked through the emerging gardens at this historic house once home to Gladys Boldman and her family. The house, built in 1880, and its grounds were donated to the Dayton Historical Depot Society in 1999 when Boldman died at age 91. One of the highlights of the restoration is an effort to restore the home's original wallpaper. The house is open for tours 1 to 4 p.m. Fridays and Saturdays.
3. Dumas Station wines, 36229 Highway 12, (509) 382-8933. Dumas Station serves its boutique wines – including Cow Catcher Red – from a tasting room in a restored apple-packing shed just outside Dayton.
Local journalism is essential.
Give directly to The Spokesman-Review's Northwest Passages community forums series -- which helps to offset the costs of several reporter and editor positions at the newspaper -- by using the easy options below. Gifts processed in this system are not tax deductible, but are predominately used to help meet the local financial requirements needed to receive national matching-grant funds.
Subscribe now to get breaking news alerts in your email inbox
Get breaking news delivered to your inbox as it happens.
---