Sports
Several athletes with area ties at London Olympics
Thu., July 26, 2012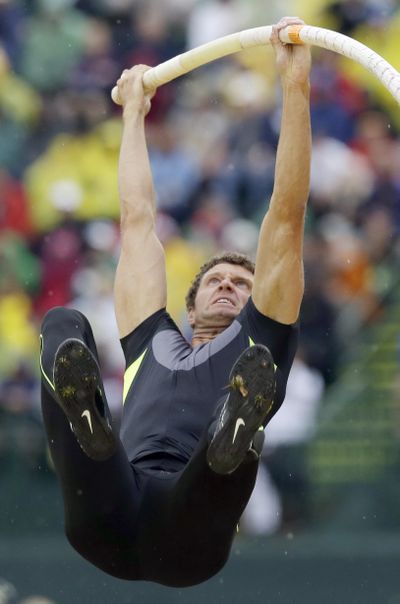 Tomorrow, the world.
Including Spokane and the Inland Northwest.
Athletes from 206 nations – one competing under the flag of five interlocking rings because South Sudan has no Olympic organization – are assembled for the Games of the 30th Olympiad, the opening ceremonies officially launching the action in London on Friday.
And there will be some chances to wave the flag for a handful of athletes who either got their competitive start in our area or whose stay here pushed along their Olympic dreams.
Nothing new about that.
Spokane made its mark in the Olympics as far back Olympiad No. 7, the 1920 Games in Antwerp, Belgium. That's when a slender Lewis and Clark High School graduate named Carl Johnson won a silver medal in the long jump.
Since then, the results have ranged from gold medals to grinding despair, and the flags have fairly multiplied – athletes who attended area colleges have represented more than 30 nations in the Olympics.
Launi Meili of Cheney won a gold medal in the always-overlooked discipline of rifle shooting. John Stockton the first of his two with the Dream Team, probably the most hyped Olympic development in history. Gerry Lindgren was a sad footnote in one of the most famous of races. Boxer Toby Gibson, a gold medal favorite, was upset by a Ghanan fighter in his second bout.
Julius Korir carried on the great Kenyan running revolution by winning gold as a student at Washington State. Dan O'Brien was crowned the World's Greatest Athlete for winning the decathlon, a few years after attending the Community Colleges and Spokane and the University of Idaho.
All of the following athletes with area connections – listed in order of competition dates – are headed to London with gold medal dreams.
It's the only way to go.
Ronny Turiaf (basketball)
Will any athlete embrace the Olympic experience more than Ronny Turiaf? During his Gonzaga days, the Martinique-born basketball star – competing for France in London – was a virtual ambassador-at-large. Now Turiaf, 29, is going from winning an NBA ring with the Miami Heat to shooting for gold with pals like Tony Parker and Boris Diaw. (Basketball competition begins Sunday)
Jamie Redman (rowing)
A Lewis and Clark High School graduate, Jamie Redman has called her Olympic assignment "bittersweet" – she's an alternate on the Team USA women's eight boat. Redman, 25, had been among the top contenders to row in London before suffering a concussion in a January auto accident. (Women's eight races begin Sunday)
Aron Baynes (basketball)
He's been bouncing around the best basketball clubs in Europe since leaving Washington State in 2009, but Aron Baynes, 25, is part of Australia's beloved "Boomers" in their run for an Olympic medal. Joining him on the Aussie squad are two guards familiar to Spokane basketball audiences, Patrick Mills and Matthew Dellavedova of Saint Mary's. (Basketball competition begins Sunday)
Kristin Armstrong (cycling)
Can she make it two in a row? Cyclist Kristin Armstrong, 38, will compete in her third Olympics and is the defending champion in the women's time trial. But three days earlier, the 1995 University of Idaho graduate will compete in the women's road race, an event in which she finished eighth in 2004. (Women's road race is Sunday, time trial is Aug. 1)
Adrienne Lyle (equestrian)
Raised on Whidbey Island, Adrienne Lyle interrupted her schooling at Washington State for a chance to learn under Olympic dressage rider Debbie McDonald in Hailey, Idaho. Now 27, Lyle and 13-year-old Wizard will compete in their first Games after five Grand Prix level victories this year. (Dressage competition is Aug. 2)
Eric Uptagrafft (shooting)
It's been 20 years between Olympic appearances for Eric Uptagrafft, 46. The University High School graduate finished 30th in the 50-meter prone rifle event at the Atlanta Olympics as something of a part-time shooter. Now a member of the U.S. Army's Marksmanship Unit, this time he's going to the games as a team: his wife, Sandra, has qualified in the 25-meter pistol competition, the first husband-wife duo to do so. (Men's 50-meter prone rifle competition is Aug. 3)
Amanda Furrer (shooting)
Once a wannabe Shania Twain, Amanda Furrer carries on Spokane's long tradition in Olympic shooting, aiming for a medal in the women's 50-meter three-position (prone, standing, kneeling) event. The Mead High School graduate, 21, was an Olympic alternate in 2008 and has medals from the World Championships and Pan-American Games – that bronze won at age 16. She's a student at Ohio State University. (Women's 50-meter rifle competition is Aug. 4)
Brad Walker (pole vault)
One of the gold medal favorites in the pole vault in Beijing, Brad Walker didn't clear a height in a qualifying round that stretched on for hours. The American record holder (19 feet, 9 3/4 inches) and twice a World Champion, the 32-year-old University High and University of Washington graduate has vowed that he won't lose his cool the way he did in China no matter what the circumstances in London. (Men's qualifying is Aug. 8, finals Aug. 10)
Bernard Lagat (distance running)
One of the most enduring middle-distance runners in history, Bernard Lagat is making what's likely to be his last Olympic run – this time at 5,000 meters. But it would be his first games medal as an American – the Washington State alum won bronze and silver at 1,500 meters for Kenya in 2000 and 2004 before becoming a U.S. citizen. Lagat, 37, also suffered Beijing disappointment, getting eliminated in the 1,500 semis and finishing ninth in the 5,000 while nursing an Achilles injury. (Men's 5,000 qualifying is Aug. 8, finals Aug. 11)
Ebba Jungmark (high jump)
Her stay at Washington State was short – just a year – but Ebba Jungmark made her mark as the 2008 NCAA Indoor champion in the high jump. Competing for Sweden, she'll be among the contenders with a best of 6-5 and coming off a silver medal finish at the 2012 World Indoor Championships. (Women's qualifying is Aug. 9, finals Aug. 11)
Christine Amertil (sprints)
Yes, North Idaho College used to have a track team, and a good one, and one of the best was Christine Amertil. She affirmed it in 2004 by finishing seventh in the women's 400 meters at the Athens Olympics. Now 32 and the mother of a year-old daughter, she'll compete in her fourth Olympics as a member of the Bahamas' 4x100-meter relay team. (Women's 4x100 relay qualifying is Aug. 9, finals Aug. 10)
Just passing through
A sampling of Olympic athletes you may have seen when they competed in Spokane:
Sue Bird (USA) and Lauren Jackson (Australia) starred when the Seattle Storm brought a regular-season WNBA game to Spokane during Hoopfest in 2004.
American track Olympians Cyrus Hostetler (men's javelin) and Becky Holliday (women's pole vault) set meet records when they won NWAACC championships at Spokane Falls in 2008 and 2001, respectively.
Two-time beach gold medalists Misty May-Treanor (Long Beach State) and Kerri Walsh-Jennings (Stanford) competed at the Arena in the NCAA Volleyball Championships in 1997, won by the Cardinal.
The U.S. boxing trials at Northern Quest in February sent Marlen Esparza (flyweight), Queen Underwood (lightweight) and Claressa Shields (middleweight) to London.
Field records in the women's shot put and men's hammer at Whitworth's Boppell Track belong to Jillian Camarena-Williams and Kibwe Johnson from a meet staged at the prestigious Ironwood Throwers Camp back in 2006.
Dathan Ritzenhein will run the 10,000 meters in London, but he cruised to an easy victory in the USA Cross Country Championships at Plantes Ferry in 2010.
She's considered the best female goalkeeper in the world now, but in 1996 Hope Solo scored the winning goal for Richland in the State 3A soccer playoffs against Ferris.
Local journalism is essential.
Give directly to The Spokesman-Review's Northwest Passages community forums series -- which helps to offset the costs of several reporter and editor positions at the newspaper -- by using the easy options below. Gifts processed in this system are not tax deductible, but are predominately used to help meet the local financial requirements needed to receive national matching-grant funds.
Subscribe to the sports newsletter
Get the day's top sports headlines and breaking news delivered to your inbox by subscribing here.
---
Subscribe and log in to the Spokesman-Review to read and comment on this story