News > Spokane
Olympian Amanda Furrer started shooting career with a miss
Fri., July 27, 2012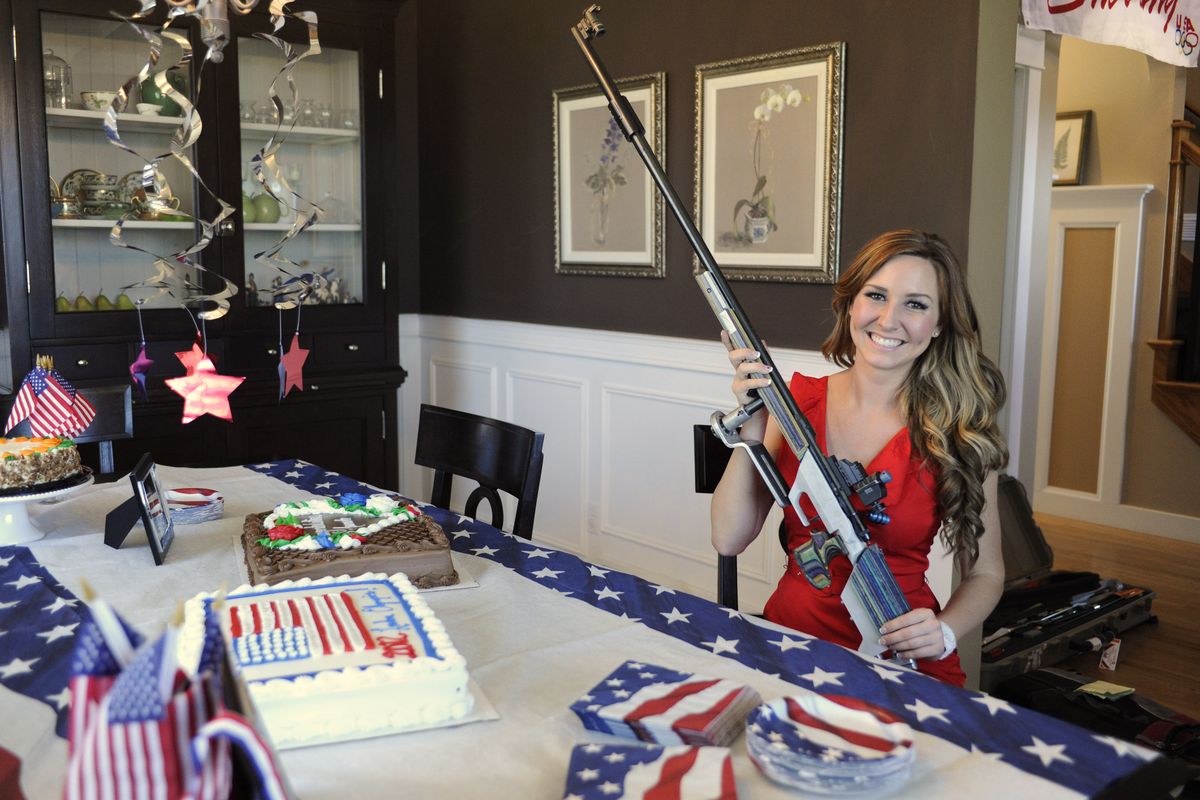 Spokane native Amanda Furrer, 21, who began shooting at age 11 on the Spokane junior rifle team, made the U.S. Olympic Team in the three-position rifle event. (Colin Mulvany)Buy a print of this photo
Two pellet dimples a foot apart in the garage door marked the beginning of Amanda Furrer's journey to the London Olympics.
"That's how badly she missed on her first shots with an air rifle – missed the target entirely and hit the door," her dad said proudly outside their Five Mile Prairie home.
The Furrers prize the marks from the errant shots as though they were Picasso's first scribbles on the living room wall. They're as priceless as the medals and trophies lining a basement hallway.
A dozen years later, Mike Furrer says he scored a bull's-eye by introducing his daughter to marksmanship. The Spokane Junior Rifle Team coach makes no excuses for pushing Amanda to miss most high school fun events to compete with a gun.
"Does a dad want his daughter to go to dances with some kid with his pants halfway down his butt and his hat on sideways or have her travel the world?" he said.
Before she'd graduated from Mead High School, Amanda had set a still-standing junior national shooting record, won a medal in the Pan-Am Games in Brazil and competed in Australia, Germany, Korea, Italy, the Czech Republic and across the United States.
She'd shot her way to the alternate spot for the two-woman U.S. rifle team at the Beijing Olympics in 2008, triggering a scholarship at Ohio State University.
"That's pretty much where I quit coaching her," Mike Furrer said, noting that he continues to work year-round with the Spokane Junior Rifle Team. The group that's spawned a list of national-class marksmen gathers at the Spokane Rifle Club on the shore of the Spokane River.
"We'd probably have a waiting list if people realized 30 universities have NCAA shooting teams and scholarship opportunities."
Furrer and three other coaches are working with about 10 serious young shooters through the summer, but the junior team swells to about 30 starting in September.
"Some kids come in thinking this will be shooting like they see on TV, but it's far from that," he said. "It's precision, very disciplined, very structured. The kids who stay on are the ones who can commit to something they can do well."
That was Amanda.
"She's an Alpha-type personality," he said. "She's always been world-class as far as attitude."
After competing in her first match at age 11 and meeting national junior champion and future Olympian Sarah Blakeslee, Amanda told her parents she wanted to give up soccer and devote herself to shooting.
"When she made that commitment, her mother and I committed, too," he said.
A year later, when Amanda had qualified for her first Junior Olympics, the Furrers offered to shell out $4,000 to buy a .22-caliber competition rifle.
"I had the Anschutz catalog and did some research before the selection event," he said. "But Amanda made it simple: 'I want the blue one,' she said."
Amanda weighed about 85 pounds, but she adapted quickly to the 14-pound instrument and set her first junior national record a few weeks after it arrived.
"She enjoyed beating the boys," he said.
At 21, she'll be shooting the same rifle Aug. 4 as one of two U.S. women competing in the Olympic three-position event.
"It's her gun and she loves it, but not like a boy would," her dad said. "Until she went to college, I'm the one who cleaned it. Amanda likes to wear hoop earrings and fingernails. I like to dote over guns. It worked for us."
Although Amanda has fired about 20,000 rounds through the rifle, most of her training involves dry firing (with no ammunition), air rifle, working on core fitness and mental exercises.
"Any athlete at the Olympic level is the real deal, so how they handle the stress of competition often is the difference," Mike Furrer said. "That's an aspect I can still help her with."
Spokane psychologist Greg Charbonneau has advised Amanda with biofeedback, and her dad applies training he started studying in the Army.
"The emphasis is on goal-setting, training to reach those goals, positive self-talk, visualization and breathing to control anxiety."
Amanda Furrer will get 60 shots total – in the prone, standing and kneeling positions – to prove herself on the Olympic stage. "A match might take 2 hours and 10 minutes, which is grueling," her dad said. "But Amanda is so confident she'll often be done with the match before some are done with their standing position. It's how she's into the game.
"Overholding occurs when you're looking for perfection. When you're looking for perfection, it walks by you five or six times."
Mike Furrer is heading to London to watch his daughter represent the USA, but he could close his eyes anywhere and picture her routine.
"It's virtually the same for every competition," he said. "She begins her rhythmic breathing about 30 minutes before her event. She'll put out her gear in a certain order. She'll be friendly, but basically she stops talking and starts getting into her bubble."
Before firing each round, Amanda will visualize the perfect shot in the dime-size center ring of a CD-size black bull's-eye. The target is 50 meters away on the Olympic outdoor range.
"She looks over the sight before she gets ready to shoot. She looks at the flags to judge the wind, which can be significant on a .22-caliber bullet."
She'll look at the target through her sights, both eyes open, and apply a tiny bit of pressure to the trigger.
Exhaling half the air from her lungs, she'll focus intensely on the sight until the shot breaks without consciously squeezing the trigger.
"This is the time to give it her best shot," he said.
Contact Rich Landers at (509) 459-5508 or email richl@spokesman.com.
Local journalism is essential.
Give directly to The Spokesman-Review's Northwest Passages community forums series -- which helps to offset the costs of several reporter and editor positions at the newspaper -- by using the easy options below. Gifts processed in this system are not tax deductible, but are predominately used to help meet the local financial requirements needed to receive national matching-grant funds.
Subscribe now to get breaking news alerts in your email inbox
Get breaking news delivered to your inbox as it happens.
---