Sports
Shot at age 12, Kitchens now an Olympian
Sat., July 28, 2012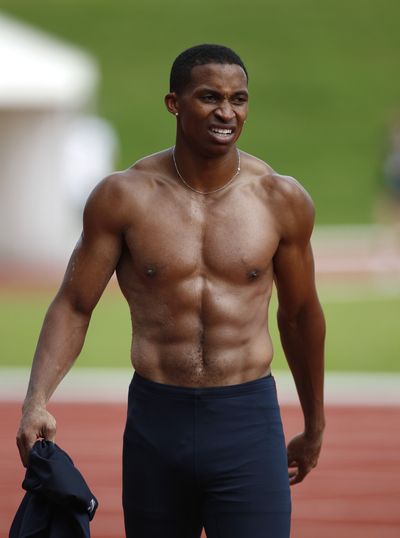 BIRMINGHAM, England – George Kitchens was only 12 on the terrible day in November 1995 when he was shot along with his sister and a friend in his Augusta, Ga., home.
He remembers everything about it: The burning in his chest as the bullet hit an inch from his heart. The acrid smell of gunpowder. Hearing one of the attackers mutter, "He's not dead. He's not dead. Shoot him again to see."
The future Olympics long jumper knew that if he flinched, he'd die.
As the second bullet ripped into his right forearm, Kitchens didn't move a muscle. And he survived.
Kitchens, 29, lifted his shirt to reveal the scar on his chest, so close to his heart.
He then stuck out his right arm to display the other scar, recalling how he braced himself for the second shot and told himself not to move, which he believes saved his life.
Now that he's one of the top long jumpers in America and about to make his Olympic debut, it's hard for him to fathom the road he's traveled.
But he's come to appreciate every step "because it could've been taken away from me at an early age," he said. "It taught me perseverance. It taught me any situation isn't as tough as you think it is. It's taught me how strong I really was, to endure that and come out and reach the heights I've reached."
On that day nearly 17 years ago, Kitchens was getting ready to be taken to school by a friend of the family, Charles "Lyndon" Fubler. That's when an acquaintance, Mark Lorenzo Squires, and another man pulled up and started an argument.
From there, it quickly escalated.
Squires began chasing Fubler around the house and shot the college soccer player in the head.
Kitchens heard the gunshot and raced into the room to assist Fubler.
"It was just my natural reaction," Kitchens said. "I remember Lorenzo coming around the corner. He aimed a gun at me and pulled the trigger. I fell against the wall in our kitchen."
Kitchens saw his older sister, Sheila, get shot in the neck and collapse, leaving her paralyzed.
Barely coherent and thinking the attackers had left the house, the wounded Kitchens got up and went for help. That's when he was cornered by the two men, who were surprised to see he was still alive. That's when one of them urged the other to shoot Kitchens again.
So Kitchens did the only thing he could think of – close his eyes, fall back against the refrigerator and play dead, waiting to be shot again.
The gun fired. He was hit. He remained perfectly still.
Convinced Kitchens was dead, the attackers fled. He then crawled next door for help, and all the wounded survived the shootings.
Kitchens spent two months in rehabilitation, and was back training on the track in three.
While one of the attackers was eventually caught, Squires remained on the loose.
For nearly three years, Kitchens thought he saw him lurking in the shadows or hiding behind trees.
"The likelihood of him coming back were pretty slim," said Kitchens, whose family relocated after the incident. "Still, I didn't want to be too outgoing, because I didn't want to attract attention."
Squires was eventually arrested in North Carolina on murder charges in connection with another crime. He was convicted and sentenced to death. Being able to testify against Squires was healing for Kitchens.
"I faced him," Kitchens said. "I faced the biggest thing that's hindered me in my life."
Local journalism is essential.
Give directly to The Spokesman-Review's Northwest Passages community forums series -- which helps to offset the costs of several reporter and editor positions at the newspaper -- by using the easy options below. Gifts processed in this system are not tax deductible, but are predominately used to help meet the local financial requirements needed to receive national matching-grant funds.
Subscribe to the sports newsletter
Get the day's top sports headlines and breaking news delivered to your inbox by subscribing here.
---
Subscribe and log in to the Spokesman-Review to read and comment on this story