Sports
Olympics look ahead: Humble Swin Cash eyes another gold medal
Mon., July 30, 2012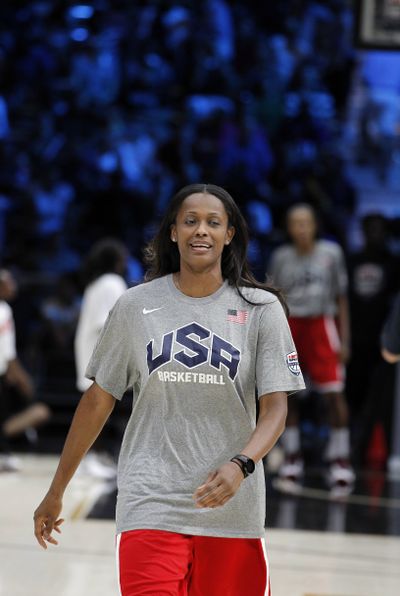 LONDON – Next up for Swin Cash and the U.S. Olympic women's team in their quest for another gold medal is a matchup with Angola.
The Americans are looking for their fifth in a row, Cash has one from 2004 – she once dreamed of winning three.
That was before back surgery forced the Seattle Storm star to miss the 2008 Beijing Games.
But Cash didn't want her Olympic dreams or her career to end on a sour note.
"I was at a point in 2008 where I didn't want to leave this game with people defining who I was as a player," Cash said. "Going out with an injury is not what I wanted my legacy to be."
A conversa- tion with five-time Olympian and basketball great Teresa Edwards helped her refocus with one goal in mind – making it to London. Cash dedicated herself to getting healthy and now that the 32-year-old is back in the Olympics, she is ready to play whoever is next on the U.S. schedule.
"The last four years have been a humble journey for me. I'm just taking it all in," said Cash, who played in China during the WNBA offseason. "I came in with Dee (Diana Taurasi), Sue (Bird) and Catch (Tamika Catchings) and we all thought we'd win three medals.
"I took one off and now come back and it's a different feeling."
Cash, who is only one of six players to have won titles in college, the WNBA, the FIBA world championship and the Olympics, knows her role has changed. She also knows she can contribute and stays ready for whenever coach Geno Auriemma needs her.
Today's highlights
Swimming: gold medal finals in men's 200-meter freestyle, men's and women's 100-meter backstroke, women's 100-meter breaststroke. Beach volleyball: Misty May-Treanor and Kerri Walsh (U.S.) face women's team from Czech Republic. Gymnastics: Men's team final. Diving: Men's synchronized platform final.
See TV schedule on
Page B5 for today's time and channel listings.
Local journalism is essential.
Give directly to The Spokesman-Review's Northwest Passages community forums series -- which helps to offset the costs of several reporter and editor positions at the newspaper -- by using the easy options below. Gifts processed in this system are not tax deductible, but are predominately used to help meet the local financial requirements needed to receive national matching-grant funds.
Subscribe to the sports newsletter
Get the day's top sports headlines and breaking news delivered to your inbox by subscribing here.
---
Subscribe and log in to the Spokesman-Review to read and comment on this story