News > Spokane
Fairchild moms in national spotlight
Photos show breast-feeding servicewomen in uniform
June 1, 2012 Updated Fri., June 1, 2012 at 4:01 p.m.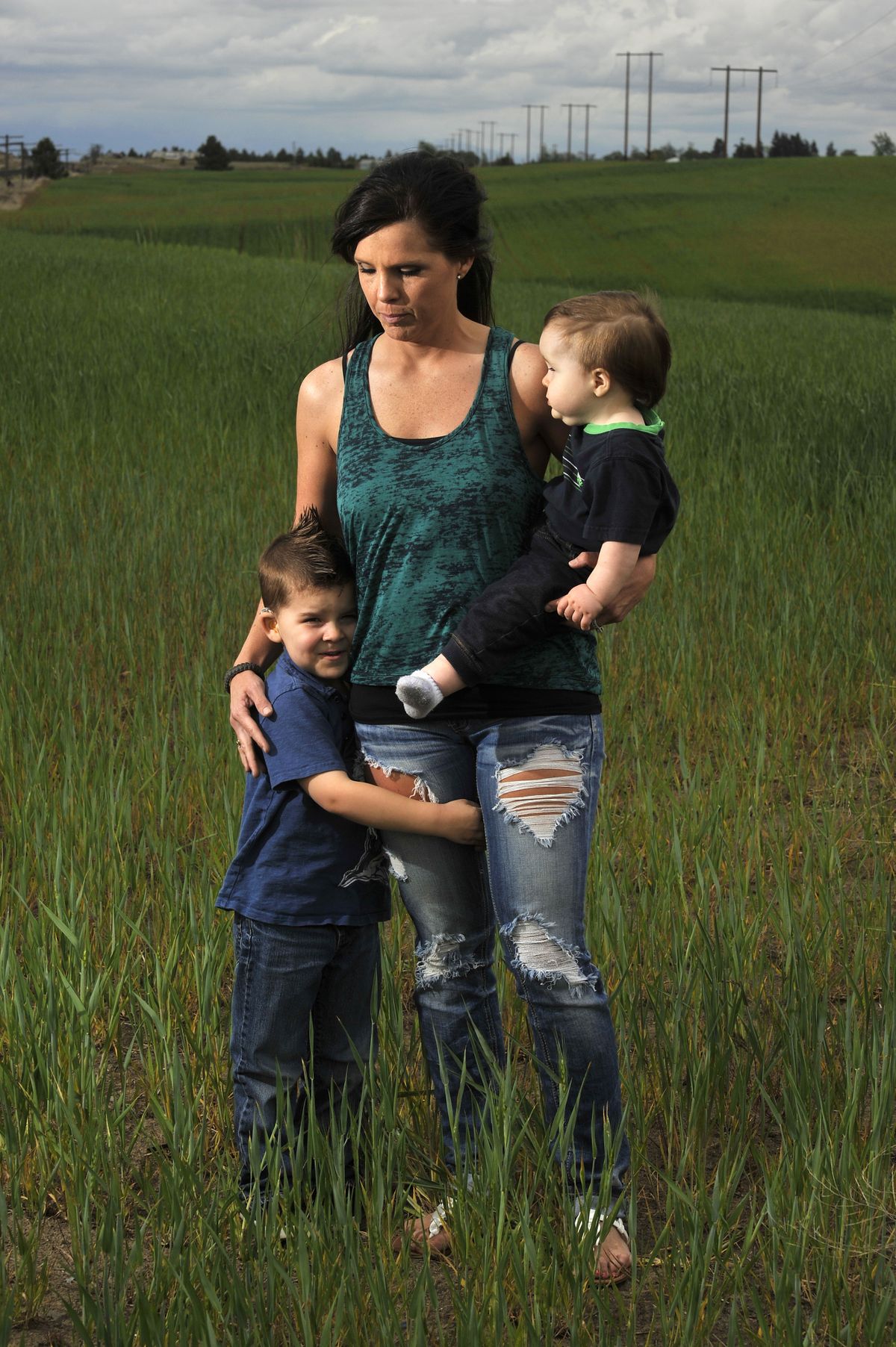 Crystal Scott, pictured with her sons Aedan, 4, and Roman, 1, has been at the center of a controversy after two airmen at Fairchild Air Force Base posed for photos of them breast-feeding in uniform. (Colin Mulvany)
Two local servicewomen who posed for photos in uniform as they breast-fed their children say they have been silenced by superiors. The photos, meanwhile, have spread across the Web amid a fresh wave of debate about breast-feeding in public.
The photos were part of a campaign for the Mom2Mom Breastfeeding Support Group, launched in January by military wife Crystal Scott at Fairchild Air Force Base. They were going to be used on posters the group planned to hang on and off base for breast-feeding awareness month in August.
They feature two Fairchild guardsmen and mothers, Terran Echegoyen-McCabe and Christina Luna, breast-feeding their babies while wearing their Washington Air National Guard uniforms.
Echegoyen-McCabe said she did one interview before she was ordered to stop by her superior officers.
"They ordered me not to speak to the media," she said before declining further comment.
Capt. Keith Kosik, state public affairs officer for the Washington National Guard, could not confirm whether the women's chain of command ordered them to stop doing interviews but said it is a possibility and confirmed that superior officers have been in contact with the women.
"Their military service is connected to what's going on right now," he said. "That's why we do have some jurisdiction there."
Kosik emphasized that the issue is not about breast-feeding in uniform.
Rather, he said, military regulations prohibit the use of the "uniform, title, rank or military affiliation to further a cause, promote a product or imply an endorsement."
"If you look at the press coverage that's out there right now, it has been misconstrued as a battle against breast-feeding," he said Thursday. "It leads one to believe they are being persecuted for breast-feeding. The fact is they're not being persecuted. The fact is breast-feeding was never an issue for us."
The military has no rules specifically regarding public breast-feeding while in uniform. The real issue is that servicemen and -women are not allowed to use the uniform to further a civilian cause, Kosik said.
The photos of the women quickly went viral and caused a stir around the world.
"This was not what we were expecting," said Scott, the support group program coordinator. "Literally overnight … it just exploded and we were just like 'Oh my gosh, what do we do?' "
The images have resulted in a flood of comments, many positive, some negative.
"I was so surprised at some of the comments," she said. "The negative ones, they're calling it a disgrace to the uniform."
In an earlier interview for an MSNBC blog, Echegoyen-McCabe said, "I'm proud to be wearing a uniform while breast-feeding."
Shown in the photo breast-feeding her twins, she said, "I have breast-fed in our lobby, in my car, in the park … and I pump, usually in the locker room," she said. "I'm proud of the photo and I hope it encourages other women to know they can breast-feed whether they're active duty, Guard or civilian."
The women could face disciplinary action for violating Department of Defense rules, but Kosik said the Air National Guard will probably approach the issue as an educational opportunity.
"Members of the National Guard are welcome to participate in the vast spectrum of civilian organizations and causes on their own time, and with their own resources as private citizens," Kosik said in an email. "Rank, title and uniform are to be used only for official purposes."
Scott hopes the photos will encourage more women to breast-feed, including in public. The series of photos, taken by Brynja Sigurdardottir, a military spouse at Fairchild, also included members of the support group in civilian clothes. The photographer's website crashed Wednesday from the heavy traffic.
Said Scott, "I am dedicated to helping raising awareness to breast-feeding and I'm just very passionate about it. They should not be ashamed. They should not go hide in a closet. They should feel like they're doing the best that they can offer their child. And I hope that America can normalize breast-feeding."
She said that although the two women featured in the photos were surprised by the response, "in the end I think it definitely is good."
Said Kosik, "Our issue is that the uniform was used by an outside entity to further their cause. And with all of the attention this has received, it appears that they succeeded."
Local journalism is essential.
Give directly to The Spokesman-Review's Northwest Passages community forums series -- which helps to offset the costs of several reporter and editor positions at the newspaper -- by using the easy options below. Gifts processed in this system are not tax deductible, but are predominately used to help meet the local financial requirements needed to receive national matching-grant funds.
Subscribe now to get breaking news alerts in your email inbox
Get breaking news delivered to your inbox as it happens.
---