Sports
Commentary: Lack of dominant player bad for the game of golf
Fri., June 1, 2012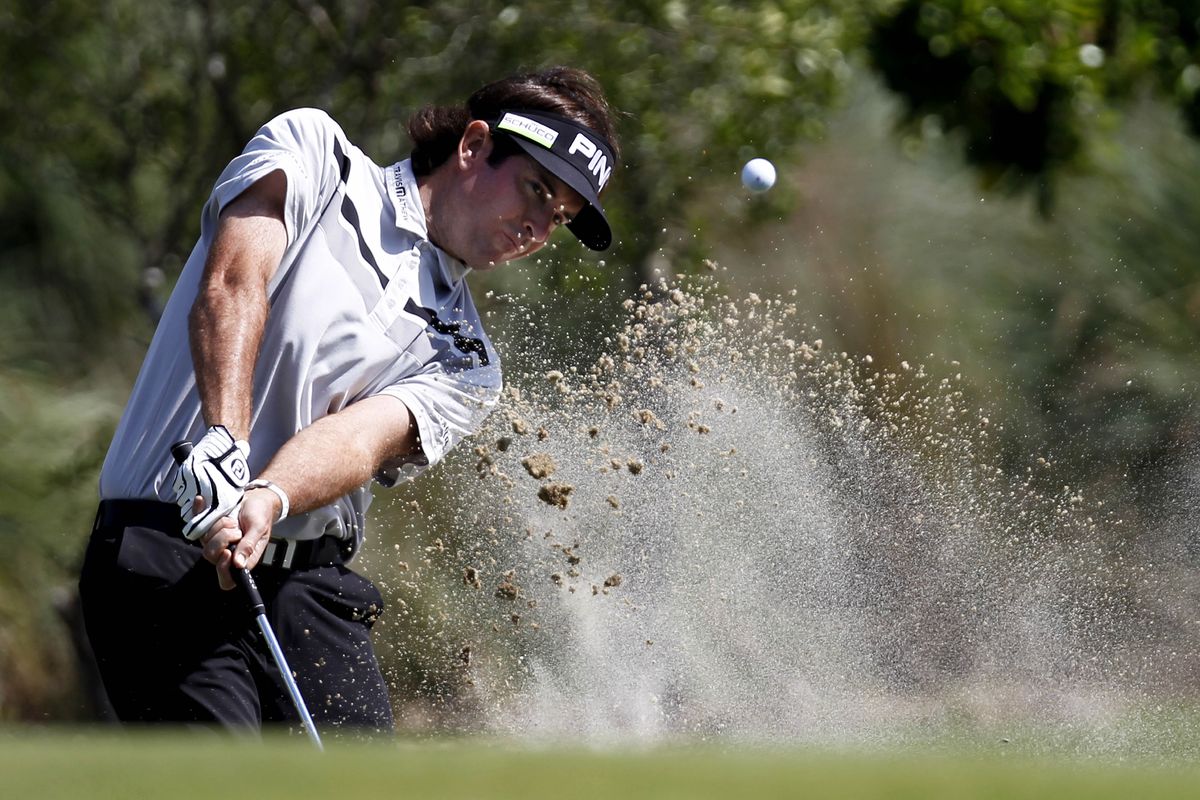 Bubba Watson, who won The Masters in April for his first major championship, added to the growing list of 13 winners in the last 13 majors. (Associated Press)
ST. LOUIS – Parity and dissemination can be good. For instance, it would be nice to have parity where owning an iPad is concerned. And in-ground swimming pool parity would be a plus.
Sports are lousy with division and parity these days. The eighth-place Los Angeles Kings are in the Stanley Cup Finals, the 9-7 New York Giants won the Super Bowl, and the 2011 Cardinals – with the eighth best record in baseball – slipped in the back door to win a World Series.
For those teams and those towns, it's great stuff. For fans of Cinderella, it's fun to re-live the fairy tale.
But parity has a flip side. If Cinderella gets to the ball every time, it's not special. You need a sinister, prevailing stepmother for the fairy tale to happen. With parity, there is no David and Goliath, no Bronx Bombers, no Big Machine. There are only Davids, bombers and machines. The capital-letter attrition alone is alarming.
Parity is prominent in professional golf these days, and it's not an especially good thing. With the U.S. Open fast approaching, the game is listing without oars in the water, without identity.
Fred Couples gave the Champions Tour a charge last summer, but the spark seems to have faded. The leading winner on the tour this season is someone named Michael Allen.
The LPGA seems to spend most of its time in foreign countries, places like Brazil, Thailand and Galloway, N.J. The top four LPGA players, and eight of the top 10, are Asian, difficult for American audiences to fully embrace.
But where this diversity is especially relevant is at the axis of golf, the PGA Tour, or post-Tiger- mania PGA Tour. The situation was exemplified by the recent Masters. The game's "Big Three," i.e. Jack Nicklaus, Arnold Palmer and Gary Player, were easily the most enchanting players at Augusta National in April. The problem? They were just ceremonial starters.
Once the actual tournament began, things settled back into a more anonymous, diluted state. Coming off his first victory in 30 months, Tiger Woods offered up his worst performance as a professional at Augusta and tied for 40th. Bubba Watson won the tournament, but hardly won the ratings. Viewership was down 22 percent from a year earlier.
Strange isn't it? A lefthander had not won at Augusta until Mike Weir in 2003. Now a lefthander has won five of the last 10 Masters. Now that's parity.
Bubba's breakthrough continues a trend. After Woods won on an injured knee at Torrey Pines in 2008, and then took the year off, Padraig Harrington lifted the environment by capturing two majors in succession. Since, there have been 13 majors won by 13 different players. Two of the 13, Phil Mickelson and Angel Cabrera, had won a major previously. None of the 13 have won another.
Watson now becomes the flavor of the week. He joins Rory McIlroy, Charles Scwartzel, Graeme McDowell, Martin Kaymer and even Harrington as players the golf press props up to fill the void. People got especially carried away with McIlroy, suggesting he had the perfect swing, perfect disposition and perfect opportunity to take the reins.
To be fair, he does have the perfect ancestry, but since winning the U.S. Open last year, McIlroy is an imperfect 0 for 3 in the majors. Don't misunderstand; McIlroy is a terrific talent and just 23. There is every reason to believe he will win many more tournaments, even more majors. But to this point, he's not unlike Schwartzel, Watson, McDowell, Trevor Immelman and others. All moved to the head of the class but stopped raising their hands.
The PGA Tour is 22 events into the season and has 20 different winners. Last year, for the first time since 1991, as few as two wins paced the circuit. The anything-can-happen, anyone-can-win element is nice. But without predictability, you have no favorites, no upsets, no antagonists, no protagonists, no color, no romance. You have indifference.
In terms of excitement, golf is stagnant. The scene still depends on a player who is no longer the player that created that energy to begin with. Woods still makes ratings jump, but he's rarely jumping into contention.
The former No. 1 is now No. 7, approaching his 36th birthday and officially injury prone. He has been absent or missed the cut at six of the last 14 majors, and finished 23rd or worse in three of the last four.
But the camera will continue to follow Woods until someone steps forward to hog the headlines. Mickelson will be 42 in June. He has carved out a place on the radar, but it's not going to grow any larger.
Vijay Singh is 49, done winning majors. Ernie Els? Please.
Look back at the history of the game. From Harry Vardon to Walter Hagen, Bobby Jones to Gene Sarazen, Byron Nelson to Sam Snead and Ben Hogan, Palmer to Nicklaus and Player, and then Tom Watson. Sprinkle Lee Trevino, Billy Casper, Johnny Miller, Raymond Floyd and Seve Ballesteros among them.
Every decade, the game has had dominant genes, players who win multiple championships, players you can be passionate about, one way or another. Even when the stars faded, you had Nick Faldo, Nick Price and Greg Norman fill gaps with dominant periods.
This decade of golf is in a strange place right now. It has no stars, just lots of … yawn … parity.
Local journalism is essential.
Give directly to The Spokesman-Review's Northwest Passages community forums series -- which helps to offset the costs of several reporter and editor positions at the newspaper -- by using the easy options below. Gifts processed in this system are not tax deductible, but are predominately used to help meet the local financial requirements needed to receive national matching-grant funds.
Subscribe to the sports newsletter
Get the day's top sports headlines and breaking news delivered to your inbox by subscribing here.
---