News > Spokane
Deputies shot ID'd; Sheriff sharply questions judge's decision on shooter
Scroll down for updates from throughout the day
June 20, 2012 Updated Wed., June 20, 2012 at 3:11 p.m.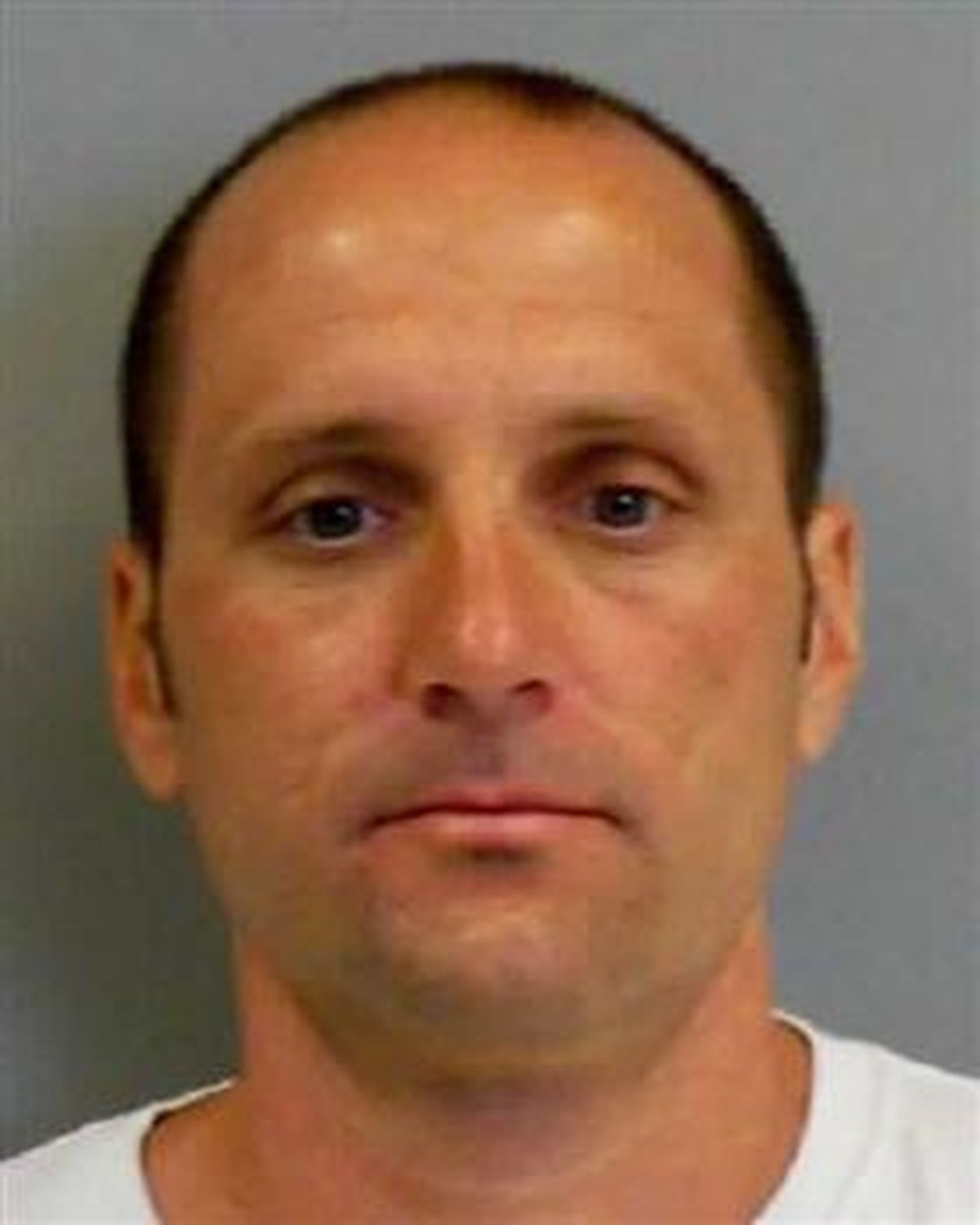 Charles Robert Wallace
Updated 3:52 p.m.
The deputies
shot yesterday
were Matt Spink and Mike Northway, Sheriff Ozzie Knezovich said during an
afternoon press conference
, in which the sheriff also sharply questioned why the shooter was out of jail and released new details about the shooting. "Why was he still on the streets of Spokane?" Knezovich said about Charles R. Wallace, who killed himself near Deer Park after the shooting. Wallace had a
long criminal history
and was facing federal drug charges when U.S. Magistrate Judge Cynthia Imbrogno allowed him out of jail so he could attend a drug rehabilitation program in Spokane Valley. Wallace did not post bond.
(See the previous blog post for more information on Imbrogno's history of controversial rulings)
Knezovich said there is a "disconnect" when offenders like Wallace are released with no bond. He also said the U.S. prosecutor's office fought against Wallace's release. Calls to the prosecutor's office have not been returned. An assistant in Imbrogno's office said the judge could not discuss the case. Knezovich also said the gun Wallace used had been stolen in Liberty Lake, and that Wallace was a passenger in the car the deputies pulled over on Newport Highway. He would not discuss what investigators know about the driver of the vehicle. Both deputies are still in the hospital.
Judge has history of controversial rulings
UPDATED 2:41 p.m.
— First appointed to the federal bench in 1991, U.S. Magistrate Judge Cynthia Imbrogno is no stranger to controversial rulings. Imbrogno is the judge who released suspected cop shooter Charles R. Wallace from jail to attend drug treatment while awaiting trial on his latest heroin trafficking charges. Wallace almost immediately left the treatment program without returning to court, setting in motion the chain of events that led to Tuesday's shootings. It isn't the first time Imbrogno's pre-trial release decisions have drawn scrutiny. Back in 2009, Imbrogno approved a temporary release for suspected drug dealer Terrence A. "T-Baby" Kinard so he could
enjoy Thanksgiving dinner with his family
— despite a long history of skipping out on promised court obligations. And in 2010, she allowed Scott Nicholas Cassell, an accused marijuana peddler linked to a major distribution ring, to
take a five-day family vacation to Disneyland
in Southern California before returning to accept a plea bargain in the case. Lawyers at the time defended Imbrogno as a tough but fair-minded judge: "She's been on the bench long enough to know there's reasons and people you have to take a chance on," Spokane defense lawyer Mark Vovos said of Imbrogno back in 2010. "It depends on your background, your criminal history, your family support and things like that." Now, with two Spokane County sheriff's deputies still hospitalized with gunshot wounds from a suspected heroin trafficker she let out of jail without bail, more questions are surfacing about Imbrogno's pre-trial release rulings. Imbrogno has not returned calls seeking comment, nor have prosecutors or the public defender assigned to Wallace's federal case. A 1979 cum laude graduate of Gonzaga University School of Law, Imbrogno was a 1970 honors graudate of Indiana University of Pennsylvania, where she studied biology and chemistry. Unlike federal district judges who enjoy lifetime appointments, magistrates are appointed to eight-year terms. They are chosen by the district judges of the courts they serve. In Spokane, Imbrogno's responsibilities include presiding over all initial court appearances of crime suspects, as well as bail and detention hearings.
Couple dropped toddler off after incident
UPDATED 1:14 p.m.
— As helicopters and police surrounded a small home on A Street on Spokane's North side Tuesday afternoon, 2-year-old Bella was playing with My Little Pony and Elmo toys on the wood floor in the front room. Bella is the daughter of Josh Fowler and Brittany McCullough who reportedly had been with Charles Wallace when Wallace shot two deputies near the Northpointe Shopping Center on U.S. Highway 2 Tuesday afternoon. At some point after the shooting, Fowler, McCullough and their daughter broke off from Wallace and dropped Bella off at the home in the 5900 block of A street with McCullough's aunt, Tammy Page and Page's husband, Pat Page. Tammy Page said in an interview Wednesday that they had no warning that Bella would be dropped off. She said Brittany and Josh entered the home briefly and said nothing of the potential trouble they were in. But Page said she had an idea that they were involved in the deputy incident because they had been watching TV and had seen Brittany's SUV at the crime scene. Bella was asleep when her parents dropped her off at the Page's home. "She was perfectly fine," Tammy Page said. Pat Page said he was outside the home as two helicopters began flying overhead and about 15 police cars arrived in a line and turned to face the home. "It was like something in the movies," Pat Page said. "I'm out there waxing the pickup and all hell broke loose." The Pages said, all things considered, they were OK with how they were treated by police and that they gave officers permission to search their house after Pat Page was briefly detained. Bella's grandmother eventually arrived and to take custody of Bella, Tammy Page said. "I wish we weren't put in the middle of it," Pat Page said.
Wallace had history with firearms
UPDATED 12:50 P.M.
— New court documents show Charles Wallace had just been indicted on five additional counts of heroin trafficking, and that he had been armed when police arrested him in April on the initial charges. The multi-count indictment, unsealed Wednesday at U.S. District Court in Spokane, suggests investigators had been tracking the heroin ring for at least a year. Wallace, 41, is alleged to have been active in the distribution network since at least April of 2011. Additionally, the new indictment includes a charge of being a felon in possession of a firearm, with agents describing Wallace as armed with a shotgun and pistol when he was arrested two months ago in connection with the initial indictments. The heroin ring is accused of moving major amounts of the drug through Eastern Washington. If convicted, Wallace could have faced at least 15 years in federal prison. He was released from jail May 31 to attend inpatient drug treatment but authorities say he fled the facility.
A different side of Charles Wallace
Although he had a lengthy criminal record, Wallace apparently had a compassionate side that some of his former neighbors in Loon Lake are trying to keep in their memories as news of his shootout with deputy sheriffs continues to spread. Last winter, Wallace was living along Gardenspot Road and regularly cleared snow from the driveways of his neighbors, particularly those who were a bit older. "He plowed my car out," said one neighbor. "When my car went on the blink, he brought me a car to use. When I was running low on wood, he brought me wood."
Drug investigators requested traffic stop on Wallace
From The Associated Press
9:53 a.m.
— A wild rolling gunfight that that led to the wounding of two Spokane County Sheriff's deputies began with a traffic stop requested by narcotics detectives. The two deputies were wounded Tuesday when they stopped a vehicle containing the 41-year-old drug suspect, Charles R. Wallace. The suspect later carjacked a vehicle from an 85-year-old woman and then exchanged fire with law enforcement officers during a 40-mile high speed chase that ended when he fatally shot himself near the town of Deer Park. The two deputies remain listed in stable condition in a Spokane hospital today.
Local journalism is essential.
Give directly to The Spokesman-Review's Northwest Passages community forums series -- which helps to offset the costs of several reporter and editor positions at the newspaper -- by using the easy options below. Gifts processed in this system are not tax deductible, but are predominately used to help meet the local financial requirements needed to receive national matching-grant funds.
Subscribe now to get breaking news alerts in your email inbox
Get breaking news delivered to your inbox as it happens.
---