News > Spokane
Shortage of workers has farmers 'terrified'
Fri., June 29, 2012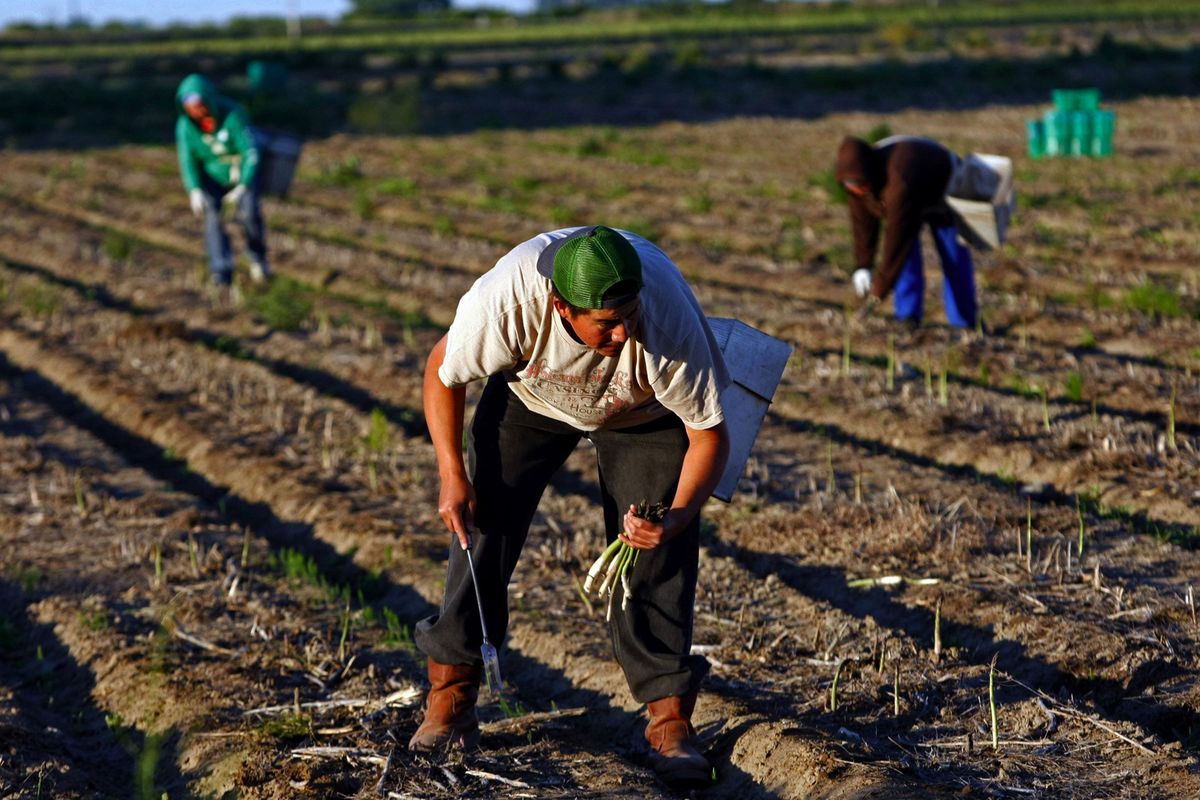 Adrian Hernandez picks asparagus with his wife, Cerecita Diaz, right, and mother, Hilda Hernandez, last week in Eltopia. Wash.
ELTOPIA, Wash. – Dawn breaks over the field as cutters bend to their work: stoop, slice, stoop, slice.
As Washington's asparagus season draws to a close, growers have much to feel good about. Prices have been high all season, matching demand. The weather has cooperated, and the quality of the crop is superb. But as the last grass, as it's known, is cut from the fields, there is a distinct unease instead of a sense of celebration.
Just as the industry has made a comeback after a decade of getting clobbered by cheap imports, growers left about 10 percent of the crop in the fields for the first time anyone could remember. And not for lack of market, or a decent price.
"We just could not find the people to cut it," said Alan Schreiber, executive director of the Washington State Asparagus Commission in Eltopia. And it's just the beginning, growers fear, as the summer cherry harvest – predicted to be a record crop this year, and the most labor intensive of all – kicks into gear this week.
Growers had trouble mustering the small crews needed to cut asparagus over the adagio rhythm of a 10-week season on about 5,000 acres. How will cherry growers muster the 40,000 workers they need to strip off their crop, typically in a 10-day sprint in most orchards?
"I think we are all terrified," said B.J. Thurlby, president of the Washington State Fruit Commission and Northwest Cherry Growers.
Nobody produces more apples and sweet cherries for fresh eating than Washington, which has a lot on the line with record crops expected in both this harvest season.
"Will we be able to pick the crop? That is the billion-dollar question," Thurlby said. Actually more than that, with last year's apple crop worth an estimated record $1.4 billion, and cherries worth $367 million.
The labor problem in Washington's $8 billion agricultural industry has been years in the making. Some 150,000 seasonal workers are needed to bring in the state's crops each year; only Florida, California and Texas employ more.
For decades, Washington growers have depended on a largely illegal workforce, mostly Latino, to do the skilled, hand labor needed to tie hop vines on trellises; prune, thin and pick cherries, apples, apricots and pears; and divide, plant and cut asparagus, said Mike Gempler, executive director of the Washington Growers League.
The dependence on Mexican labor dates to the bracero program initiated in 1942, in which hundreds of thousands of workers were brought through the 1960s by the U.S. government to pick crops.
After Congress passed immigration legislation in 1986, including amnesty for illegal workers now living in the country, many Mexican families made the U.S. their permanent home. But the children of those families have gone on to other work.
What is missing now is a workable government policy under which a stable workforce willing to do the hardest tasks, such as cutting asparagus, is reliably and legally available, Schreiber said.
Just before the Sept. 11, 2001, attacks, progress was being made toward a new U.S. immigration policy. But that chance at stability was lost in the charged post-9/11 political climate, which has only gotten more divisive, and Congress is at an impasse on immigration. In recent years, the United States has tightened its borders and focused on enforcement, rather than a labor solution.
Immigration has roiled the presidential campaign, with President Barack Obama's recent decision to allow children of illegal immigrants to remain in the U.S. and his Republican rival Mitt Romney embracing a hard line.
The U.S. Supreme Court on Monday struck down parts of an Arizona law designed to crack down on illegal immigrants – but left standing a provision that allows police to check the papers of people stopped for various reasons who might appear to be in the country illegally.
Meanwhile, crossing the U.S.-Mexico border illegally has rocketed in price, to as much as $6,000 per trip – one-third more than it used to be, workers say. With border violence brought on by warring drug cartels, combined with the depressed U.S. economy, many are deciding the trip isn't worth the cost or risk.
The result is Mexican migration to the United States has slowed to a trickle, and growers are seeing the result.
Throughout Washington farm country, the same sign is seen hung on fence lines and in small-town taco shops: Se necesitan piscadores. Pickers needed.
In Eltopia grower Jim Middleton's field, Cerecita Diaz worked the last of the asparagus harvest last week. She is a rarity: A high school graduate and U.S. citizen, she prefers fieldwork to life in an office. "I don't like being in four walls all day," she said as she lopped off asparagus with her knife.
Actually a lily, asparagus will grow 6 inches a day by cell elongation in hot weather, and cutters must gather the crop daily to keep up.
It's stoop labor, and the best cutters do their work at a near-trot, cutting two rows at once as they cross a field, bent at the waist to cut first one side, then the other, dropping the fresh, green spears in a box strapped to the worker's waist.
At the end of the row, they empty the spears into a larger tote, called a lug, which is picked up by truck and taken to a packing line where it is chilled in an ice-water bath to stop the spears from toughening.
Up at 4 a.m., Diaz worked the field with her husband and mother-in-law, getting the crop cut by the time employees in most office jobs are just getting to work.
She knows she is an exception in a farm-labor workforce estimated to be at least 75 percent illegal. "If it wasn't for the illegal immigrants, the job wouldn't get done," she said. "They are the ones who do the hard work."
Schreiber agreed.
"Resident Americans will not do this job," Schreiber said. "We need existing, skilled workers to be able to stay here. And we need a supply of new workers who can come in, work and go home."
Some growers just plain gave up this year and left standing perfectly good asparagus, or even plowed up their ground.
Eltopia grower Gary Larsen farms about 360 acres of asparagus, making him one of the state's larger growers. With asparagus making a comeback, he planted a new, 160-acre field in asparagus last year – only to find himself caught short of workers to handle the crop he already had.
He now wonders if, when the new field comes to maturity in three years, he will have the workers to cut it.
"I've never felt that way before," Larsen said. "I'm scared to death right now."
It's easy to see why he feels that way as Larsen points to 100 acres of corn he planted this year after he tore up the asparagus he couldn't get harvested. Remnants of asparagus roots left behind sent up spears now gone to fern and waving amid the corn, a reminder of the labor problem.
"Usually I can't wait until a new field comes in," Larsen said. "Now I don't know. There just doesn't seem to be a will to fix this."
Gempler said time would tell how this harvest year turns out, as both record cherry and apple crops ripen.
Local journalism is essential.
Give directly to The Spokesman-Review's Northwest Passages community forums series -- which helps to offset the costs of several reporter and editor positions at the newspaper -- by using the easy options below. Gifts processed in this system are not tax deductible, but are predominately used to help meet the local financial requirements needed to receive national matching-grant funds.
Subscribe now to get breaking news alerts in your email inbox
Get breaking news delivered to your inbox as it happens.
---