Sports > Gonzaga athletics
Standish leads GU women to WCC title game
Sat., March 3, 2012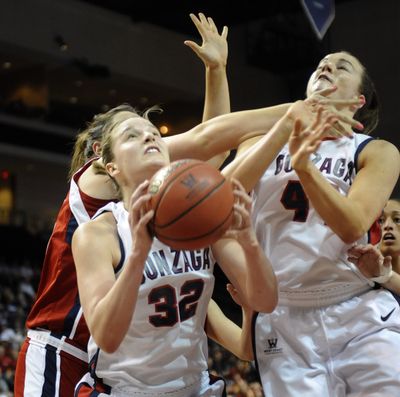 LAS VEGAS – Saturday's game against Saint Mary's brought back a fond flashback for Gonzaga women's basketball coach Kelly Graves. Content to give a little early to gain a lot at the end, No. 1-seeded Gonzaga dialed up the pace to red-line levels and took control in the final 10 minutes for an 83-78 win over the fourth-seeded Gaels in the West Coast Conference Tournament semifinals Saturday at the Orleans Arena. The victory puts the 22nd-ranked Bulldogs (26-4) into the championship game against No. 2 BYU, a 64-46 winner over No. 3 San Diego, at noon Monday. Gonzaga, playing in its sixth straight title game, is shooting for its fourth consecutive title. The Bulldogs and Gaels (21-10) wore out the nets as Saint Mary's took a 49-47 lead at the break – the most points scored in a half against Gonzaga this season. The tempo remained frenetic as Danielle Mauldin scored on a layup to give SMC a 66-63 lead with 11:45 remaining. Gonzaga used a seven-point spurt to take the lead and another 7-0 run to pull in front 77-70. Jazmine Redmon's bank shot – her only points of the game – with 2:40 left and Katelan Redmon's putback and two free throws in the final 32 seconds helped seal Gonzaga's second win in three games against Saint Mary's. "It reminded me of the UCLA game last year in the NCAA Tournament," Graves said. "They tried to run with us and they were making everything in the first half and I kept telling our team, just like today, 'I like the pace. We're used to playing at this pace, they aren't.' "Even in pre-game warm-ups I said, 'That last 10 minutes … that's why I kept wanting them to push it, push it, push it, because they have to tire at some point and I think they did." Gonzaga was tied with 10 minutes left before pulling away to an 89-75 win over UCLA. This one was tighter, but the formula was roughly the same. The Gaels, who defeated Pepperdine 67-63 Friday, made 65.5 percent of their first-half shots, the best shooting half in Paul Thomas's six years as coach. They finished at 50 percent after making just 10 of 29 (1 of 9 3-pointers) in the second half. "I told them at every timeout, 'You can't expect them to shoot 65 percent after playing two days in a row," Graves said. "Late in the game their shots were a little off, some of them were short, but that's one of the benefits of (GU) getting a bye into the semifinals." Graves also has the benefit of senior standouts Redmon and Kayla Standish, who poured in career-high 31 points and grabbed nine rebounds. Redmon added 20 points, including GU's last four of the game, five rebounds and four assists. Haiden Palmer and Taelor Karr combined for five 3-pointers and 25 points. Karr had seven of GU's 21 assists. One of the turning points came with 12:14 remaining when Standish drew the fifth foul on former Coeur d'Alene Viking Carli Rosenthal, who just returned to the game one minute earlier. "She's obviously a lot bigger and stronger than me," Standish said. "In the first two games I got pushed around a lot. I tried to go at her and get her in foul trouble because that's the only way to get her out of the game." Thomas said he put Rosenthal back in because "Gonzaga can rack up points very fast and I just didn't want to take a chance on them beating us inside over and over again." Jackie Nared led SMC with 26 points. Mauldin added 14 and Alex Carbonel, returning from an ankle injury, had 13 points. "That was a fun game, especially the first half watching both teams go up and down and make all their shots," said Thomas, whose team lost to Gonzaga by 26 in last year's title game. "But there are no more moral victories in our program anymore. I felt we had the game where we needed it and we just made mistakes. You can't make mistakes against a team like Gonzaga because they make you pay for them." Gonzaga had a 14-point edge in points off turnovers and a 10-point advantage in fast-break points.
Local journalism is essential.
Give directly to The Spokesman-Review's Northwest Passages community forums series -- which helps to offset the costs of several reporter and editor positions at the newspaper -- by using the easy options below. Gifts processed in this system are not tax deductible, but are predominately used to help meet the local financial requirements needed to receive national matching-grant funds.
Subscribe to the sports newsletter
Get the day's top sports headlines and breaking news delivered to your inbox by subscribing here.
---