News > Nation/World
Holder defends al-Awlaki killing
Attorney general outlines test for use of lethal force
Tue., March 6, 2012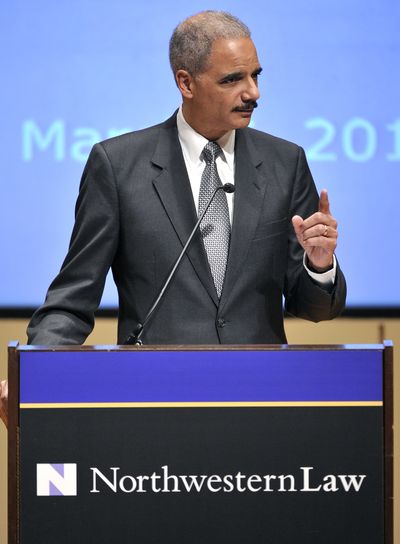 WASHINGTON – Attorney General Eric Holder said Monday that the decision to kill a U.S. citizen living abroad who poses a terrorist threat "is among the gravest that government leaders can face," but justified lethal action as legal and sometimes necessary in the war on terror.
Holder's comments broke the administration's silence on the legal justifications for its decision to kill American-born al-Qaida operative Anwar al-Awlaki five months ago in Yemen. In a speech at Northwestern University law school in Chicago, he described al-Awlaki as concocting plans to kill Americans but he never explicitly acknowledged the administration responded by targeting the cleric for death.
Instead the attorney general outlined a three-part test for determining when a targeted killing against a U.S. citizen is legal. He said the government must determine after careful review that the citizen poses an imminent threat of violent attack against the U.S., capture is not feasible, and the killing would be consistent with laws of war.
The Obama administration has refused to release the Justice Department legal opinion on al-Awlaki's killing under the Freedom of Information Act and is in court opposing efforts to have it made public.
Responding to criticism from civil libertarians, Holder flatly rejected the suggestion that the Constitution's due process protections require the president to get permission from a federal court before taking lethal action.
"The unfortunate reality is that our nation will likely continue to face terrorist threats that at times originate with our own citizens," Holder told a packed Thorne Auditorium.
"When such individuals take up arms against this country and join al-Qaida in plotting attacks designed to kill their fellow Americans there may be only one realistic and appropriate response," the attorney general continued. "We must take steps to stop them in full accordance with the Constitution. In this hour of danger, we simply cannot afford to wait until deadly plans are carried out – and we will not."
AlAl-Awlaki was a cleric who was born in New Mexico and once preached at an Islamic center in Falls Church, Va. His sermons in English are posted all over the Internet and his name has been associated with several attempted terrorist attacks.
Local journalism is essential.
Give directly to The Spokesman-Review's Northwest Passages community forums series -- which helps to offset the costs of several reporter and editor positions at the newspaper -- by using the easy options below. Gifts processed in this system are not tax deductible, but are predominately used to help meet the local financial requirements needed to receive national matching-grant funds.
Subscribe now to get breaking news alerts in your email inbox
Get breaking news delivered to your inbox as it happens.
---