News > Pacific NW
Coyote Derby nets hunters nearly 300 animals
Sat., March 10, 2012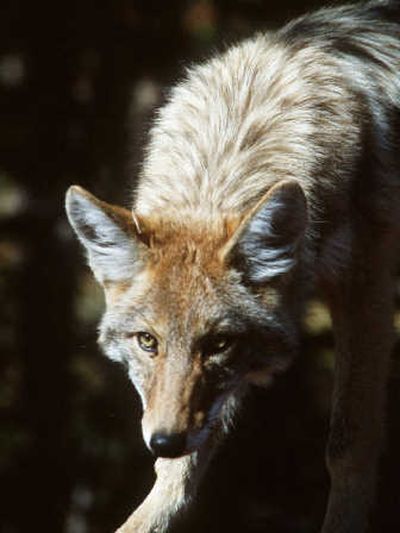 Northeast Washington businesses and hunters took aim at coyotes again this winter to spread a little wealth and give calving livestock and beleaguered white-tailed deer a little more breathing room.
Participating hunters checked in 297 coyotes during the Coyote Derby in January and February covering Ferry, Stevens and Pend Oreille counties.
The toll is up from 227 taken during the first derby, held last year during February, said organizer Freddie Giannecchini, in Colville.
In comparison, federal Wildlife Services damage control agents killed 191 coyotes at the request of landowners across the state in 2009, the latest year for posted statistics.
The hunting derby is sponsored by the Northeast Washington Wildlife Group, Clark's All Sports of Colville, Lake Roosevelt Walleye Club, Stevens and Spokane Counties Cattlemen's Association, Double Eagle Pawn, Rocky Mountain Elk Foundation and others, Giannecchini said.
Organizers had to obtain a hunting contest permit from the Washington Department of Fish and Wildlife. Coyotes are classified as a non-game predator species that can be hunted year-round.
"The department has no official position (on coyote hunting derbies) other than that coyote hunting is lawful year-round and predator hunting contests are something enjoyed by those enthusiasts," said Kevin Robinette, the agency's regional wildlife manager in Spokane.
The state has no tally on the number of coyotes killed in a year, but they are regularly hunted, he said.
Rodents make up a high percentage of a coyote's diet, but the wild canines are incredibly adaptable, surviving on everything from birds, garbage and roadkill to pairing up to take down deer.
"Coyotes are especially tough on fawns," Giannecchini said. "Our deer numbers are way down in Stevens County and the surrounding area. Reducing the number of coyotes might help this year's fawn crop."
State rules prohibit hunting-derby organizers from soliciting prizes, but they can accept up to $2,000 in donations for the contest, Giannecchini said.
Participants received a ticket for each coyote turned in. Tickets will be entered in a drawing for prizes next Saturday in Colville. Prizes include cash, hunting gear and even a half-unit of plywood from Boise Cascade.
"The furs from coyotes in northeastern Washington are worth only about $15 because they're dark," Giannecchini said. Coyotes in open areas such as the Columbia Basin are lighter-colored and more valuable to fur buyers.
Females accounted for about half of the coyotes turned in to the derby, he said.
"If you do the math, considering that each female might be having an average of six pups, we reduced the number of coyotes that will be on the northeastern Washington landscape this spring by more than 1,000.
"Cattlemen appreciate the help. If you've ever seen coyotes moving in on a cow giving birth, you know why."
Giannecchini said the derby might have had an impact on the coyote population, but plenty are still roaming the area.
"We spotted 10 coyotes on a roadkilled deer visible from Highway 395 just a few days after the derby ended," he said.
"One thing's for sure, though. If they see you slowing down your pickup, they high-tail it out of there. The survivors have been educated."
Local journalism is essential.
Give directly to The Spokesman-Review's Northwest Passages community forums series -- which helps to offset the costs of several reporter and editor positions at the newspaper -- by using the easy options below. Gifts processed in this system are not tax deductible, but are predominately used to help meet the local financial requirements needed to receive national matching-grant funds.
Subscribe to the Coronavirus newsletter
Get the day's latest Coronavirus news delivered to your inbox by subscribing to our newsletter.
---
Subscribe and log in to the Spokesman-Review to read and comment on this story