Sports
WSU's Mastro one of maestros at pistol
Wed., March 14, 2012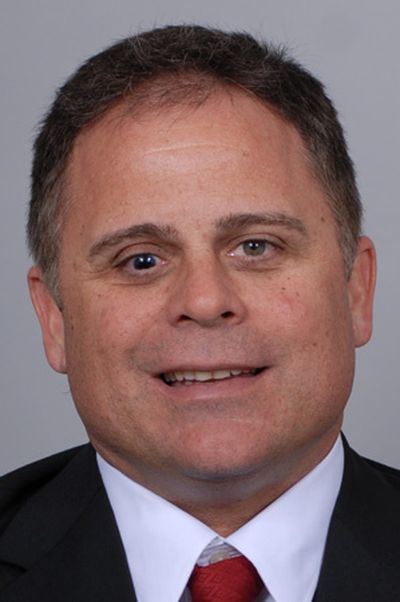 PULLMAN – Jim Mastro calls it a blessing in disguise.
It was 2009, and Mike Leach had an opening on his staff at Texas Tech. The job was going to be either a running backs coach – the position Mastro held at Nevada at the time – or a special teams coach. If Leach chose to hire a running backs coach, Mastro, whose roots to Leach date to the duo's graduate assistant days at Cal Poly San Luis Obispo, would have been a strong candidate.
Leach ultimately decided to emphasize special teams – hiring Eric Russell, coincidentally enough, who is now on staff at Washington State in the same capacity – and Mastro stayed at Nevada another two seasons before joining UCLA's staff last year.
Leach, of course, was fired amid controversy the next season.
Now Mastro, one of the nation's most well-versed coaches of the pistol offense, is reunited with Leach on the Palouse, where he'll coach his unique style to WSU's running backs in tandem with Leach's pass-heavy Air Raid.
"It's so simple, but it can be so dynamic," Mastro said of the pistol formation, a variation of the spread offense in which the quarterback lines up in the shotgun with a running back lined up directly behind him. "It's kind of like a video game. People think it's complex, but it's actually one of the more simple formations there is."
So what makes it so hard to defend?
"Any time you make the defense defend the quarterback, your odds go up 50 percent," Mastro said.
It remains to be seen just how often the quarterback will have the opportunity to run the ball in Leach's offense. Senior Jeff Tuel is certainly capable – "I wanted to recruit Jeff in high school really, really bad," Mastro said – and redshirt sophomore Connor Halliday has decent foot speed, too.
They'll experiment with combining the two styles in spring practices, which begin March 22. Mastro has only positive thoughts about the merge, saying the two styles share more similarities than differences.
He has reason to be optimistic. Mastro was on the staff of Nevada coach Chris Ault when the pistol was created, and coached five running backs who rushed for 1,000 yards nine separate times during an 11-year tenure at Nevada.
Regardless of how those two worlds collide – or intertwine – Mastro emphasized the importance of WSU's running backs needing to be able to pass protect, especially in space. Offensive line coach Clay McGuire said the same thing about the need for individual players to block on an island, with players so much more spread out than before.
The running backs will be more than pawns, of course. A group that returns redshirt sophomore Ricky Galvin, senior Carl Winston and sophomore Marcus Mason, among others, will anchor an attack that should also expect to be considerably more involved in the passing game.
That's an aspect of Leach's offense that appeals to incoming recruits, Mastro said. with the NFL turning into more of a passing league, running backs at the next level have to demonstrate the ability to touch the ball in more ways than on the ground.
"They're all productive guys, they all work hard, they're all tough," Mastro said of the Cougars' returning backs, adding praise for incoming freshman Teondray Caldwell and junior college transfer Theron West.
This return to the Palouse was welcome for Mastro, who coached running backs at Idaho from 1998-99. A native of Fremont, Calif., Mastro was less than enamored of the Los Angeles lifestyle, and says he loves Pullman. But like most members of this staff, he'd have followed Leach just about anywhere.
"We had a lot of offers over a 48-hour period," Mastro said, but once Leach offered, "there was no hesitation."
Local journalism is essential.
Give directly to The Spokesman-Review's Northwest Passages community forums series -- which helps to offset the costs of several reporter and editor positions at the newspaper -- by using the easy options below. Gifts processed in this system are not tax deductible, but are predominately used to help meet the local financial requirements needed to receive national matching-grant funds.
Subscribe to the sports newsletter
Get the day's top sports headlines and breaking news delivered to your inbox by subscribing here.
---