News > Features
Grudge match
Musical comedy debuts at Civic's Studio Theatre with 'Bingo'
Fri., March 16, 2012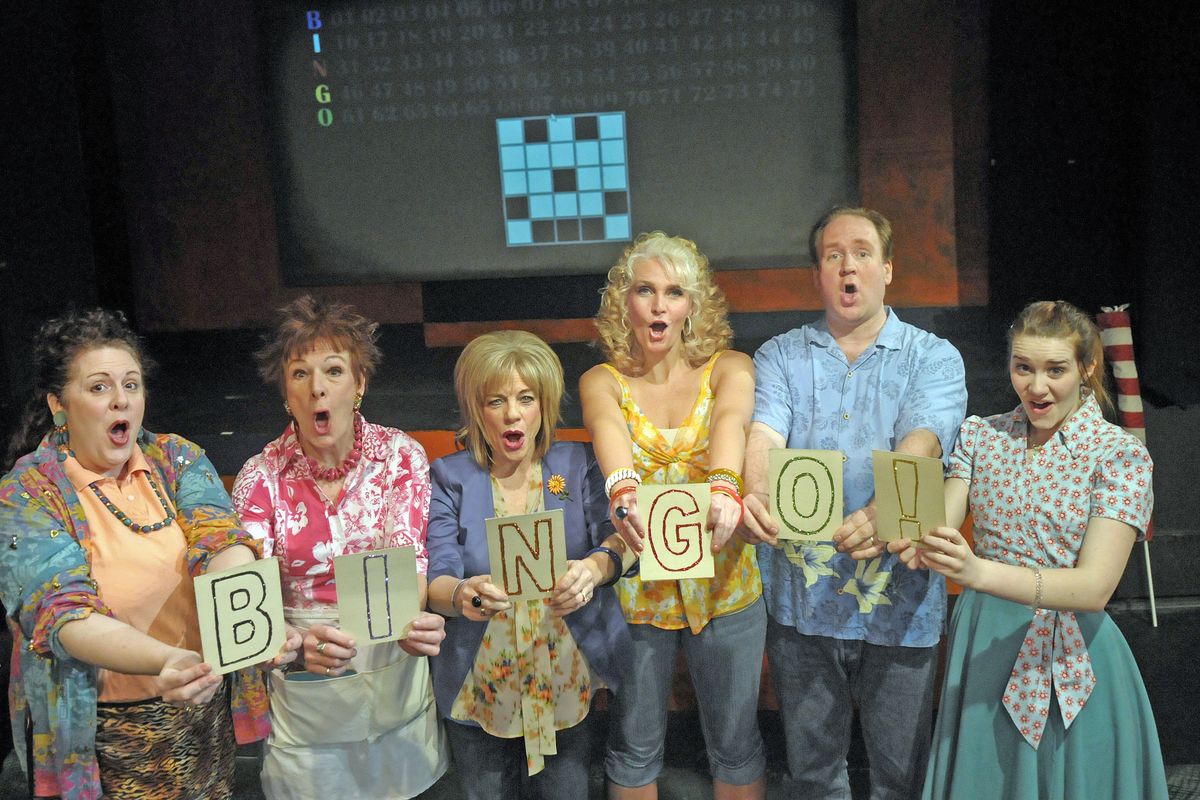 From left, Phedre Burney-Quimby, Moira Moore, Maria Crabb, Marnie Rorholm, Charles Fletcher and Laura Chamberlain star in Civic Theatre's "Bingo." (Christopher Anderson)
Before the audience members take their seats for the new Civic Theatre production of "Bingo," they'll be handed bingo cards and encouraged to play along.
Instead of watching actors on the stage, the theatergoers will be surrounded by the action, as Civic's Firth J. Chew Studio Theatre is transformed into a VFW bingo hall, complete with real bingo games and real prizes.
Nestled in among the letter and number calling is a story of friendship, said director Scott Doughty. The play, with book by Michael Heitzman and Ilene Reid and music and lyrics by Heitzman, Reid and David Holcenberg, centers on a group of hardcore bingo players, some hard feelings, and a night at the bingo hall that changes it all.
Grudges can begin with the simplest things. For longtime friends Vern (Phedre Burney-Quimby), Honey (Marnie Rorholm), Patsy (Maria Crabb) and Bernice (Janice Abramson), a bingo jackpot is their undoing.
"On a dark and stormy night, truly, they braved the elements to go to their favorite bingo hall," Doughty said. One of the group took home the top prize and for the next 15 years, it caused a horrible rift. "Tonight is the night they settle that grudge. … This will not be your typical show. It's something very unique and very special."
Back at Civic after a decade away, Doughty is directing for the first time on the Civic stage. He left Civic to work with Spokane's defunct Actors Repertory Theatre, and pursued a graduate degree in directing from the University of Idaho. "Bingo," he said, is precisely the kind of play he likes to direct.
"It's silly, it's fun and … it's going to be a great night at the theater," Doughty said.
New to the Civic stage is Moira Moore, as Minnie, and Charles Fletcher, in the dual role of Sam Wonnietski and Frank. Crabb is returning to Civic after 18 years and Abramson, a longtime Civic producer, is returning to acting for the first time after 10 years. They join veterans Burney-Quimby (Miss Mona, "Best Little Whorehouse in Texas"), Rorholm ("A Christmas Carol") and Laura Chamberlain ("Thoroughly Modern Millie") as Alison.
Getting ready for the audience participation aspect of "Bingo" has been a part of the rehearsal process, Doughty said. He's had "hecklers" attend rehearsals to help the cast get ready for anything.
One thing for attendees to know? "When you show up, come ready to play. Dress in bright colors," Doughty said. "Let them know it's OK to be talking to the actors and yelling out, trying to win a bingo."
Local journalism is essential.
Give directly to The Spokesman-Review's Northwest Passages community forums series -- which helps to offset the costs of several reporter and editor positions at the newspaper -- by using the easy options below. Gifts processed in this system are not tax deductible, but are predominately used to help meet the local financial requirements needed to receive national matching-grant funds.
Subscribe now to get breaking news alerts in your email inbox
Get breaking news delivered to your inbox as it happens.
---