News > Features
Local grad teams with Will Ferrell for unlikely first feature film
'SNL' alum Piedmont finds 'Casa' in comedy
Sun., March 25, 2012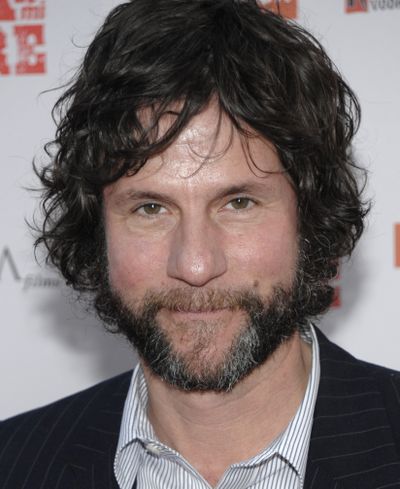 In 1988, Matt Piedmont was in his senior year at Lewis and Clark High School, looking ahead to starting at the University of Washington in the fall.
Fast forward 24 years, and Matt Piedmont has an Emmy to his name, a Sundance Film Festival prize for his short film and his directorial debut on screens in his hometown.
Piedmont's film, "Casa de Mi Padre," stars Will Ferrell, Diego Luna and Gael García Bernal in a Spanish-language parody of Mexican soap operas and spaghetti Westerns.
A Spanish-language send-up of telenovelas may not seem like the obvious first feature film, especially since it requires Ferrell to speak in a foreign language. For Piedmont, it proved an irresistible challenge.
"It all came from the mind of Will to do a movie entirely in Spanish," Piedmont said last week. "Then they (Ferrell and writer Andrew Steele) approached me and maybe we're all three dumb enough to give it a thumbs up, to take everything that has been established that makes money for movies and do the exact opposite. Andrew sent me the script, and I thought it was so brilliant. It has so many things, big epic sweeping romance, violence, and a point of view and kind of a message. It really appealed to me on all levels."
The film has been met with mixed reviews, but Piedmont is OK with that.
"It's struck a nerve. I can't remember the last time a comedy was spurring so much intellectual back and forth discussion about this stuff," he said. "The main thing is we made a movie from top to bottom that we love and can stand by, so the people who don't like it don't necessarily get it, and that's OK, or it's not their thing, and that's OK too."
Piedmont and Ferrell go way back. Piedmont's big break came when he joined the writing staff of "Saturday Night Live" in 1996 – Ferrell had joined the year before – and he worked there until 2002, the same year the writing staff won an Emmy for writing.
After leaving "SNL," he sold three screenplays – none of which were produced. He wrote and directed commercials and eight episodes of "Bud TV," and did projects for funnyordie.com, the comedy website Ferrell helped found. His short film, "Brick Novax's Diary," took a special jury prize for short films at the 2011 Sundance Film Festival.
It's quite a ways from the halls of LC to the bright lights of Hollywood. For Piedmont, the journey began as he watched his fellow college seniors don business suits and march to the nearest job fair.
"I was taking all the Russian literature classes and all these weird classes and I said wait a minute I guess I have to graduate," he said.
After graduation, he went to New York, where he landed a job as a page at NBC – think Kenneth on "30 Rock" – which lead to a job at "SNL" taking tickets and writing promos. In short order, he was in the writers' room of television's premium comedy boot camp.
Next up is a film he'll shoot this summer called "King Dork," based on a book by Frank Portman.
"It's set in 1987, it kind of parallels my life in Spokane growing up. Two 16-year-old kids, who are kind of outcasts, bond over rock music, classic rock, Velvet Underground, and they want to be in a band," Piedmont said. "It's kind of 'Rushmore' meets a John Hughes movie with a little 'Drugstore Cowboy.' It's an uplifting, cool story, but it doesn't shy away from the fact that there's some darkness in this kid's life. It's going to be fun."
As his career heats up, Piedmont speaks with unabashed enthusiasm for his hometown. He drops references to record stores that no longer exist – Little Nell's and Eli's among them. He recalls with fondness Spokane's four seasons, the architecture, the vibe.
"There's was enough city to feel that there was enough action going on, but it was small enough that you had a classic childhood in a sense," he said. "I recently pulled up a clip of 'Vision Quest,' and I was watching him run across the bridge, and there's just something that I can't quite articulate properly. There's a vibe that is very specific to Spokane that always creates the same reaction, 'Oh, this is a part of me. I spent my formative years having this town get soaked up into me.' "
Local journalism is essential.
Give directly to The Spokesman-Review's Northwest Passages community forums series -- which helps to offset the costs of several reporter and editor positions at the newspaper -- by using the easy options below. Gifts processed in this system are not tax deductible, but are predominately used to help meet the local financial requirements needed to receive national matching-grant funds.
Subscribe to the Coronavirus newsletter
Get the day's latest Coronavirus news delivered to your inbox by subscribing to our newsletter.
---
Subscribe and log in to the Spokesman-Review to read and comment on this story