News > Spokane
City Council to address gay marriage
Nonbinding measure calls for equality
Fri., March 30, 2012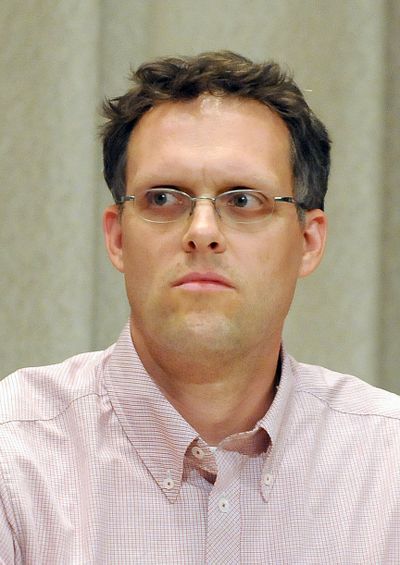 The debate on gay marriage is headed to the Spokane City Council.
City Councilman Jon Snyder is sponsoring a nonbinding resolution in support of "marriage equality," and despite a Republican-leaning majority on the City Council, it appears the resolution is on track for approval.
"People need to understand that this is not a Seattle or West Side issue," Snyder said. "We have gay and lesbian citizens all across Washington and a lot of them see Spokane as a place where they can make their home."
Spokane City Councilman Mike Allen, a Republican precinct committee officer, said he likely will support Snyder's resolution.
"The Constitution says all are created equal," Allen said. "I don't know how you could do a 'separate but equal' in this particular category."
Washington Gov. Chris Gregoire signed Washington's same-sex marriage bill in February. It is scheduled to become law on June 7, but a challenge is expected that would force the law to be considered by voters in November.
Snyder said he expects the council to vote on the resolution on April 16.
City Councilwoman Nancy McLaughlin, who announced this week that she will challenge state Senate Democratic Majority Leader Lisa Brown for Brown's seat in the 3rd Legislative District, said she opposes the resolution, as she did the Legislature's vote in January approving gay marriage.
"I really don't think it's an issue that we as a City Council should be dealing with," McLaughlin said. "I respect the opinions of others that may be different than mine and hope that they respect my own deep-seated value of marriage being between one man and one woman."
The City Council has voted on several nonbinding resolutions this year, taking up issues that are up to voters or other governing bodies. In January, they asked Congress to relax marijuana laws for medical purposes. This week, they suggested that the Bureau of Indian Affairs reject the Spokane Tribe of Indians' casino proposal on the West Plains, and recommended that voters approve the Spokane Public Facilities District proposal to extend taxes to expand the Spokane Convention Center and Spokane Veterans Memorial Arena.
Steve Faust, president of the Inland Northwest Business Alliance, a chamber of commerce for gay, lesbian and transgender people, urged the council's support for the resolution.
"To remain economically viable, cities and states must demonstrate a commitment to creating an open, healthy and equitable environment in which to live and work – one that reflects the needs and expectations of a diverse workforce," said the group's official statement in support of the state's same-sex marriage bill.
The Spokane City Council extended benefits to same-sex couples and in some cases, for unmarried opposite-sex couples, in 2005. Then-Mayor Jim West opposed the proposal, but the rules were approved by a veto-proof, 5-2 majority.
The change in city code only affected the city's non-unionized workforce, but it also allowed unions to negotiate for the right. Since then all city unions except the Spokane Firefighters Union have done so. The state's domestic partnership law, approved since then, extended domestic partnership benefit rights to the full workforce.
Human Resources Director Heather Lowe said of the city's nearly 2,000 workers, 23 have received benefits based on the city or state rules on domestic partner benefits.
Local journalism is essential.
Give directly to The Spokesman-Review's Northwest Passages community forums series -- which helps to offset the costs of several reporter and editor positions at the newspaper -- by using the easy options below. Gifts processed in this system are not tax deductible, but are predominately used to help meet the local financial requirements needed to receive national matching-grant funds.
Subscribe now to get breaking news alerts in your email inbox
Get breaking news delivered to your inbox as it happens.
---