News > Pacific NW
Canadian company got bid for Tacoma's new fireboat, causing stir
Sun., May 6, 2012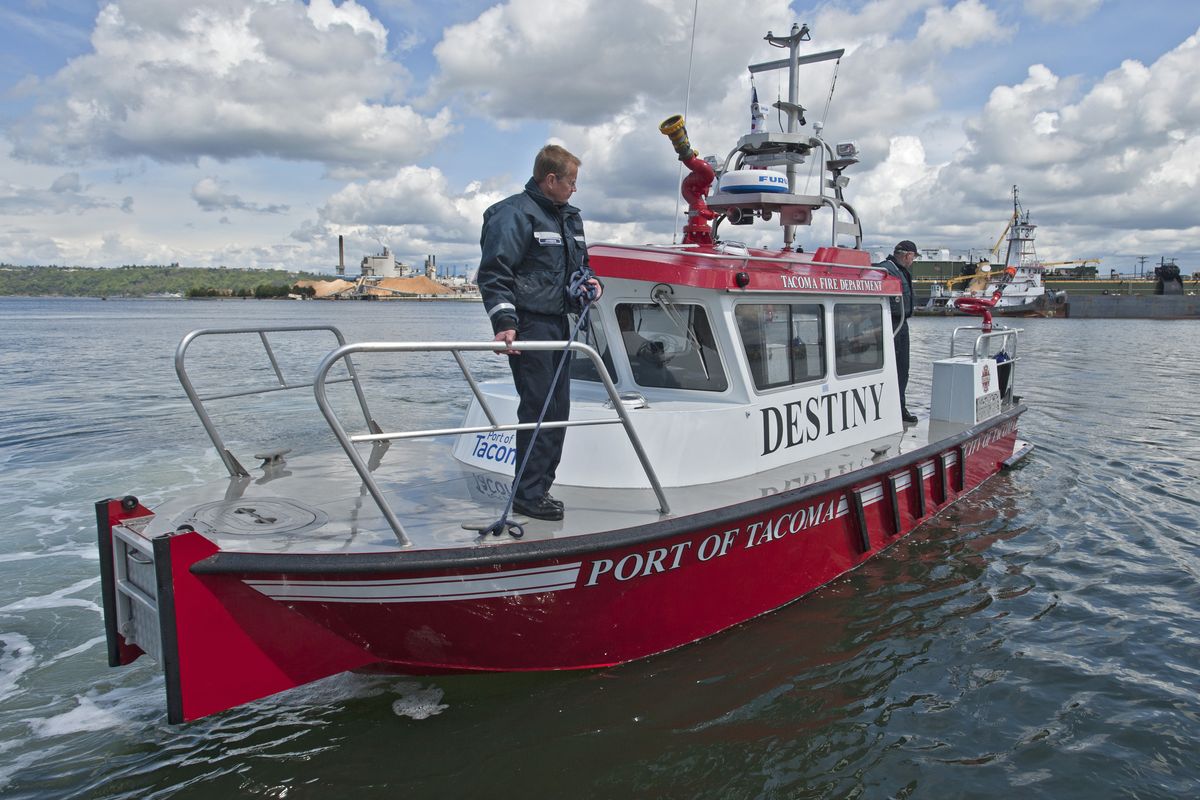 The new patrolboat and fireboat Destiny will be operated by Tacoma Fire Department and is owned jointly by the fire department and the Port of Tacoma. (Associated Press)
TACOMA – Tacoma added a new fireboat to its fleet this week. The boat is faster, more agile and more economical to operate than the aging boat it joins in Tacoma, but the $675,000, 30-foot Destiny has one thing in common with its fleet mate: Both were built outside the United States.
The Destiny was built in Canada and the Commencement was built 30 years ago in England.
The Port of Tacoma and the city of Tacoma bypassed two lower bidders who would have constructed the new fireboat in Western Washington.
At least one of those local boat builders, Northwind Marine of Seattle, is puzzled why taxpayer money was used to create jobs in Canada when the boat could have been built less expensively locally.
"From a taxpayer point of view, especially with jobs hard to find in this economy, it doesn't make sense to me to go outside this country to buy your new fireboat," said Clay Pintar, Northwind's chief operating officer.
Port of Tacoma spokeswoman Tara Mattina said neither the country where the boat would be built nor the dollar amount of the bids was a consideration in deciding which bidder got the job.
Three port and city employees ranked the four responding bidders and their products based on their responses to a request for proposals the port issued nearly two years ago. Among the criteria were vessel reliability, builder qualifications, warranties, training for boat operators and mechanics, the vessel's quality and ease of use, and the proposed delivery schedule.
Each of the three evaluators could award up to 100 points to each bidder. Those combined scores put Canada's MetalCraft at the top with a score of 268. Port Angeles' Armstrong Marine was second with 227 points, Canada's Hike Marine was third with 213 and Northwind a distant fourth with just 63 points.
Pintar said he's puzzled at that result. The Seattle company has built dozens of aluminum fireboats for fire departments around the world, he said. It has three fireboats on order now.
The Seattle boat building company executive said the port and the fire department may have made a preliminary inquiry into the possibility that Northwind submit a bid, but he didn't receive a formal invitation to submit a definitive proposal.
The port says its records show Northwind bid $263,400 for the fireboat. Pintar said that number would be out of the normal range for 30-foot fireboats. Those usually are priced between $350,000 and $550,000, depending on how they're equipped, he said.
MetalCraft, the contract winner, bid $622,713. Optional equipment added later in negotiations added another $53,000 in costs.
Tacoma isn't alone in buying a fireboat from the Canadian company. Its website displays many of its fireboats ordered by U.S. cities.
Local journalism is essential.
Give directly to The Spokesman-Review's Northwest Passages community forums series -- which helps to offset the costs of several reporter and editor positions at the newspaper -- by using the easy options below. Gifts processed in this system are not tax deductible, but are predominately used to help meet the local financial requirements needed to receive national matching-grant funds.
Subscribe now to get breaking news alerts in your email inbox
Get breaking news delivered to your inbox as it happens.
---