News > Spokane
Tumult follows firing at MAC
Foundation board, with purse strings, still backs Rodgers
Sun., May 6, 2012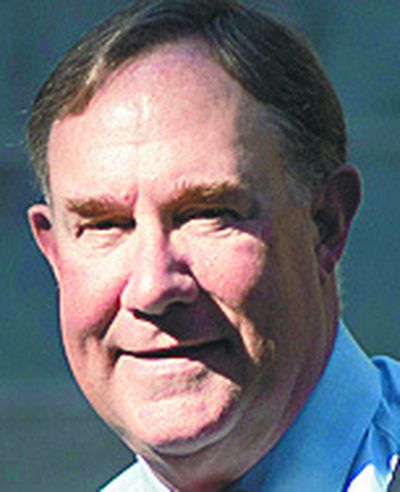 The fallout from the controversial firing of the Northwest Museum of Arts and Culture executive director has put the financially struggling institution in a perilous spot that MAC supporters fear threatens donor support, relationships with regional Indian tribes and even the museum itself.
Two members of the board that oversees the MAC – the Eastern Washington State Historical Society board of trustees – resigned last week in protest of the decision to fire Forrest B. Rodgers.
"It's just jeopardizing the institution," said society board member Jim Sullivan, who voted against Rodgers' termination and remains on the board. "Now the cover-up is worse than the crime."
Sullivan said he still hopes the decision will be reversed.
Society board chairwoman Chris Schnug said the society board and museum are focused fully on moving forward.
"The real issue is not a particular individual but the future and the support of the MAC as an institution," Schnug said.
Meanwhile, the MAC Foundation board, which controls much of the private money that supports the museum, is fully behind Rodgers. Foundation board members said many had planned to also resign in protest but decided they could do more good by remaining active. Members of the MAC's American Indian Cultural Council, which helps oversee the museum's vast holdings of tribal artifacts, also have expressed support for Rodgers. 
Foundation board member Cece Perko said members are considering their next step. Asked if the foundation may withhold from the MAC private money it controls, she said: "At this point, anything's possible."
Some foundation board members said they have heard from donors who are worried about the decision and may withhold support.
Schnug said she understands that the foundation board wants to be kept better informed but was unaware of efforts on the foundation board to reverse the termination.
"At this point we are optimistic that we can bring together our community and supporters and come up with a plan that everyone can support," Schnug said.
Rodgers was fired by the seven-member executive committee of the society's board on April 24 in violation of society bylaws, which require a vote of the full board or a decision from Gov. Chris Gregoire to terminate the MAC's executive director. Many trustees not on the executive committee were furious that they were kept out of the loop. Even so, on Wednesday, the full board met and agreed to uphold the termination in a 13-7 vote.
Some on the foundation board are particularly angry about executive committee member David Brukardt's vote to fire Rodgers. Since Rodgers' dismissal, Brukardt has been announced as a candidate for a finance position at the museum. Yet, Brukardt did not recuse himself from voting to terminate Rodgers, who as executive director was in charge of hiring decisions.
Schnug said a final decision has not been made to hire Brukardt. Hiring him to perform part-time work will be considered at a future board meeting, she said.
Attempts to reach Brukardt were unsuccessful Friday afternoon and Saturday.
Perko, a foundation board member, said Schnug made it sound as if Brukardt was all but certain to get the job in a presentation she made to the foundation board on Thursday.
"She made it appear that it was pretty much in the works," Perko said.
Rodgers said Friday that he was unaware that Brukardt was being considered for a position at the museum, but added that he has the "utmost respect" for him.
Board members who supported Rodgers' ouster still aren't saying why he was fired.
"It's an ongoing personnel matter and it's confidential," Schnug said Friday.
Rodgers' supporters say he brought professional leadership to the museum after years of unsteady direction.  With the termination, the MAC has had five directors in the past five years. John Drexel, 53, the MAC's chief financial officer, has replaced Rodgers on an interim basis. Drexel has worked at the MAC for nearly 10 years and has a business degree with an emphasis in accounting from Washington State University.
"There was nothing that I saw that even began to warrant anybody's firing," said society board member Charlotte Lamp, who resigned from the board in protest of the firing. The other member who resigned was Maureen Green.
Rodgers was hired last summer by a search committee led by Brukardt. Rodgers is the former president and CEO of the High Desert Museum in Bend, Ore., and former executive director of the Central Washington University Foundation.
Lamp said he was selected "to take us toward private funding" after legislators warned that the state may not be able to maintain current levels of support.
Rodgers crafted plans to maximize state funding to preserve the MAC's state-mandated functions related to collections, and to stabilize other parts of the museum without state funds. One option Rodgers said he suggested was to negotiate with the state to allow the MAC to become a private institution with a state contract rather than remain a state agency.
"When push came to shove (executive committee members) just could not recognize that the state is not going to be there," Lamp said.
State Rep. Andy Billig, D-Spokane, who fought to preserve funding to keep the MAC open, said it is prudent for the museum to "be ready for alternatives in case the state money is not available." He added, however, that decisions about museum funding won't be finalized until next year's legislative session.
Lamp said the decision to fire Rodgers without consulting a majority of the society board caused her to lack trust in the board's leadership.
"Integrity is probably my No. 1 value and what occurred led me to see that the people on the executive committee, in particular certain members, just do not operate in the same mode," Lamp said. "In order to execute your fiduciary responsibility, you have to have open, honest communication, and when that isn't happening, then from a legal standpoint, you're jeopardized."
Schnug said that she's "sorry that anybody would feel that way."
"I can't speculate as to what people are thinking," Schnug said. "The ongoing support of the MAC itself is the very issue in people's minds."
Asked Friday if he would consider returning to his former position at the MAC, Rodgers said he "wouldn't know what to think about that."
"None of what happened diminishes my belief in what the MAC could become and my respect for the staff and volunteers," Rodgers said.
Local journalism is essential.
Give directly to The Spokesman-Review's Northwest Passages community forums series -- which helps to offset the costs of several reporter and editor positions at the newspaper -- by using the easy options below. Gifts processed in this system are not tax deductible, but are predominately used to help meet the local financial requirements needed to receive national matching-grant funds.
Subscribe to the Coronavirus newsletter
Get the day's latest Coronavirus news delivered to your inbox by subscribing to our newsletter.
---