Sports
Brad Penny the latest big name to disappoint in Japan
Sat., May 12, 2012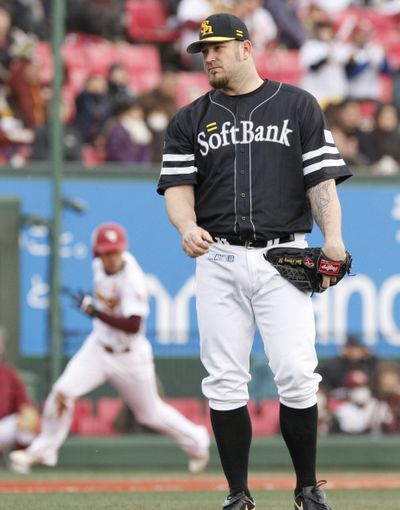 TOKYO – American pitcher Brad Penny was released by the Softbank Hawks after appearing in just one game for the Pacific League team, becoming the latest in a long list of former major league players to struggle to adjust to Japan's unique brand of baseball.
The Hawks cut Penny on Tuesday, granting the player's request to be released. In his one appearance in Japan against the Rakuten Eagles on April 4, the veteran right-hander gave up six runs, four earned, on seven hits while walking three in 3 1/3 innings for a 10.80 ERA.
The 33-year-old Penny, who went 11-11 for the Detroit Tigers in 2011, signed a one-year, $3 million contract in February to play for the Hawks.
The Japan Series champion Hawks lost three top-of-the rotation pitchers in the offseason and needed to make a statement to their fans by signing a marquee pitcher.
But Penny complained of soreness in his shoulder and said he had trouble adjusting to the softer pitching mound at Japanese stadiums. Japanese media reported that Penny refused to take part in team practices and meetings. Given his major league pedigree, the team was willing to let Penny work out on his own.
Penny had a hard time adjusting to living and playing in Japan. While many former major leaguers thrive in Japan, the transition isn't always easy.
"It takes a certain kind of ballplayer to make it in Japan," said author Robert Whiting, who has written several books on Japanese baseball. "I guess Penny wasn't one of those players. It's a sad day when $3 million isn't enough to keep you in Japan."
Many of the best foreign players in Japan are ones that weren't established major leaguers before they came over. Tuffy Rhodes, Randy Bass and Alex Ramirez are among the most successful players to make the switch to Japan.
Penny isn't the only former major league player to struggle in Japan. When it comes to playing in Japan, former Los Angeles Dodgers infielder Jim Lefebvre, who played here from 1973-1976, summed it up best: "If you want to succeed in Japan, you have to forget everything you learned in the United States and pretend you are a rookie. Do everything they tell you and you just might make it."
Following is a capsule look at some other players whose forays into Japanese baseball were cut short by an inability to adapt to the Japanese way.
Other failed transitions
Kevin Mitchell: After a solid career with several major league teams, including the New York Mets and the San Francisco Giants, Mitchell opted to play in Japan after the strike-shortened 1994 season joining the then-Daiei Hawks.
The veteran outfielder arrived in Japan to much fanfare after signing a record $4.5 million one-year deal. He hit a grand slam on opening day in 1995, but angered management when he abruptly left the team in midseason to get treatment for knee problems.
Dan Miceli: After posting a 6-6 record with a respectable 3.59 ERA for the Houston Astros in 2004, Miceli signed with the Yomiuri Giants in 2005. The Central League team was hoping the veteran right-hander would be a solid late-inning pitcher, but he lost his first two games and became the fastest player to be released in Giants' history, lasting just four games.
To make matters worse, Japan's sports newspapers ran front-page photos of a smiling Miceli taking in the sights of Tokyo on a rickshaw the day after he was released.
Joe Pepitone: The former New York Yankees player and author of "Joe, You Coulda Made Us Proud," was hardly a source of pride in Japan where he was widely known as one of the biggest busts in Japanese baseball.
Pepitone accepted an offer of $70,000 to play for the Yakult Atoms in 1973, but he hit .163 with one home run and two RBIs in 14 games.
Pepitone gained a reputation for missing games and claiming injury only to be spotted at discos in Tokyo's bustling late-night entertainment districts. His behavior led the Japanese to adopt his name into their vernacular as a word meaning to "slack off."
Brian Bannister: The son of major league All-Star Floyd Bannister. After a brief big league career with the New York Mets and Kansas City Royals, Bannister joined Yomiuri for the 2011 season, but left Japan after the earthquake and tsunami, citing fears over the nuclear crisis at the Fukushima Daiichi power plant.
After being placed on the restricted list for the Giants, the 31-year-old pitcher retired stating he had no further plans to play in either Japan or the United States.
Local journalism is essential.
Give directly to The Spokesman-Review's Northwest Passages community forums series -- which helps to offset the costs of several reporter and editor positions at the newspaper -- by using the easy options below. Gifts processed in this system are not tax deductible, but are predominately used to help meet the local financial requirements needed to receive national matching-grant funds.
Subscribe to the sports newsletter
Get the day's top sports headlines and breaking news delivered to your inbox by subscribing here.
---