Student painting wins spot in Capitol tunnel
She'll go to D.C. as part of honor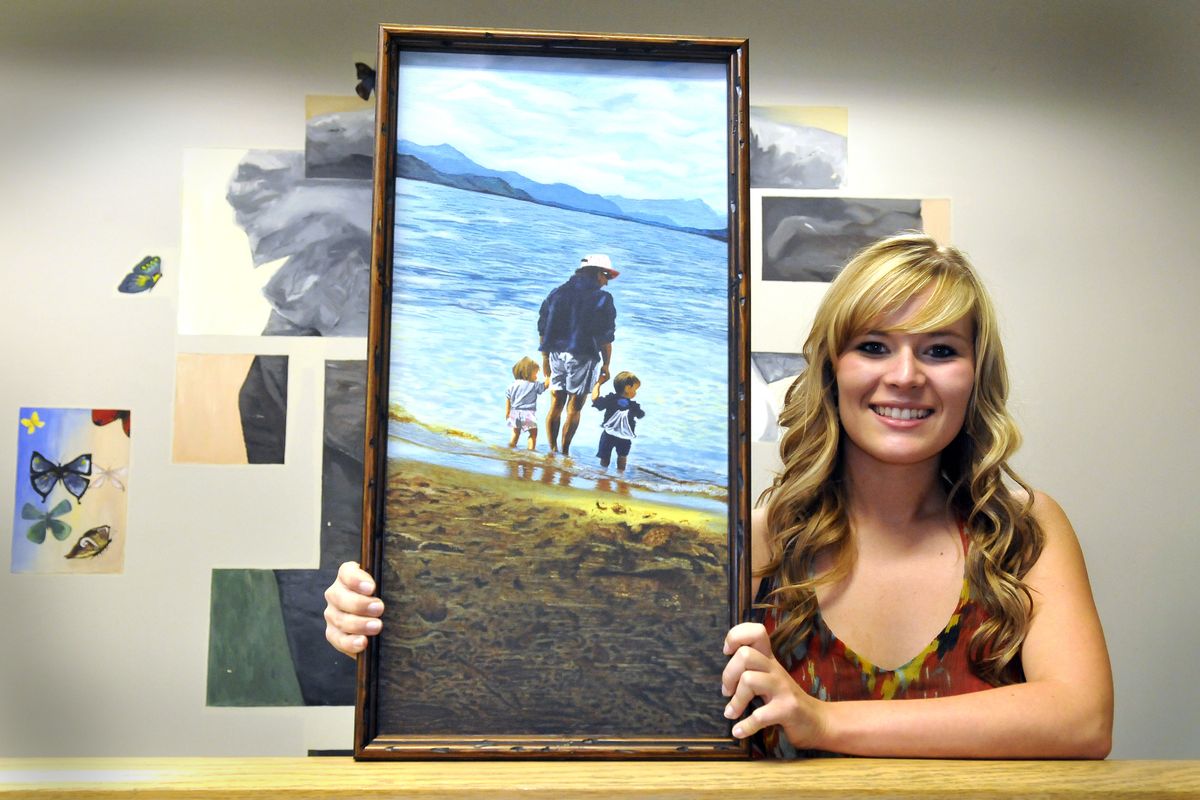 An old photo from Emily Harris' childhood is the inspiration for a painting that will now hang in the Cannon Tunnel in Washington, D.C., for a year.
Harris, 18, is a senior at East Valley High School. Last week during art class, she received a call from Rep. Cathy McMorris Rodgers, who said Harris' acrylic painting, "My Childhood," had won the Congressional Art Competition.
High school artists around the country can submit their artwork to their congressional representative. McMorris Rodgers selected Harris' painting. Student paintings from around the country adorn the walls of the Cannon Tunnel, which connects the Cannon House Office Building with the Capitol.
"She thought it was a really good representation of where we live," Harris said of her phone call.
But then, Harris was almost embarrassed to admit the portrait didn't represent Washington.
"It's Idaho," she said. "It's Priest Lake."
The painting is taken from a photo her grandmother, Agnes McFaddin, took when she and her twin brother, Zachary, were toddlers, walking on the beach with their father, Steve.
The photo was one of three she submitted to her art teacher, Pam Smith.
"She's not going to choose this," Harris remembers thinking. "It's like crazy hard."
Harris, who had never done an acrylic painting before, was intimidated by the detail of the water and the sand.
But Smith chose this one.
"It was the biggest challenge and the toughest struggle," Smith said of the project. "Em needs that."
Smith said Harris is the kind of student she can seat in a part of the classroom and make the students around her better. She describes her as an amazing older sister and mentor to others in her class. She added that none of her younger students would be achieving what they are without Harris showing them the way.
Harris usually works in pastels, but she said Smith has been challenging her this school year to work in different media – acrylic paint and graphite. It's work that has paid off.
"It got me here," Harris said. "I'm pretty honored I was able to achieve this."
She said she feels humbled by the selection of her painting.
She'll travel with her painting to Washington, D.C., in June, shortly after graduation.
"It's a great way to end my senior year," she said. Harris likes the idea of visiting the capital right after high school, now that she's old enough to vote and make her way in the world.
Her mother, Chris, brother and grandmother will travel with her. There are plans in the works to take a tour of the city on Segways and visit the White House. Harris also wants to see the Reflecting Pool at the Lincoln Memorial.
She'll also get her picture taken on the steps of the U.S. Capitol.
"It's going to be really hard for me to give up my painting for a year," she said. The emotional connection she has with "My Childhood" is strong, but she's proud to let it go.
When she gets it back, she thinks she'll give it to her parents.
Harris plans to attend Eastern Washington University this fall to study occupational therapy. She hopes to at least minor in art, since she's been drawing for as long as she can remember.
Smith is excited for Harris' future. She describes her student as sophisticated and intelligent, someone who thrives when she's challenged intellectually. Of "My Childhood," Smith can't praise Harris enough.
"It's incredible," Smith said. "I stopped in the middle of class and happened to catch a part of it. I just melted into it."
---