Sports > Outdoors
Back Country Horsemen tend Pend Oreille park trails
Sun., May 20, 2012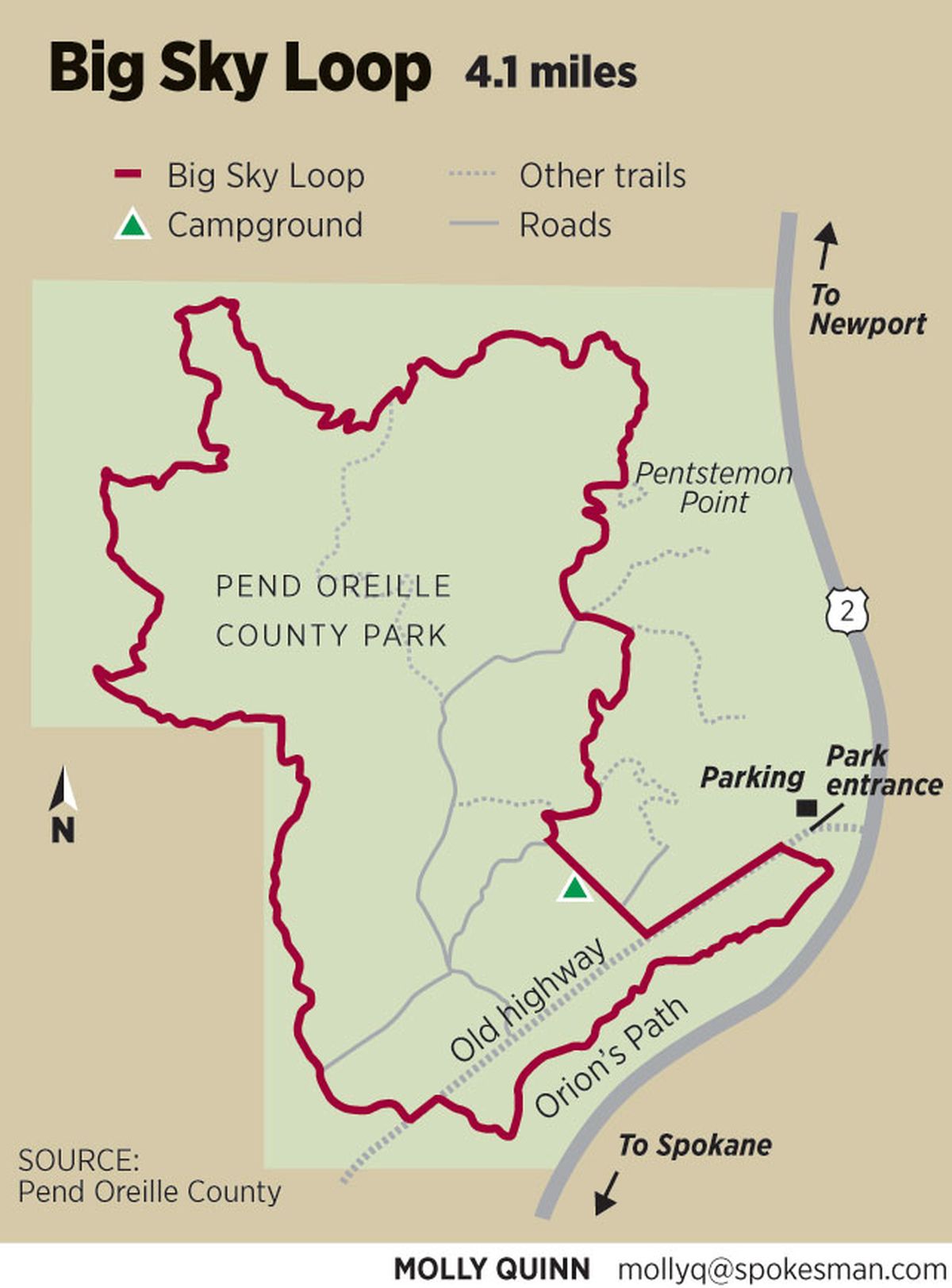 The Big Sky Loop incorporates 4.1 miles of the 7.1-mile trail system in Pend Oreille County Park.
Land managers were in high gear last week, working to get Inland Northwest campgrounds open for Memorial Day weekend, which traditionally ushers out the season's first big wave of outdoor recreation.
Pend Oreille County Park was no exception. County crews were using heavy equipment in the 485-acre park adjacent to U.S. Highway 2. The front-loader was followed by a road sweeper and water truck to clean the entrance road.
Boy Scouts were scheduled to come in and tidy the park's campground and picnic area this weekend.
As usual, the Back Country Horsemen of Washington were ahead of everyone else, packing in saws on horses and mules weeks ago to saw out the winter blowdowns on the park's 7 miles of forest trails.
"We do projects all over, but we've specifically adopted the trails at Pend Oreille County Park," said Bob Gish of Deer Park, BCHW president and Northeast Chapter leader.
The group made an agreement with the county in 2003 and led the charge with other groups and schools to revive and reroute trails in a park that had been neglected and taken over by a party crowd.
Although most cars speed by on the four-lane segment of U.S. 2 that passes the park, the trails are well worth exploring. They lead through various wildflower areas and forest types, including cedars. They gain elevation to high points overlooking the valley. They have the feel in some places of being deep into a wilderness.
Sign of deer, moose and wild turkeys was found on the trail last week. Hikers, bicyclists and horse riders likely wouldn't be enjoying any of those trail attractions if the BCHW hadn't stepped up.
"Trail maintenance budgets are being slashed everywhere we look, from local parks to the Forest Service," Gish said Wednesday. He was returning from Naches, Wash., where he and other BCHW volunteers were being certified as instructors who can certify other volunteers to use chain saws on public lands projects.
"The Forest Service budgets have been so bad, they couldn't fund people to certify the volunteers," Gish said.
Clearing trails is important, he said, but the group may have even more impact with its lobbying efforts to assure trail funding programs at state and national levels.
"Everybody's looking for funding, and it's a constant battle right now just to keep the gas-tax funding for the Recreational Trails Program."
Most trail visitors don't recognize the hoof prints, trail muffins and sawdust they see along many of the region's trails that indicate BCHW was already there clearing the way.
"We get together with Idaho clubs on Memorial Day weekend to clear trails near Upper Priest Lake," Gish said. "Our involvement dates back many years when we tried to explore trails there but couldn't get through."
Forest Service staffers welcomed their offer to help clear out and connect trails to form long loops for horsemen and hikers.
"We work hard, but we make it fun," said Dick Yarboro, BCHW spokesman in Western Washington. "We might clear a trail in and have a nice ride out to a camp, highlines for the horses, good food, a campfire and a drink."
Gish said the Northeast Chapter has about 65 members and about 8-12 show up for trail projects.
"But we've committed to helping all over the place, like the Salmo-Priest Wilderness."
The Inland Empire Chapter, with 117 members, has worked on trail projects in areas such as Liberty Lake County Park as well as the Slavin Conservation Futures Area south of Spokane
"This year we're focusing on Riverside and Mount Spokane state parks," said chapter president Aline Cook. "We've been helping build the new equestrian campground at Riverside, which we're planning to show off with a bunch of activities during the park's open house event on June 24."
The group also has adopted four trails at Mount Spokane.
"Most people join BCHW to learn about trail riding and packing and have people to go into the mountains with," Yarboro said. "Once they get out in the mountains, many of them sense how much needs to be done and they become volunteers."
Directions to Pend Oreille County Park: From north Spokane County at the Riverside Schools and the intersection of Deer Park-Milan Road, drive north 8.2 miles on U.S. Highway 2 and turn west (milepost 318) to the entrance of Pend Oreille County Park.
Park in the lot next to the highway before going through the gate, which is locked to keep out motor vehicles except for the summer season. Walk past the gate on the paved road 100 yards to the double-track trailhead on the left to begin the 4.1-mile Orion's Path-Big Sky Loop.
Contact: Pend Oreille County Works Department, (509) 447-4513, pendoreilleco.org.
Local journalism is essential.
Give directly to The Spokesman-Review's Northwest Passages community forums series -- which helps to offset the costs of several reporter and editor positions at the newspaper -- by using the easy options below. Gifts processed in this system are not tax deductible, but are predominately used to help meet the local financial requirements needed to receive national matching-grant funds.
Subscribe to the sports newsletter
Get the day's top sports headlines and breaking news delivered to your inbox by subscribing here.
---