Ex-Coug tabbed for USA team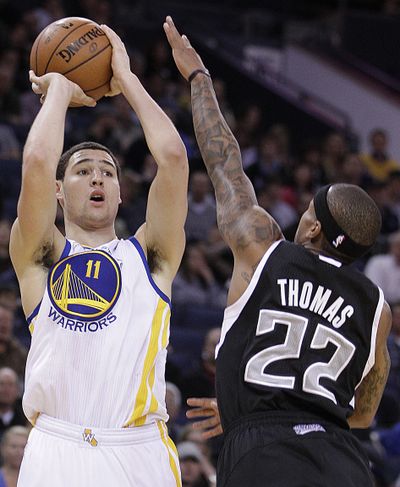 Basketball: Klay Thompson is one of 13 NBA players selected for the 2012 USA Men's Select Team that will train against the 2012 USA Basketball Men's National Team during its July 6-12 training camp in Las Vegas, USA Basketball announced Monday.
Joining Thompson, a former Washington State Cougar who just completed his NBA rookie season with the Golden State Warriors, are: Ryan Anderson, DeJuan Blair, DeMarcus Cousins, DeMar DeRozan, Derrick Favors, Paul George, Taj Gibson, Gordon Hayward, Kyrie Irving, Kawhi Leonard, Jeremy Lin and John Wall.
Thompson is one of nine players on the squad with USA Basketball experience. He captured a gold medal as a member of the 2009 USA U-19 National team. 
Seahawks trade for Winslow
NFL: The Tampa Bay Buccaneers have traded tight end Kellen Winslow to the Seattle Seahawks for a draft pick and signed former Colts star Dallas Clark to replace him.
Winslow has been one of Tampa Bay's best players since being acquired from Cleveland in a trade three years ago. He had 75 receptions for 763 yards and two TDs in 2011.
Clark spent nine seasons with the Indianapolis Colts.
Bulldogs' Olson Pitcher of Week
Baseball: Tyler Olson, a Gonzaga University senior from University High School, was named the West Coast Conference Pitcher of the Week for the second time this season.
The left-hander allowed just five hits and one run in eight innings, walking one and striking out five, in the Bulldogs' 12-4 win over Portland on Friday.
After surrendering a run in the third inning, Olson retired 15 of the last 17 Pilots he faced.
Olson has a 5-3 record, 2.46 ERA and 82 strikeouts in 102 1/3 innings.
---