Sports > Outdoors
Outdoorsmen see rise in elk hoof rot
Sun., Nov. 4, 2012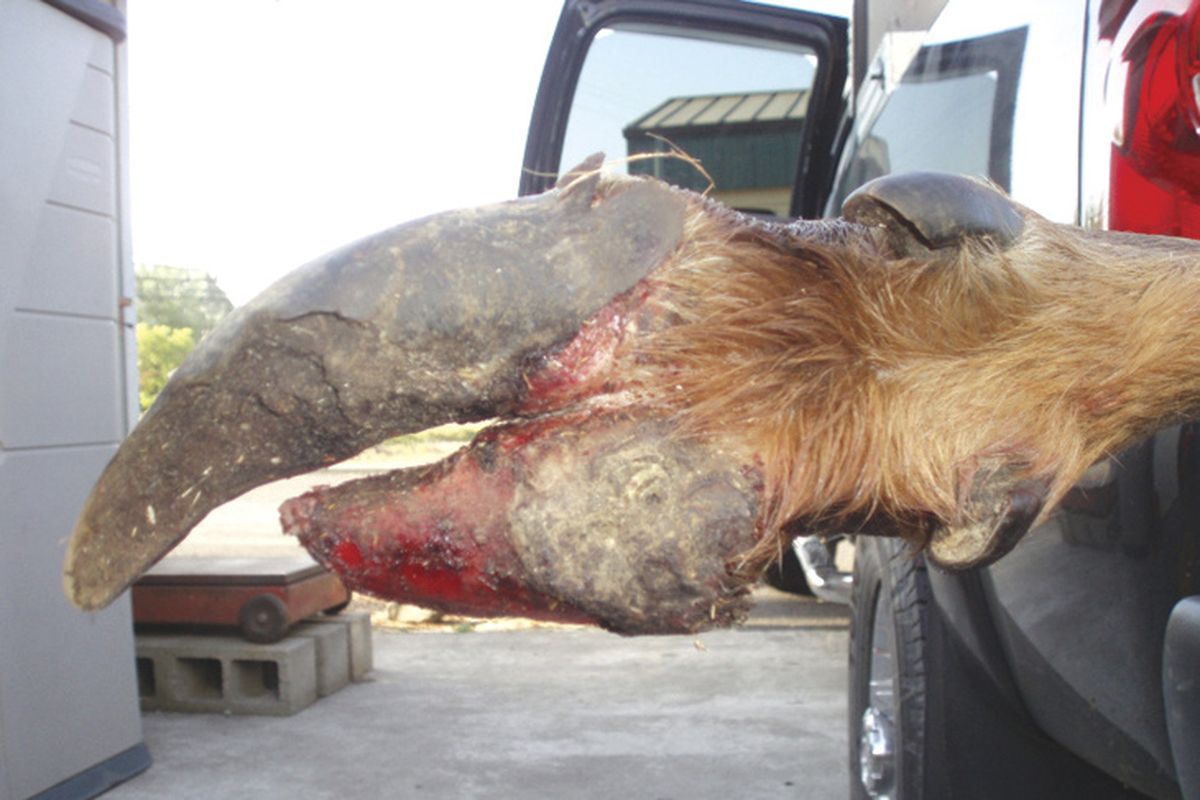 An elk shot by during August hunting season near Vader, Wash., had a hoof deformed by hoof rot.
Bill Sullivan's hunting party has taken about 10 elk in the past decade in Western Washington. Nine of them suffered from hoof rot, he told Department of Fish and Wildlife officials. "That's not good odds," said Sullivan, who hunts near Longview and around Ryderwood.
His story was typical during a meeting held recently in Longview. Hunter after hunter told of limping elk, animals with misshapen hooves and severely underweight ones.
WDFW workers welcomed the stories as the agency kicked off a website for reporting such incidents.
Agency biologists and a veterinarian offered several theories about what causes the condition – but no solutions.
WDFW started hearing about hoof rot in Southwest Washington about a decade ago, with reports first concentrated from the lowlands close to Interstate 5.
However, "it's increased dramatically," said Sandra Jonker, WDFW wildlife program manager for the region. "Especially in the past five years, it's spread really fast," Jonker said. By now, reports of hoof rot have come in from nearly every game management unit in the area.
"The valleys are really getting hit hard," said Wahkiakum County Commissioner Dan Cothren. "It's getting into the high country now. I see herds of 20 or 30 elk and five or six of them can't walk," Cothren said. The herd in the East Valley Road area near Skamokawa "just got devastated," he said.
John Vik of Puget Island has also noticed a decreasing herd size in Wahkiakum County. "It could be wiping out the herd, the way it's been exploding," he said. "I'm glad to hear they're doing something."
Two months ago, Dave Wendel saw five bull elk over several days on Beacon Hill, which is just north of Longview. "Every one of them had the hoof rot," Wendel said.
Several other Cowlitz County residents shared similar stories of limping elk.
Elk with hoof rot typically have misshapen hooves which sometimes grow long and curved until they break off. Because it hurts the animals to walk, affected elk have trouble foraging. "A 4-year-old cow will be 100-150 pounds underweight," Sullivan said.
One theory is that they band together because they can't keep up with healthy animals.
According to WDFW workers, hoof rot can affect any of an elk's legs, and doesn't appear to be more common in bulls or cows. Young and old elk have the condition. It hasn't been observed in other parts of Washington – or in Oregon.
Dozens of types of hoof diseases with different causes afflict animals, Jonker said. "None of the hoof rot we've seen (in elk) matches what we seen in domestic and wild animals," she said.
"We don't understand why it is or what it is and we want to get a better handle on it," Jonker said.
So far, the agency's most extensive research on hoof rot occurred three years ago, when biologists shot eight elk in the Castle Rock, Vader and Pe Ell areas and collected tissue samples. Five of the animals had misshapen hooves and the others appeared healthy. The ailing elk in that study had deficiencies of selenium and copper, though Jonker said biologists believe a combination of factors result in hoof rot.
Several hunters wondered if herbicides used in tree farms is causing hoof rot. However, the condition first appeared at lower elevations before spreading into higher tree growing areas.
Several hunters asked if hoof rot affects an elk's meat.
"We ask you to use your best judgment," Jonker replied. "Your nose is probably the best test."
Vik brought a photo of a hoof rot elk's spoiled leg meat from last season. He suggested WDFW replace an elk tag if a hunter gets an animal that turns out to have bad meat.
Cothren said more data is needed and urged hunters to contact their state legislators so there's adequate funding for research.
Jonker said the WDFW is stepping up research on hoof rot in conjunction with researchers at Washington State University.
However, even if a cause is pinpointed, "it will be hard to treat them in the wild," she said.
Cothren and several other hunters suggested that WDFW reduce the number of elk permits as the herd dwindles from hoof rot. East of Interstate 5, at least, the agency has increased permits in recent years in an effort to reduce the Mount St. Helens herd size by 25 percent.
"We take it very seriously in Wahkiakum County," Cothren said. "I'm not going to let this thing go."
Local journalism is essential.
Give directly to The Spokesman-Review's Northwest Passages community forums series -- which helps to offset the costs of several reporter and editor positions at the newspaper -- by using the easy options below. Gifts processed in this system are not tax deductible, but are predominately used to help meet the local financial requirements needed to receive national matching-grant funds.
Subscribe to the sports newsletter
Get the day's top sports headlines and breaking news delivered to your inbox by subscribing here.
---