News > Features
Spotlight: Thomas stars at accordion competition
Sun., Nov. 4, 2012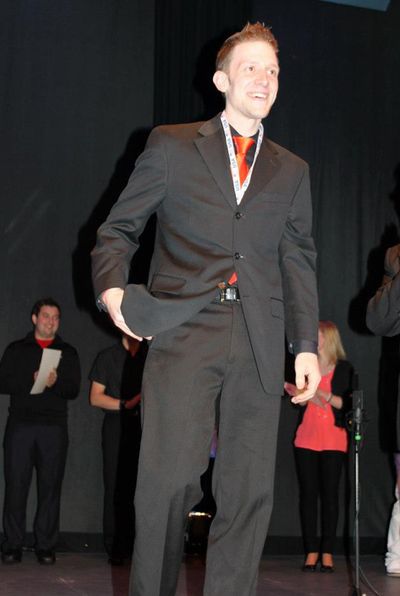 Sam Thomas has traveled far and wide to play his accordion in national and international competitions.
To make his mark on accordion history, the 23-year-old had to travel a mile and a half from the apartment he shares with his mother near downtown Spokane to the Bing Crosby Theater.
Playing a diversity of music including Joe Spano's "Chopin's Nightmare," Frank Marocco's jazz piece "Take Ten," and "a smoke-pot-on -the-beach-drinking-a-margarita type song" called "Rumba Cubani," Thomas became the first American to place first in the Trophée Mondial in more than 25 years. The competition was held in Spokane, its first U.S. appearance.
Thomas won the "senior variety" category, squeaking past Macedonian Aleksandar Kolovski to claim the $2,000 prize. Russia's Iosif Purits placed first in the "senior classical" category, taking the Trophée Mondial's biggest prize, $6,000.
It was the first time a U.S. accordionist has won his or her category since 1986, competition organizer Patricia Bartell said.
It was a re-emergence on the major stage for Thomas, who last competed in a national or international competition when he was 18. As a teen he competed in the American Accordionists' Association's national competition four times, winning twice. He also traveled overseas twice to compete in the Coupe Mondiale, another international competition.
He and his mother, Pamela Thomas, were used to the road.
Thomas was 11 when he started taking lessons with Ilmar Kuljus, who ran the Accordia-Nova studio in Spokane and taught hundreds of students over 50-plus years. But Kuljus retired soon after Thomas started, selling his studio and moving to Arizona.
So Pamela Thomas drove her homeschooled son south every spring. The Thomases lived with Kuljus for a month at a time, spending hours a day in lessons. Pamela Thomas – who'd taken some accordion lessons on her own – listened and learned along with her son, and she served as teacher back in Spokane.
Then, in 2006, Sam's father died. He and his mother carried out plans to travel to Norway, for the Coupe Mondiale, but after that Thomas slowed as a competitor.
The family had to go to work and pool their resources, Pamela Thomas said. For his part, Sam Thomas works at a downtown Exxon station.
And, in his grief, Thomas just didn't want to compete or perform anymore. When he played, it was begrudgingly. "Not only were we out of money, but it just kind of left me done with that point of view," he said.
When he learned the Trophée Mondial would take place in Spokane, he decided to take the stage again.
Before the final results, Thomas said, he thought he'd place in the top three, but he wasn't sure where. He credits the win to the variety in his repertoire, but also his "American style."
"The European bloc kids, they get their variety of pieces, but they all kind of play them the same. They add in the same little riffs," he said. "Then I get up there and I go from jazz to French tunes to on the beach, with my American style."
Bartell, the event organizer and a Spokane accordion teacher, said Thomas' category is the competition's most popular. Each candidate plays two rounds of music of just nine minutes or less each. So they must demonstrate their skill quickly.
"I was on the jury panel and although I can't judge for my own country, I watched Sam take the stage, sit down and perform like a champion," Bartell wrote in an email. "We are all very proud of him. He did USA proud and performed like a true artist."
It's a space miracle
Even though they've all died repeatedly, the space travelers in "Transolar Galactica" will live on.
The online show's Kickstarter fundraising campaign met its $30,000 goal last weekend, meaning its creators can film Season 2.
The team of recent Eastern Washington University film students was sweating as the fundraising deadline ticked closer, with $9,000 or so to go the morning of Oct. 27 and a deadline of a minute before midnight. Fundraising through the online platform is all or nothing – if a project falls short of its fundraising goal, you get no money. But donations picked up quickly, and by 12:30 p.m. the goal was met.
More than half the donors were from Spokane or Seattle or areas between, said Adam Boyd said, who runs the show's finances, and its creators were humbled by the support.
"We're really going to try to make 'Transolar Galactica' a very Spokane-centric and Northwest-centric production," Boyd said.
Local journalism is essential.
Give directly to The Spokesman-Review's Northwest Passages community forums series -- which helps to offset the costs of several reporter and editor positions at the newspaper -- by using the easy options below. Gifts processed in this system are not tax deductible, but are predominately used to help meet the local financial requirements needed to receive national matching-grant funds.
Subscribe to the Coronavirus newsletter
Get the day's latest Coronavirus news delivered to your inbox by subscribing to our newsletter.
---
Subscribe and log in to the Spokesman-Review to read and comment on this story