Lawmaker addresses fiscal cliff
McMorris Rodgers notes need for compromise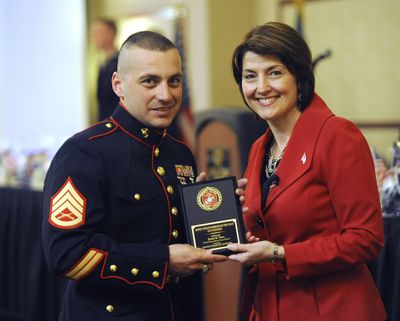 With Americans electing a divided government, U.S. Rep. Cathy McMorris Rodgers has softened her position on compromising over scheduled tax increases before the end of the year.
Echoing comments made by House Speaker John Boehner, McMorris Rodgers said Wednesday she is open to pursuing a solution to the so-called "fiscal cliff" before the end of the year and believes "everything needs to be on the table" in those discussions. The scheduled tax increases and massive budget cuts that comprise the cliff were hotly debated in the election, with President Barack Obama and most Democrats arguing that tax increases should be limited to those earning more than $200,000 a year. Republicans, including McMorris Rodgers, had argued they would block any plan that raised taxes on anyone.
During the campaign, McMorris Rodgers said she wanted implementation of the tax increases to be delayed so that Congress could work on "comprehensive tax reform."
On Wednesday, she said, "One of the mandates that I heard from being on the campaign trail was a desire and a belief by people all across the district and all across the country that we've got to find the common ground and work together to find these solutions for the American people."
Although no major leader is arguing to raise taxes on everyone, the voters' decision to retain Obama, a Democratic majority in the Senate and a Republican majority in the House have increased worry that gridlock will prevail.
McMorris Rodgers is not necessarily bending on her previous stance that tax rates should not rise for anyone, but she is not ruling that out, either.
"I believe that we need tax reform, and I believe that everything needs to be on the table as we approach those discussions," McMorris Rodgers said in a telephone interview during a layover Wednesday in Minneapolis. "I'm very hesitant to raise rates. I believe that it would have a negative impact on an economy that continues to struggle, and that we need to be aware and keep in mind that part of the solution is getting the economy growing again."
With her re-election easily achieved, McMorris Rodgers is expected to take an even bigger role on the national stage as Congressional Republicans craft strategies for debating President Barack Obama on the looming tax increases and spending cuts.
McMorris Rodgers participated in the conference call Wednesday morning in which House Republicans agreed to work for a compromise before the end of the year.
Last week, Politico reported that McMorris Rodgers is the favorite to become the fourth-ranking member of the House. Republicans in that chamber will vote Wednesday for the chairmanship of the House Republican Conference. McMorris Rodgers currently is the vice chairwoman of the group.
When she was running for her first term in Congress, McMorris Rodgers signed a pledge to oppose tax increases from Grover Norquist's Americans for Tax Reform. Since then, she has not taken any action to remove herself from the group's list of leaders who have promised to oppose tax increases.
But she said Wednesday the pledge would not prevent her from working for a compromise.
McMorris Rodgers noted that she voted last year to eliminate a tax credit, a move that Norquist considered a pledge violation.
She said the pledge "isn't influencing my thought process moving forward."
---