News > Spokane
First taste of the season for most
Region measures 1 to 6 inches, with shivers expected to linger
Sat., Nov. 10, 2012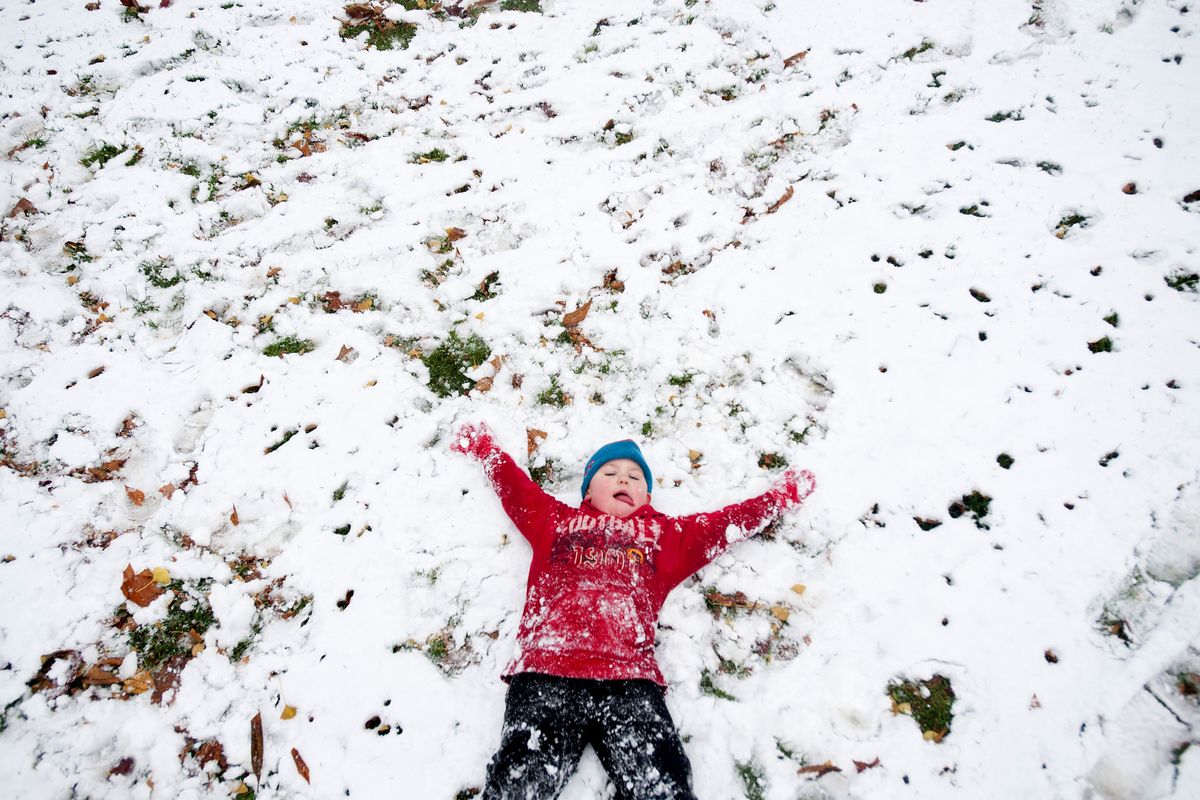 Miky Murinko, 4, of Spokane, makes a snow angel as he plays in the first snowfall of the year with his mother, Rion, on Friday at Coeur d'Alene Park in Spokane. Snow is expected to return to the Inland Northwest early next week. (Tyler Tjomsland)
It may not say so on the calendar, but winter is here.
While most areas only saw 1 to 3 inches of snow, the region's first winter event blanketed a few areas in the Inland Northwest with up to 6 inches of snow Thursday through Friday.
Downtown Spokane saw an inch or 2, but Deer Park measured about 4 inches and parts of Coeur d'Alene reported having more than 3 inches.
Steve Bodnar, a forecaster with the National Weather Service in Spokane, said most of the storm is east of the Continental Divide, but some areas west were still hit hard.
"This is probably the first widespread, low-elevation snow that we've experienced so far," he said.
The snow isn't predicted to return until Sunday night, Bodnar said, but temperatures are expected to drop into the teens through the weekend. Next week could see more snow through Tuesday, and then stay mostly dry until next weekend.
"There will be a threat for some ice forming on the roadways," he said.
Road crews in Spokane and Coeur d'Alene said they are prepared and have been busy deicing over the past two days.
Spokane streets department spokeswoman Ann Deasy said another shift of street crews was lined up to monitor conditions and work this morning if needed.
Coeur d'Alene streets superintendent Tim Martin said he had crews deicing and plowing with a utility vehicle in some areas, but so far the big plow trucks haven't been needed.
He said snow isn't collecting on the roads, but the pavement is wet.
"Unless we get some drier conditions, these roads are going to get pretty icy though the weekend," Martin said.
Drivers making last-minute winter preparations were heading to tire stores Friday.
Andrew Bega, an account manager at The Tire Store on East Sprague Avenue, said the business was busy this week putting snow tires and studded tires on vehicles.
"When winter comes, all tire shops see the same kind of craziness," he said.
Bega said he encourages anyone with a smaller car to look into purchasing snow tires and not wait until there are several feet of snow on the ground.
"You get a big winter storm," he said, "you may not move."
Local journalism is essential.
Give directly to The Spokesman-Review's Northwest Passages community forums series -- which helps to offset the costs of several reporter and editor positions at the newspaper -- by using the easy options below. Gifts processed in this system are not tax deductible, but are predominately used to help meet the local financial requirements needed to receive national matching-grant funds.
Subscribe now to get breaking news alerts in your email inbox
Get breaking news delivered to your inbox as it happens.
---