News > Nation/World
Indiana blast investigation focuses on natural gas
Mon., Nov. 12, 2012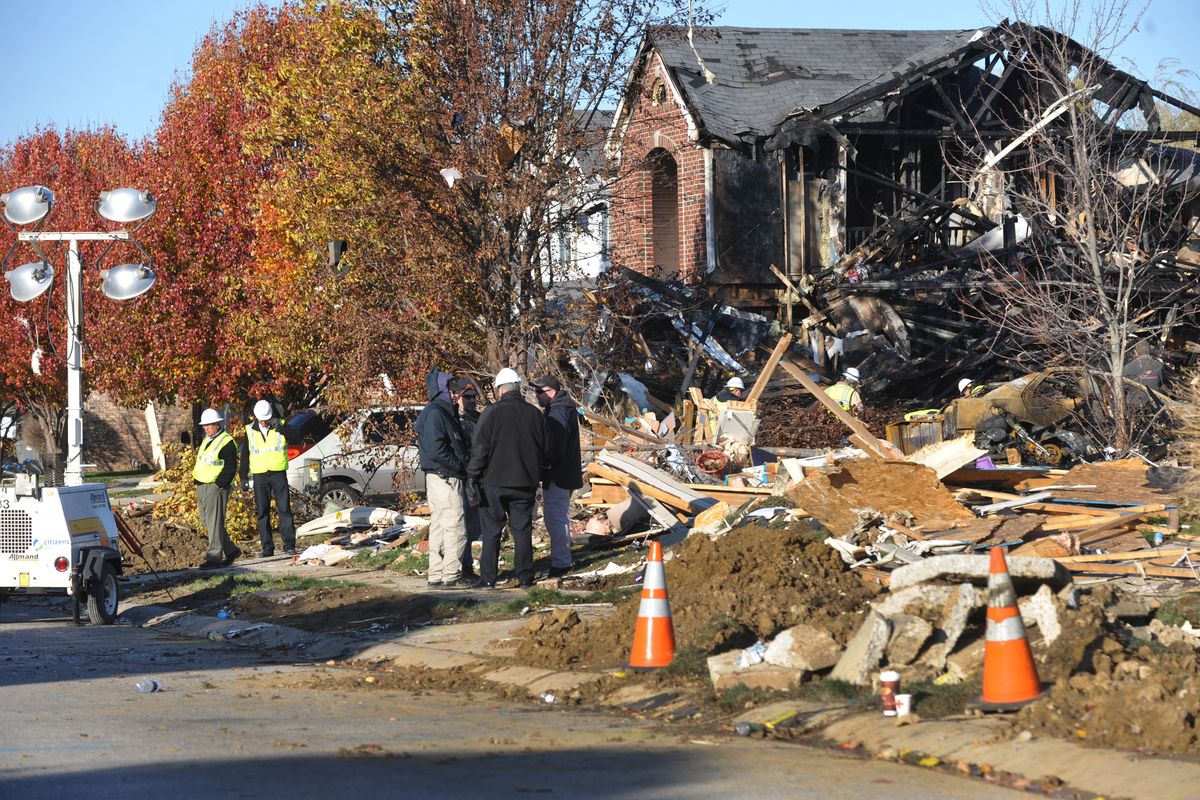 Utility workers, and investigators stand outside destroyed homes on Fieldfare Way in the Richmond Hills subdivision Monday, Nov. 12, 2012. An explosion, originating on Fieldfare Way, destroyed or damaged as many as 80 structures in the subdivision late Saturday night November 10, 2012. (Joe Vitti / The Indianapolis Star)
INDIANAPOLIS (AP) — The search for what caused a massive, deadly explosion that rocked an Indianapolis neighborhood turned to natural gas Monday, with officials checking gas lines and a homeowner saying a problem furnace could be to blame.
The National Transportation Safety Board sent investigators to check gas main and other lines serving the neighborhood where two people were killed and seven injured in the weekend blast. Local gas supplier Citizens Energy said it also was checking gas lines and a meter at the home that exploded.
But officials cautioned that it was too soon to rule out other causes, saying only that they do not believe a meth lab was to blame for the explosion that obliterated two homes and severely damaged dozens of others.
"It's too early to speculate that this might have been caused by a gas leak," Citizens Energy spokeswoman Sarah Holsapple said at an afternoon news briefing.
The owner of one of the homes that was destroyed said there was a problem with the furnace in the last few weeks.
John Shirley, 50, of Noblesville told The Associated Press that he received a text message within the last week and a half from his daughter, who complained that the furnace in the home where she lived with her mother and her mother's boyfriend had broken. The malfunction had forced them to stay in a hotel, the girl said.
When Shirley asked if the furnace had been fixed, his daughter said yes. He said he wasn't aware of any additional problems until he heard from his daughter again Sunday morning.
"I get a text from my daughter saying 'Dad, our home is gone.' Then I called my ex-wife and she said what happened," he said.
His ex-wife, Monserrate Shirley, declined to comment Monday.
Scott Davis, president and principal engineer of GexCon US, an explosion investigation firm, questioned whether a furnace could cause the type of damage seen in the neighborhood. Furnaces have multiple safety triggers that prevent them from releasing that much natural gas.
"For a furnace to allow that much gas through, you'd have to defeat many of the safety features," he said.
Investigators said it could be some time before they determine a cause for the blast that sparked a massive fire, blew out windows, collapsed ceilings and shook homes up to three miles away.
"It's a methodical investigation. You have to move one step at a time," said Gary Coons, the city's homeland security director.
Public Safety Director Troy Riggs said investigators will treat the area as a crime scene until they rule out foul play.
The blast forced about 200 people out of their homes in the once-tidy neighborhood of one- and two-story single-family houses. Some have been allowed to reoccupy their homes, and others have been escorted in to retrieve valuables and other belongings. Adam Collins, the city's deputy code enforcement director, said 29 remained uninhabitable Monday.
Mark Karnes, whose house is four doors down from the blast site and suffered severe structural damage, hoped to retrieve clothes and look for his cat. But he also questioned the wisdom of going back inside the house given the extent of the damage.
"Because the walls bowed out and separated from the ceiling, I don't think it's safe," he said.
The blast flattened the house Shirley co-owns with his ex-wife and one next door that belonged to second-grade teacher Jennifer Longworth and her husband, John. Indianapolis police said Monday the bodies of the pair were found in the basement of their home, which was leveled in the blast.
A candlelight vigil was held Sunday night at the school where Jennifer Longworth teaches. Her husband's employer, consumer electronics company Indy Audio Labs, issued a statement Monday saying it was "saddened by the loss."
Greenwood Community Schools Superintendent David Edds said Jennifer Longworth had taught at Southwest Elementary School for 12 years. Her husband had worked at Indy Audio Labs for 10 years and was director of product development and technology, according to the company.
John Shirley said Jennifer Longworth was quiet but funny and her husband was a huge Indianapolis Colts fan who maintained a garden of beautiful wildflowers along the side of the house.
"They were just very sweet people," he said.
Indiana real estate records show Shirley's house had been for sale for a year until it was taken off the market in March.
___
Associated Press researchers Lynn Dombek and Rhonda Shafner in New York contributed to this report.
Local journalism is essential.
Give directly to The Spokesman-Review's Northwest Passages community forums series -- which helps to offset the costs of several reporter and editor positions at the newspaper -- by using the easy options below. Gifts processed in this system are not tax deductible, but are predominately used to help meet the local financial requirements needed to receive national matching-grant funds.
Subscribe now to get breaking news alerts in your email inbox
Get breaking news delivered to your inbox as it happens.
---