News > Nation/World
Search for cause of deadly Indianapolis explosion
Mon., Nov. 12, 2012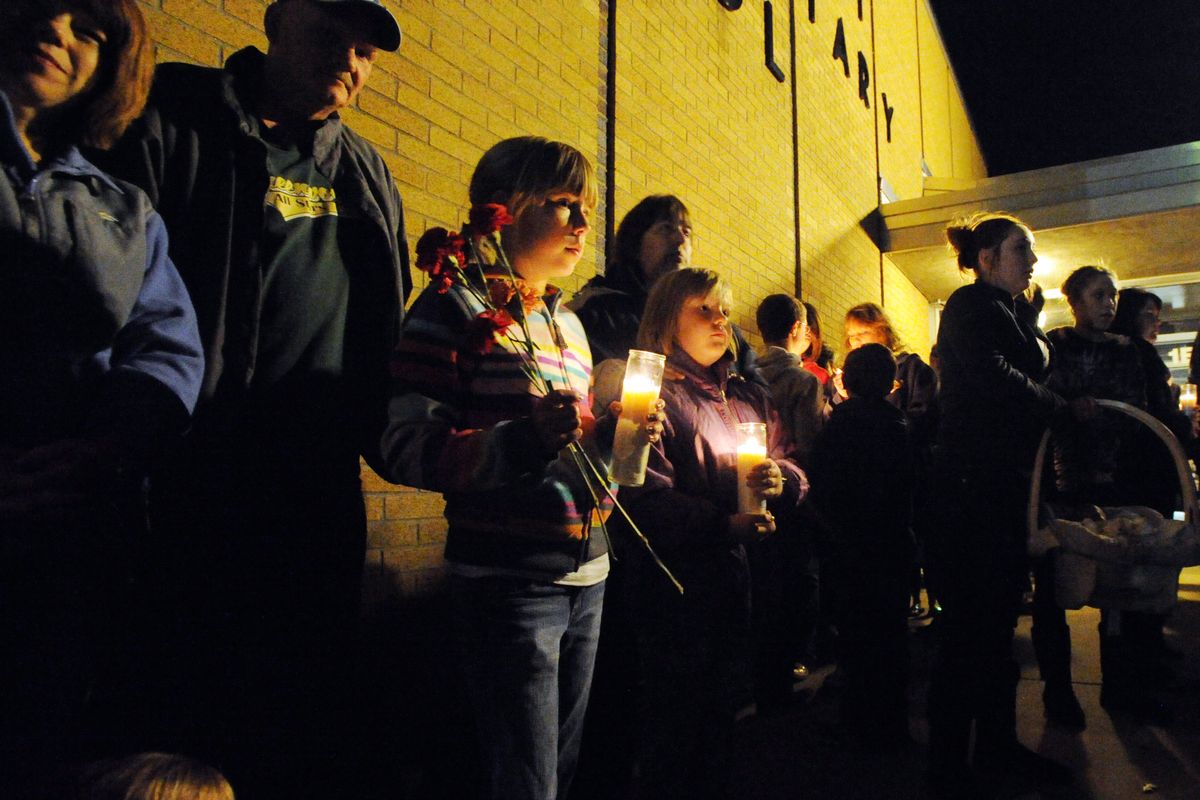 A crowd gathers during a candlelight vigil, Sunday, Nov. 11, 2012, at Southwest Elementary School in Greenwood, Ind., for teacher Jennifer Longworth. Officials did not identify the two people who were killed in a blast on Saturday. However, a candlelight vigil was held for second-grade teacher Jennifer Longworth. She and her husband, John Dion Longworth, lived at a home destroyed in the blast. (Rob Goebel / The Indianapolis Star)
INDIANAPOLIS (AP) — The blast was so loud it woke people as far as three miles away, triggering thoughts of a plane crash or earthquake.
Alex Pflanzer was sound asleep when his home's windows blew out and his wife started screaming.
What he didn't know — what nobody knew Saturday night about an hour before midnight — was that something had caused an explosion that leveled at least two nearby houses in this middle-class Indianapolis neighborhood so far south that it's almost a suburb.
The blast killed two people and rendered whole blocks uninhabitable. The cause of the explosion remains under investigation.
"I didn't know what was going on," Pflanzer said. "I thought someone was breaking in the house, because the alarm was going off."
Pflanzer grabbed his gun and started checking the house. Then he noticed the front door was open and saw a reddish glow flickering outside.
"I walked outside and all the houses were on fire," he said.
Officials have not released the identities of the two people who were killed. However, a candlelight vigil was held Sunday night at Southwest Elementary School in nearby Greenwood for second-grade teacher Jennifer Longworth. She and her husband, John Dion Longworth, lived in one of the homes destroyed in the blast. WTHR-TV reported that friends, family and colleagues of the teacher gathered at the school.
On Saturday night after the blast, about 200 people from the neighborhood were sent to nearby school until they could find someplace to spend the rest of the night.
Pflanzer, his wife and two dogs found a hotel room, but they couldn't coax their panic-stricken cat out of the crawlspace.
"All the material things can be replaced, so I'm not worried about that stuff," he said. "People are a lot worse off than I am. People died, and so our thoughts and prayers go out to them first."
As a summery day dawned Sunday, it became clear that the extent of the damage was even worse than it had seemed in the dark, when as many as 70 firefighters who responded to a report of a house on fire instead found a row of homes engulfed in flames.
By Sunday afternoon, splintered wood on charred earth were all that remained of at least two homes at the blast's epicenter, and two homes on either side were blackened husks. Across the street, garage doors had buckled from the heat.
Deputy Code Enforcement Director Adam Collins said as many as 31 homes were damaged so badly that they might have to be demolished. The explosion damaged a total of 80 homes, he said. He estimated the damage at $3.6 million.
Some residents were allowed to return to their homes to retrieve a few belongings Sunday under police escort. Others whose homes weren't as badly damaged were allowed to return, but officials said they would have to do without electricity overnight. And others, officials said, never will be allowed to go back inside their homes.
"There are houses that will have to be torn down," Deputy Fire Chief Kenny Bacon said.
Bacon said investigators had not eliminated any possible causes for the blast. But U.S. Rep. Andre Carson, who represents the area, said he had been told a bomb or meth lab explosion had been ruled out.
Dan Able, a 58-year-old state employee who lives across the street from the flattened homes, was puzzled by the blast.
"I'm wondering about all the possibilities it could be," he said. "I don't know how a gas leak could do that kind of damage."
"We just don't know" what the cause was, said police spokesman Kendale Adams. "We're working to get to the bottom of it."
Dan Considine, a spokesman for Citizens Energy, said the utility had not received any calls from people in the area smelling the telltale rotten-eggs smell of a chemical added to natural gas, which is odorless.
"Most of the time when there's a gas leak, people smell it," he said. "But not always."
Carson said the National Transportation Safety Board and the federal Department of Transportation, which have oversight over pipelines, were also sending investigators.
Bacon said the toll could have been much worse. "I know we're very fortunate that some of the people weren't home," he said.
Bryan and Trina McClellan were at home with their 23-year-old son, Eric, when the shockwave from the blast a block away knocked out the windows along one side of their house.
Their first instinct was to check on their grandchildren, two toddlers who were in the basement. One held his ears and said, "Loud noise, loud noise."
Eric McClellan said he ran to the scene of the explosion.
"Somebody was trapped inside one of the houses, and the firefighters were trying to get to him. I don't know if he survived," he said, adding that firefighters ordered him to leave the area.
Officials said at least two dozen off-duty police officers who live on the city's south side rushed to the scene to help with the rescue effort.
Once the flames were out, firefighters went through what was left of the neighborhood, one home at a time, in case people had been left behind, Fire Lt. Bonnie Hensley said.
Most evacuees eventually left the school to stay with relatives, friends or at hotels, and the relief operation was moved to a church just a few blocks away. Tables in the church dining room were piled high with blankets, food, diapers, water and other supplies. An animal shelter on the south side of the city offered free boarding for pets whose owners had nowhere to take them.
The church's pastor, the Rev. Rob Hock, said hundreds of members had shown up to help after he put out a call during the morning services. Volunteers were working to be sensitive to the stress on people whose homes had been scarred.
"This is hard on them," he said. "This is not an easy thing for them."
Local journalism is essential.
Give directly to The Spokesman-Review's Northwest Passages community forums series -- which helps to offset the costs of several reporter and editor positions at the newspaper -- by using the easy options below. Gifts processed in this system are not tax deductible, but are predominately used to help meet the local financial requirements needed to receive national matching-grant funds.
Subscribe now to get breaking news alerts in your email inbox
Get breaking news delivered to your inbox as it happens.
---