News > Features
Figure-skating brothers part of 'Disney on Ice' production
Thu., Nov. 15, 2012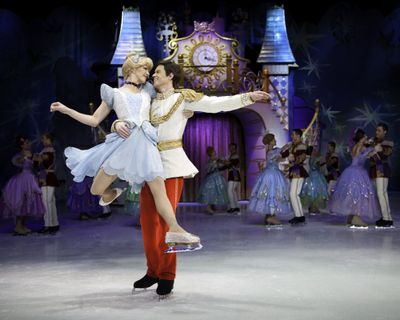 Rapunzel has taken up residence at the Spokane Arena this week. Tiana and Cinderella, too.
Along for the ride with "Disney on Ice: Dare to Dream," which opened in Spokane on Wednesday and is running through the weekend? Two figure-skating brothers from Western Washington.
Alexander and Jared Moss are members of the "Dare to Dream" ensemble. They grew up in Tacoma, skating at the Sprinker Recreational Center in Spanaway. Alexander Moss, 28, speaking by phone, called his life on tour a great experience.
"When your job includes getting to entertain people around the world, it's such an amazing thing to be a part of," he said. "The show gets to tell the stories of three princesses who have a dream. The stories are inspirational for the audiences."
The show tells the stories of Rapunzel from "Tangled," the classic "Cinderella," and Princess Tiana from "The Princess and the Frog," set in New Orleans. Among Moss' highlights: the New Orleans street scene that opens the show, the Snuggly Duckling bit from "Tangled" and the whole "Cinderella" segment.
"It's probably my favorite show that I've skated on in my five years," he said.
Moss has been with Disney on Ice since 2008. As an ensemble skater he does a little bit of everything – "from Tree No. 5 to Pirate No. 6," he said. He started skating when he was 2. He competed until he was 16 or 17, when he quit skating. He then graduated from high school, went to technical school and worked as an aircraft mechanic for five years.
"My younger brother joined 'Disney on Ice' the year before I did. I thought, 'Go have fun. Join the circus. I have a real job,' " Moss said. "But when he came back from his first tour with amazing pictures, amazing stories. … I thought, 'OK, I'll give it a try.'
"Here I am, year five and still loving it."
Local journalism is essential.
Give directly to The Spokesman-Review's Northwest Passages community forums series -- which helps to offset the costs of several reporter and editor positions at the newspaper -- by using the easy options below. Gifts processed in this system are not tax deductible, but are predominately used to help meet the local financial requirements needed to receive national matching-grant funds.
Subscribe now to get breaking news alerts in your email inbox
Get breaking news delivered to your inbox as it happens.
---