McMorris Rodgers makes conference chair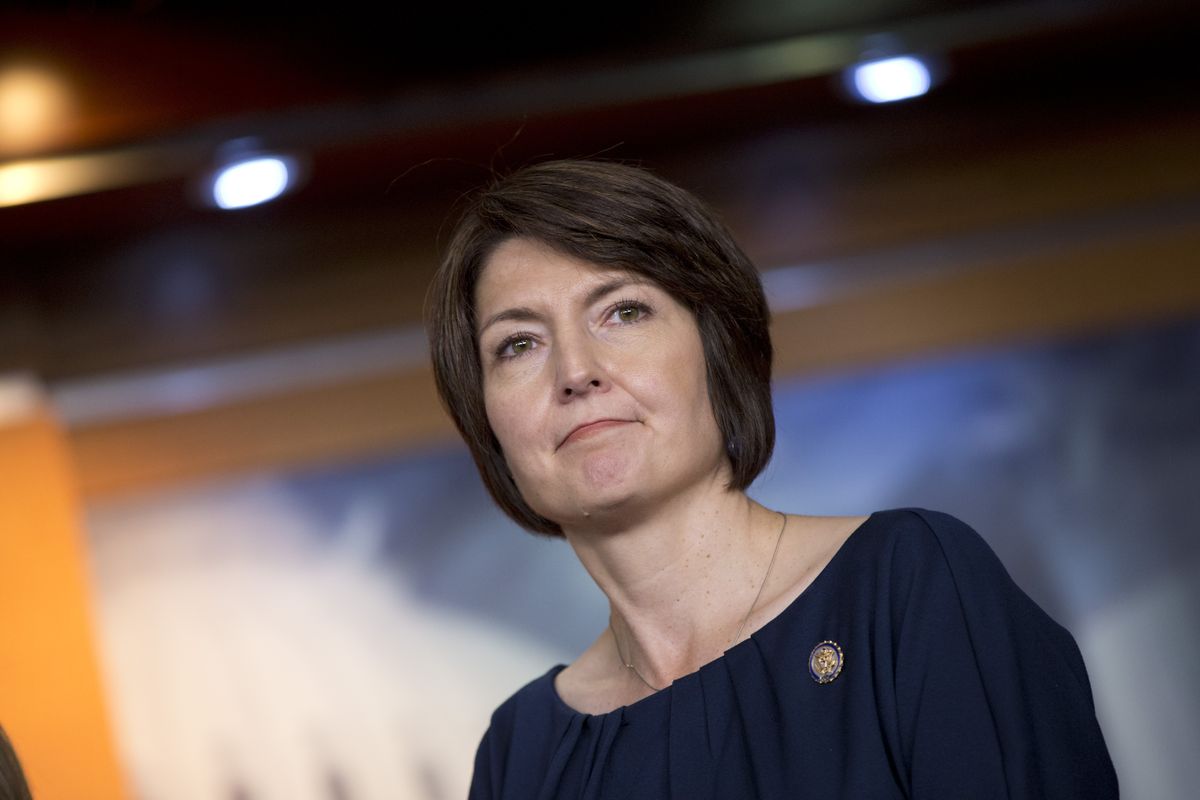 Eastern Washington's clout in the Republican-controlled U.S. House of Representatives appears to be growing.
U.S Rep. Cathy McMorris Rodgers, a Spokane Republican, was chosen by her colleagues Wednesday to serve as chairwoman of the House Republican Conference, the fourth-highest-ranking position in the congressional chamber. The secret ballot vote was conducted in a closed meeting. The tally was not publicly disclosed.
"We are united by our conservative principles, a spirit of reform to return America to prosperity, and a recognition that we must do better as a Conference to deliver our message to every corner of America to build a long-term Republican Majority in Congress," McMorris Rodgers said in a news release after the vote.
She already held the position of vice chairwoman of the conference and is the highest-ranking woman in the House of Representatives. The advance to chairwoman gives her control of more resources, including an office with about 20 staff members.
As conference chairwoman she will run and set the agenda for weekly meetings among all Republicans in the House and play a bigger role in setting the priorities and strategies of the GOP in Congress, just as Republicans prepare for high-profile negotiations with President Barack Obama over tax increases scheduled to hit at the end of the year.
McMorris Rodgers had been seeking the position for months and had the support of the current leadership team, including Speaker of the House John Boehner, according to several behind-the-scenes reports. But her competition, U.S. Rep. Tom Price, R-Ga., appeared to gain momentum in the last week as some high-profile conservatives publicly backed him, including vice presidential candidate Paul Ryan, R-Wis., who this week reaffirmed an earlier endorsement of Price.
"We didn't lose a single member to Paul Ryan," said McMorris Rodgers spokesman Todd Winer, who said McMorris Rodgers reached out to supporters after Ryan's public statement of support for Price.
Kyle Kondik, the House editor for the University of Virginia Center for Politics, said while McMorris Rodgers may not have fame as a member like former presidential candidate Michele Bachmann, she has become a key player in the GOP by being an insider.
"She's someone who has a pretty decent reputation among Republicans," Kondik said.
He added that McMorris Rodgers' bid may have been aided by the party's poor showing among women voting in last week's election.
"Very clearly the Republicans are looking for nonwhite males to present to the country, and McMorris Rodgers is one of them," he said.
McMorris Rodgers already has acted as the party's spokeswoman, responding to allegations from the Democratic Party that Republicans are waging a "war on women."
She's repeatedly been labeled a "rising star" in media reports over the past year as she increased her presence on political talk shows, hosted the Republican National Convention and served as the House liaison to Mitt Romney's presidential campaign.
McMorris Rodgers, a former state representative, moved to Washington, D.C., during the past term but says she's frequently in Spokane and her district, which includes all or parts of 10 counties in Eastern Washington.
She was first elected to the seat in 2004 and has won at least 56 percent of the vote in all her re-election bids. This year she beat Rich Cowan, the founder of a Spokane film production company, with 62 percent of the vote.
Cowan's campaign criticized McMorris Rodgers' quest for leadership in Congress. He said he expects to decide by early next year if he will challenge her in 2014.
"She visited 30 congressional districts and 21 states this fall to pursue her partisan political ambition, and it looks like it paid off for her," Cowan said Wednesday. "I don't see how that helps the 5th Congressional District."
Former U.S. Rep. George Nethercutt, the Spokane Republican who was replaced by McMorris Rodgers after he decided to run for U.S. Senate, said the leadership position is an honor but warned that those in leadership sometimes lose their focus on the district.
"The danger for any leader is making sure that the people at home are No. 1. If you're not careful, I think it catches up with you," said Nethercutt, who added that he hasn't seen any signs that McMorris Rodgers has taken her focus away from Eastern Washington. "I wanted to represent full-time the people of the 5th District."
Nethercutt won his seat in Congress in 1994 after defeating Speaker of the House Tom Foley. The argument that Foley had lost his focus on Eastern Washington and had become a D.C. insider was key in Nethercutt's 1994 campaign.
Spokesman Winer said McMorris Rodgers' bigger role will help Eastern Washington.
"I would just look at her record," Winer said. "She has already been a member of the leadership team for four years and she has been very attentive to her constituents. That's been her No. 1 focus."
---