News > Idaho
Zoo monkey dies of trauma after break-in
Sun., Nov. 18, 2012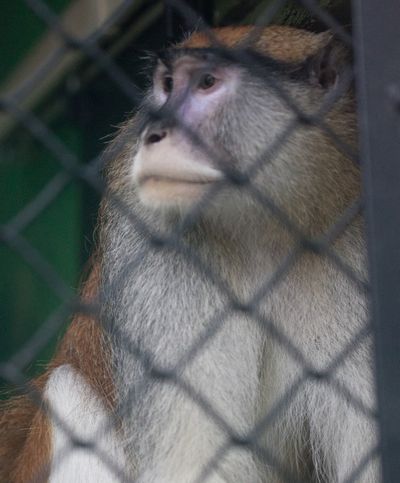 BOISE – A break-in at Zoo Boise early Saturday left a Patas monkey dead from blunt force trauma to the head and neck, and police were analyzing blood found at the scene to determine if it came from the monkey or one of two human intruders.
Two males wearing dark clothing were spotted by a security guard at 4:30 a.m. outside the fence near the primate exhibit, police said. Both fled, one of them heading into the interior of the zoo. Boise police used a thermal imager in searching the 11-acre zoo grounds but didn't find the person.
"I've been here for 15 years and we haven't had anything like this happen," Zoo Boise Director Steve Burns said. "It's unfortunate that we have to let kids know that something like this happens. Monkeys are always among the most favorite animals here."
Patas monkeys, often called the military monkey, have reddish-brown fur with gray chin whiskers and distinctive white moustaches. They are widely distributed across central Africa south of the Sahara Desert and can live for more than 20 years in captivity.
During a search of the zoo before dawn, Burns heard a groan that at first he thought sounded like a human. It turned out to be an injured Patas monkey barely moving near the perimeter fence.
The zoo's veterinarian was called, but the monkey died just before 6 a.m. as it was being examined. A necropsy later determined that blunt force trauma was the cause of death, police said.
An inventory done by zoo staff found no other animals missing or injured. The zoo has one remaining Patas monkey – another male – but it's unclear if it will remain at the zoo or will be sent to another zoo where it can socialize with other Patas monkeys, Burns said.
Local journalism is essential.
Give directly to The Spokesman-Review's Northwest Passages community forums series -- which helps to offset the costs of several reporter and editor positions at the newspaper -- by using the easy options below. Gifts processed in this system are not tax deductible, but are predominately used to help meet the local financial requirements needed to receive national matching-grant funds.
Subscribe to the Coronavirus newsletter
Get the day's latest Coronavirus news delivered to your inbox by subscribing to our newsletter.
---