Sports
Former WSU coach Mike Price retires
Mon., Nov. 19, 2012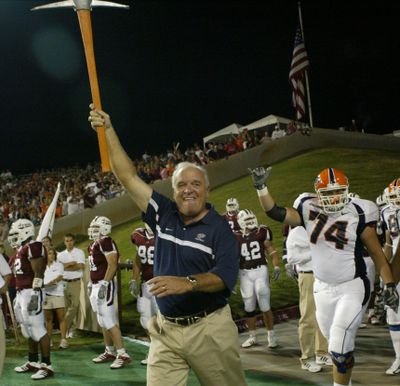 EL PASO, Texas — UTEP coach Mike Price is retiring after a 31-year career notable for two Rose Bowl bids at Washington State and a drinking binge that cost him the Alabama job before he ever coached a game for the Crimson Tide. Price announced the decision Monday with one game left in his ninth season with the Miners (3-8). He led UTEP to 8-4 records and bowl games his first two years in El Paso but hasn't had a winning record since. The 66-year-old Price, who started at Weber State in 1981, has a 177-182 career record entering his final game Saturday at home against Rice. He is sixth among active FBS coaches in wins. "I'm retiring from the game I've loved my entire life," Price said at a campus news conference. Price's son, Aaron Price, is UTEP's offensive coordinator, but the elder Price said he was endorsing defensive coordinator Andre Patterson as the next head coach. "I wish I could coach here forever," Price said. "But that doesn't happen. That's the reality of life." Athletic director Bob Stull said Patterson would be considered for a hire he hopes to make before Christmas. "I think we've got things in place to be very competitive," Stull said. "We need to keep some continuity in what we're doing." Price, who coached Drew Bledsoe and Ryan Leaf in 14 years at Washington State, was a surprise choice to replace Dennis Franchione at Alabama after the 2002 season. He was set for a seven-year, $10 million contract when he admitted he drank heavily and went to a strip club after attending a golf tournament in Florida in the spring of 2003. Price sued the school for $20 million over his firing, but a judge threw out the lawsuit, noting the fact that Price never signed the contract. He also sued Sports Illustrated over a report that alleged he had sex with two women in his hotel room. That lawsuit was settled. He stayed away from coaching for a year, and UTEP fans embraced him from the start, especially after his first team went to the 2004 Houston Bowl and lost a competitive game to Colorado. The Miners started 8-1 his second season but lost the last three games to begin a slide back to mediocrity that had defined the program for decades. Even though the Miners started this season 1-3, there was promise because all three losses were competitive games against Oklahoma, Mississippi and Wisconsin. But three straight losses to Conference USA teams followed, and the Miners barely beat Southern Miss, the nation's only winless team, on Saturday. Price brought his wife, Joyce, to the podium for part of his retirement speech, and fought back tears as he spoke of his close relationship with Stull, who decided to hire him less than a year after the Alabama scandal. Price didn't mention his brief Alabama stint in a roughly half-hour news conference. "He has been 100 percent supportive of me and really loyal," Price said of Stull. "When the going gets bad, boy, he's really good. He's at his best. I didn't win enough games. Period." While he finished with a losing record at UTEP, Price brought the Miners recognition they'd never seen by persuading Texas coach Mack Brown and Oklahoma's Bob Stoops to visit the Sun Bowl when it wasn't the New Year's Eve bowl game. The first El Paso meeting between the Longhorns and Miners in 2008 was the most anticipated in program history and drew a record crowd of 53,415. UTEP almost knocked off then-No. 4 Oklahoma to start this season. Price remained a hit in the community even as the losing seasons piled up, and he said planned to stay in El Paso. "Mike has brought a level of national attention and respect to UTEP that only an elite coach could bring," Stull said. "While Mike's coaching accolades are extensive, his greatest value has come in the warmth and love that he has shown the people of El Paso." Price started his career in 1969 with the first of two stints as an assistant at Washington State. He was also on the staffs at Missouri and Puget Sound, his alma mater.
Local journalism is essential.
Give directly to The Spokesman-Review's Northwest Passages community forums series -- which helps to offset the costs of several reporter and editor positions at the newspaper -- by using the easy options below. Gifts processed in this system are not tax deductible, but are predominately used to help meet the local financial requirements needed to receive national matching-grant funds.
Subscribe to the sports newsletter
Get the day's top sports headlines and breaking news delivered to your inbox by subscribing here.
---