Sports
Sounders win match, lose series with Galaxy
Mon., Nov. 19, 2012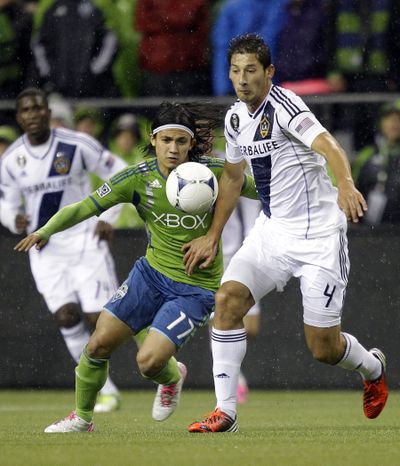 SEATTLE – Eddie Johnson and Zach Scott scored to give Seattle a 2-0 lead, but Robbie Keane was awarded and converted a penalty kick in the 68th minute on Sunday night that clinched the Los Angeles Galaxy's 4-2 aggregate victory over the Sounders in the Western Conference finals and a spot in the MLS Cup final for the second straight year.
Seattle staged a rally trying to come back from a 3-0 deficit after getting overwhelmed in the first leg of the Western Conference finals last week.
And they were on the verge after Johnson's early goal and Scott's header in the 58th minute pulled Seattle within one on aggregate.
But referee Mark Geiger, who had been the subject of complaints all night from both sides, called Seattle defender Adam Johansson for a handball in the penalty box and Keane converted his fifth goal of the playoffs.
Los Angeles will host the final on Dec. 1 against Houston, a rematch of last year's final won by the Galaxy.
For the second straight year, Seattle's season ended because it was unable to make up a three-goal deficit in the second leg at home.
Seattle's frustration boiled over after the final whistle when Johnson and Osvaldo Alonso both confronted Geiger at midfield while the Galaxy celebrated.
Seattle came out with aggressiveness absent in the first leg when it seemed content to try and pull out a tie and ended up in a 3-0 hole.
In the first nine minutes, Seattle had two corner kicks and a dangerous free kick from just outside the box.
Johnson got free for a shot from the top of the penalty area but it went flying over the crossbar.
In the 11th minute, Johnson appeared to get Seattle the lead off a quick pass by Christian Tiffert, but was disallowed as Johnson was offside.
TV replays showed Johnson was onside when the pass was played and the goal should have counted, but it became a moot point moments later.
L.A. was without midfielder Landon Donovan, bothered by tightness in his hamstring.
Local journalism is essential.
Give directly to The Spokesman-Review's Northwest Passages community forums series -- which helps to offset the costs of several reporter and editor positions at the newspaper -- by using the easy options below. Gifts processed in this system are not tax deductible, but are predominately used to help meet the local financial requirements needed to receive national matching-grant funds.
Subscribe to the sports newsletter
Get the day's top sports headlines and breaking news delivered to your inbox by subscribing here.
---