News > Nation/World
2 killed, dozens injured in massive Texas pileup
Thu., Nov. 22, 2012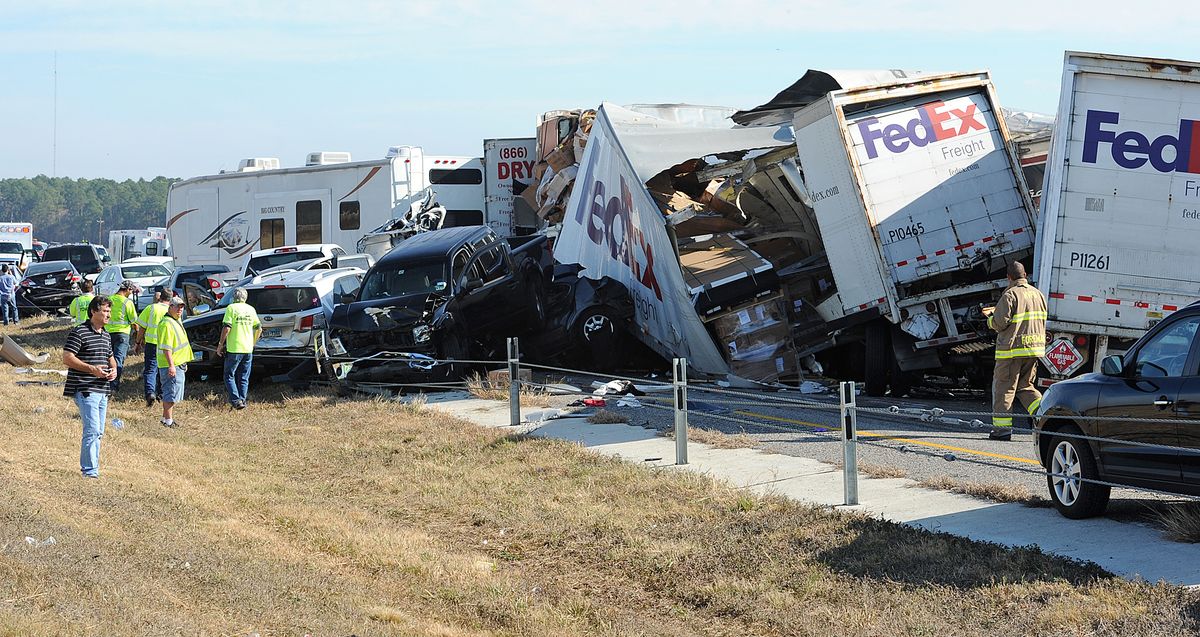 Cars and Trucks are piled on Interstate 10 in Southeast Texas Thursday Nov. 22, 2012. The Texas Department of Public Safety says at least 35 people have been injured in a more than 50-vehicle pileup. (Guiseppe Barranco / The Beaumont Enterprise)
BEAUMONT, Texas (AP) — Two people died and more than 80 people were hurt Thursday when at least 140 vehicles collided in Southeast Texas in a pileup that left trucks twisted on top of each other and authorities rushing to pull survivors from the wreckage.
The collision occurred in extremely foggy conditions at about 8:45 a.m. Thanksgiving Day on Interstate 10 southwest of Beaumont, a Gulf Coast city about 80 miles east of Houston.
A man and a woman were killed in a Chevy Suburban SUV crushed by a tractor trailer, the Texas Department of Public Safety told KFDM-TV.
DPS trooper Stephanie Davis late Thursday identified the dead as Debra Leggio, 60, and Vincent Leggio, 64.
Jefferson County sheriff's Deputy Rod Carroll said in a news release that 80 to 90 people were transported to hospitals with 10 to 12 of those in serious to critical condition. He said 140 to 150 vehicles were involved in the pileup.
According to DPS, a crash on the eastbound side of the highway led to other accidents in a dangerous chain reaction. There were multiple crashes on the other side of the highway as well.
Carroll told The Associated Press the fog was so thick that deputies didn't immediately realize they were dealing with multiple accidents.
"It is catastrophic," Carroll said. "I've got cars on top of cars."
I-10's eastbound lanes were re-opened Thursday evening after more than eight hours.
Davis told KFDM that two people in an SUV died after the crash.
Carroll said uninjured drivers tried to help as authorities sorted through the wreckage.
"It's just people helping people," Carroll said. "The foremost thing in this holiday season is how other travelers were helping us when we were overwhelmed, sitting and holding, putting pressure on people that were injured."
Local journalism is essential.
Give directly to The Spokesman-Review's Northwest Passages community forums series -- which helps to offset the costs of several reporter and editor positions at the newspaper -- by using the easy options below. Gifts processed in this system are not tax deductible, but are predominately used to help meet the local financial requirements needed to receive national matching-grant funds.
Subscribe now to get breaking news alerts in your email inbox
Get breaking news delivered to your inbox as it happens.
---