News > Nation/World
Black Friday kicks off the holiday shopping season
Thu., Nov. 22, 2012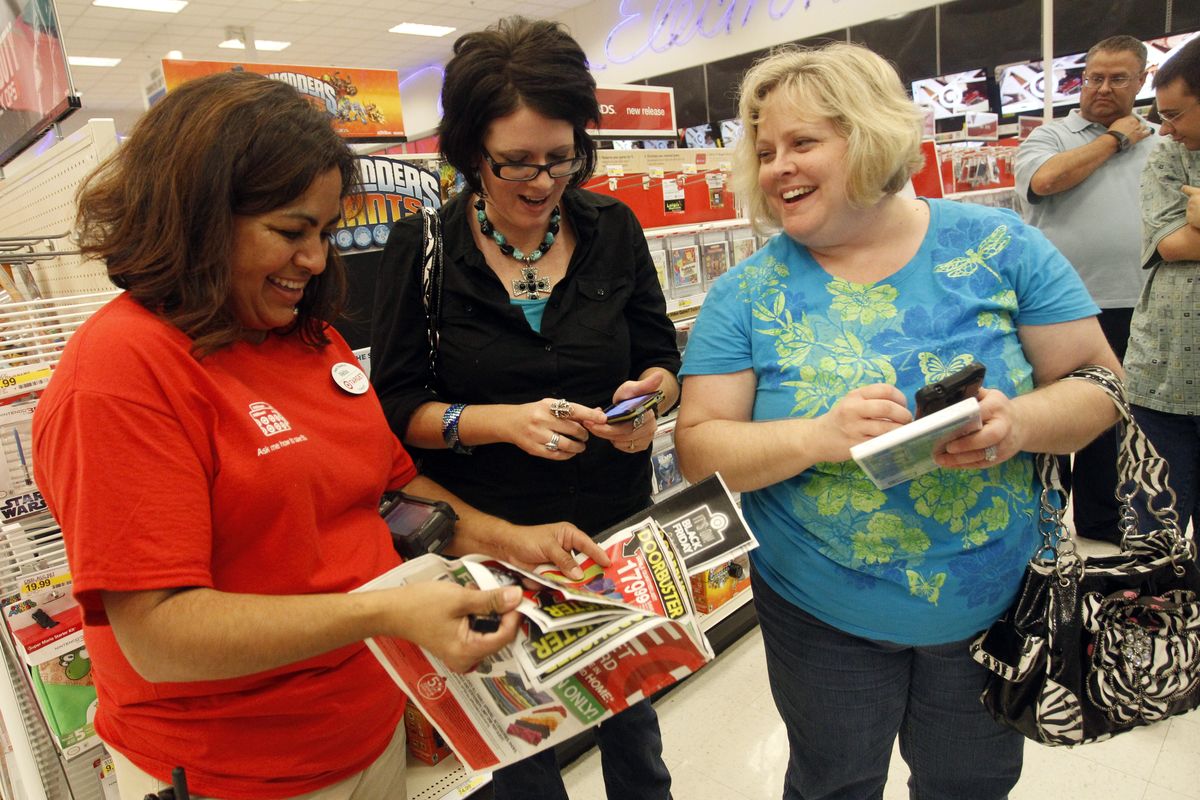 IMAGE DISTRIBUTED FOR TARGET - Target team member Melba Breidenstein assists Angela McCrary and Rebecca Freeman during Black Friday shopping on Thursday, November 22, 2012 in Hurst, Texas. (Richard W. Rodriguez/AP Images for Target) (Richard Rodriguez / Ap Images)
Black Friday got off to its earliest start ever as the nation's shoppers put down their turkey and headed straight to the malls.
Stores typically open in the wee hours of the morning on the day after Thanksgiving that's named Black Friday because it's traditionally when they turn a profit for the year. In fact, generations of shoppers have made Black Friday rituals of going to bed early after munching on turkey and pumpkin pie so that they can head out to stores early the next day.
But Black Friday openings have crept earlier and earlier over the past few years as stores have experimented with ways to compete with online rivals like Amazon.com that can offer holiday shopping deals at any time and on any day. And this year, crowds gathered across the country as stores such as Target and Toys R Us opened on Thanksgiving evening, while retailers from Macy's to Best Buy opened their doors at midnight on Black Friday.
About 11,000 shoppers were in lines wrapped around Macy's flagship store in New York City's Herald Square when it opened. Joan Riedewald, a private aide for the elderly, and her four children ages six to 18, where among them. By the time they showed up at the department store, Riedewalde had already spent about $100 at Toys R Us and planned to spend another $500 at Macy's before heading to Old Navy.
"I only shop for sales," she said.
Retailers are hoping that the earlier openings will help boost sales this holiday season. It is unclear how many shoppers took advantage of the earlier openings. But about 17 percent of shoppers said earlier this month that they planned to shop at stores that opened on Thanksgiving, according to an International Council of Shopping Centers-Goldman Sachs survey of 1,000 consumers. Overall, it's estimated that sales on Black Friday will be up 3.8 percent to $11.4 billion this year.
The earlier hours are an effort by stores to make shopping as convenient as possible for Americans, who they fear won't spend freely during the two-month holiday season in November and December because of economic uncertainty. Many shoppers are worried about high unemployment and a package of tax increases and spending cuts known as the "fiscal cliff" that will take effect in January unless Congress passes a budget deal by then. At the same time, Americans have grown more comfortable shopping on websites that offer cheap prices and the convenience of being able to buy something from smartphones, laptops and tablet computers from just about anywhere.
That's put added pressure on brick-and-mortar stores, which can make up to 40 percent of their annual revenue during the holiday shopping season, to give consumers a compelling reason to leave their homes. That's becoming more difficult: the National Retail Federation, an industry trade group, estimates that overall sales in November and December will rise 4.1 percent this year to $586.1 billion, or about flat with last year's growth. But the online part of that is expected to rise 15 percent to $68.4 billion, according to Forrester Research.
As a result, brick-and-mortar retailers have been trying everything they can to lure consumers into stores. Some stores tested the earlier hours last year, but this year more retailers opened their doors late on Thanksgiving or earlier on Black Friday. In addition to expanding their hours, many also are offering free layaways and shipping, matching the cheaper prices of online rivals and updating their mobile shopping apps with more information.
"Every retailer wants to beat everyone else," said C. Britt Beemer, chairman of America's Research Group, a research firm based in Charleston, S.C. "Shoppers love it."
Indeed, some holiday shoppers seemed to find stores' earlier hours appealing. "I ate my turkey dinner and came right here," said Rasheed Ali, a 23-year-old student in New York City who bought a 50-inch Westinghouse TV for $349 and a Singer sewing machine for $50 at a Target in New York City's East Harlem neighborhood that opened at 9 p.m. on Thanksgiving. "Then I'm going home and eating more."
Carey Maguire, 33, and her sister Caitlyn Maguire, 21, showed up at the same Target about two hours before it opened. Their goal was to buy several Nook tablet computers, which were on sale for $49. But while waiting in line they were also using their iPhone to do some online buying at rival stores.
"If you're going to spend, I want to make it worth it," said Caitlyn Maguire, a college student.
By the afternoon on Thanksgiving, there were 11 shoppers in a four-tent encampment outside a Best Buy store near Ann Arbor, Mich., that opened at midnight. The purpose of their wait? A $179 40-inch Toshiba LCD television is worth missing Thanksgiving dinner at home.
Jackie Berg, 26, of Ann Arbor, arrived first with her stepson and a friend Wednesday afternoon, seeking three of the televisions. The deal makes the TVs $240 less than their normal price, so Berg says that she'll save more than $700.
"We'll miss the actual being there with family, but we'll have the rest of the weekend for that," she said.
While some hoppers appreciated the early start to the holiday shopping season, some workers were expected to protest the expanded hours. Wal-Mart, the world's largest retailer, has been one of the biggest targets of protests against holiday hours. Many of Wal-Mart's stores are open 24 hours, but the company offered early bird specials that once were reserved for Black Friday at 8 p.m. on Thanksgiving instead.
The issue is part of a broader campaign against the company's treatment of workers that's being waged by a union-backed group called OUR Walmart, which includes former and current workers. The group is staging demonstrations and walkouts at hundreds of stores on Black Friday.
Mary Pat Tifft, a Wal-Mart employee in Kenosha, Wis., who is a member of OUR Walmart, started an online petition on signon.org that has about 34,000 signatures. "This Thanksgiving, while millions of families plan to spend quality time with their loved ones, Wal-Mart associates have been told we will be stocking shelves and preparing sales starting at 8 p.m.," she wrote on the site.
OUR Walmart said workers walked off their jobs in stores in Dallas, Miami and Kenosha, Wis., on Thursday. But a spokeswoman for the group did not immediately give numbers on how many workers participated.
For their part, retailers say they are giving shoppers what they want. Dave Tovar, a Wal-Mart spokesman, said that the discounter learned from shoppers that they want to start shopping right after Thanksgiving dinner. Then, they want to have time to go to bed before they wake up to head back out to the stores.
Still, Tovar said that Wal-Mart works to accommodate its workers' requests for different working hours. "We spent a lot of time talking to them, trying to figure out when would be the best time for our events," he said.
———
D'Innocenzio reported from New York City. Krisher reported from Ann Arbor, Mich., and Toledo, Ohio.
Local journalism is essential.
Give directly to The Spokesman-Review's Northwest Passages community forums series -- which helps to offset the costs of several reporter and editor positions at the newspaper -- by using the easy options below. Gifts processed in this system are not tax deductible, but are predominately used to help meet the local financial requirements needed to receive national matching-grant funds.
Subscribe now to get breaking news alerts in your email inbox
Get breaking news delivered to your inbox as it happens.
---