News > Features
Cosgrove, 'iCarly' set for one last dance
Thu., Nov. 22, 2012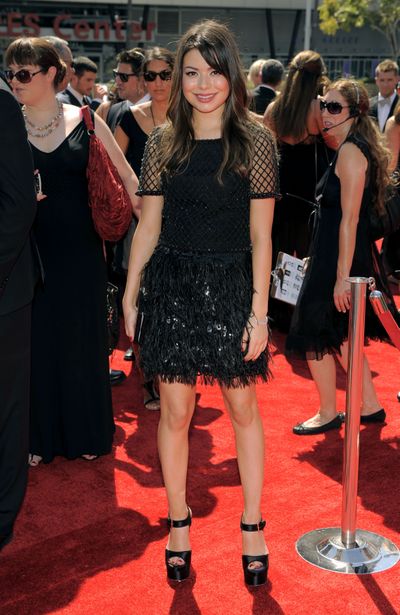 LOS ANGELES - Miranda Cosgrove, the star of Nickelodeon's "iCarly," is sitting on the floor of the show's set during a lull in production – practicing lines and adjusting the collar on her jacket. Try as she might, though, she can't ignore the inevitable.
Looking up at her character's locker that towers above her, she summons a cornball glance at costar Jennette McCurdy sitting beside her. "Think of me fondlyyyy/ when we say goodbyeeee," the twosome mirthfully croon to each other, calling up a ballad from "The Phantom of the Opera."
The charmingly goofy off-screen moment between the friends and costars mimics the shenanigans viewers have come to enjoy on the teen-centered show about three pals who produce a popular online series. But the clownish antics are in the closing stages: After five seasons, one of the network's preeminent shows is wrapping its run. On this June day, Cosgrove and McCurdy are in the thick of the show's swan song, filming the one-hour send-off, "iGoodbye," which will run Friday.
For the generation that grew up on "iCarly," this was a show that spoke its language. The half-hour comedy, from Nickelodeon sire Dan Schneider, soared to popularity in no small part because of the way it converged the television and computer screen – a radical notion in 2007. It was a well-timed concept that resonated with a young constituency mesmerized by cellphones, computers and iPods. The show was also unusual in portraying young children on their own with no parental nemeses or guardians.
By its second season, "iCarly" had overtaken Disney's "Hannah Montana," the seemingly untouchable ruler of tweens, as TV's No. 1 series among kids (ages 2 to 11) and tweens (ages 9 to 14). Its current season is averaging 3.2 million viewers, down nearly 32 percent from the previous season. It now clocks in at No. 7 among kids and No. 3 among tweens, with Disney stalwart "Good Luck Charlie" taking up the crown.
"It's weird to think of it as being a pioneer, in some ways, because technology becomes so ubiquitous and we adapt so quickly to new tools," said Shelley Pasnik, director of New York-based Center for Children and Technology. "But when you look back to when it first began, it was a time when young people were still getting accustomed to the personal broadcasting via YouTube, Tumblr … it rode that wave. But it didn't lose its resonance with the everyday concerns, anxieties and aspirations of young people."
The "iCarly" fictional Web show-within-the-show was often as spontaneous as what actual teenagers are generating on the Internet. There was Carly and her friend Sam's famous outbursts of random dancing or that time they made spaghetti tacos, inciting an army of kids to demand a new entree.
When the friends are not holed up in Carly's attic producing the show, they're at school dealing with the travails of youth: annoying teachers, dances, love triangles, etc.
The entertainment carried over to "iCarly's" website, supplying media-hungry tweens with online videos, quizzes and blog posts between episodes (now de rigueur for almost all TV shows).
"It wasn't just something that you watched through the TV," Cosgrove said. "You could also communicate back to the 'iCarly' world. I think that was something that was very new to kids and that appealed to them."
The 19-year-old, who got an early start starring as a 10-year-old band manager in 2003's Jack Black comedy "School of Rock," is more soft-spoken and docile than her fictional persona. Like many a child star, she has parlayed her "iCarly" stardom into a singing career – albeit a more subdued one than her peers Miley Cyrus, Selena Gomez and Demi Lovato.
Cosgrove, at the time of the interview, was just a couple of months away from starting her first semester at University of Southern California to study theater.
"In the episode, we're all moving on," a soft-spoken Cosgrove said. "It's sad because it's kind of the same as how it is in real life. We all kind of grew up and had our childhoods on set, and now it's time to leave it behind."
Local journalism is essential.
Give directly to The Spokesman-Review's Northwest Passages community forums series -- which helps to offset the costs of several reporter and editor positions at the newspaper -- by using the easy options below. Gifts processed in this system are not tax deductible, but are predominately used to help meet the local financial requirements needed to receive national matching-grant funds.
Subscribe now to get breaking news alerts in your email inbox
Get breaking news delivered to your inbox as it happens.
---