News > Washington Voices
Traffic school uses videos, games and humor to teach
Thu., Nov. 22, 2012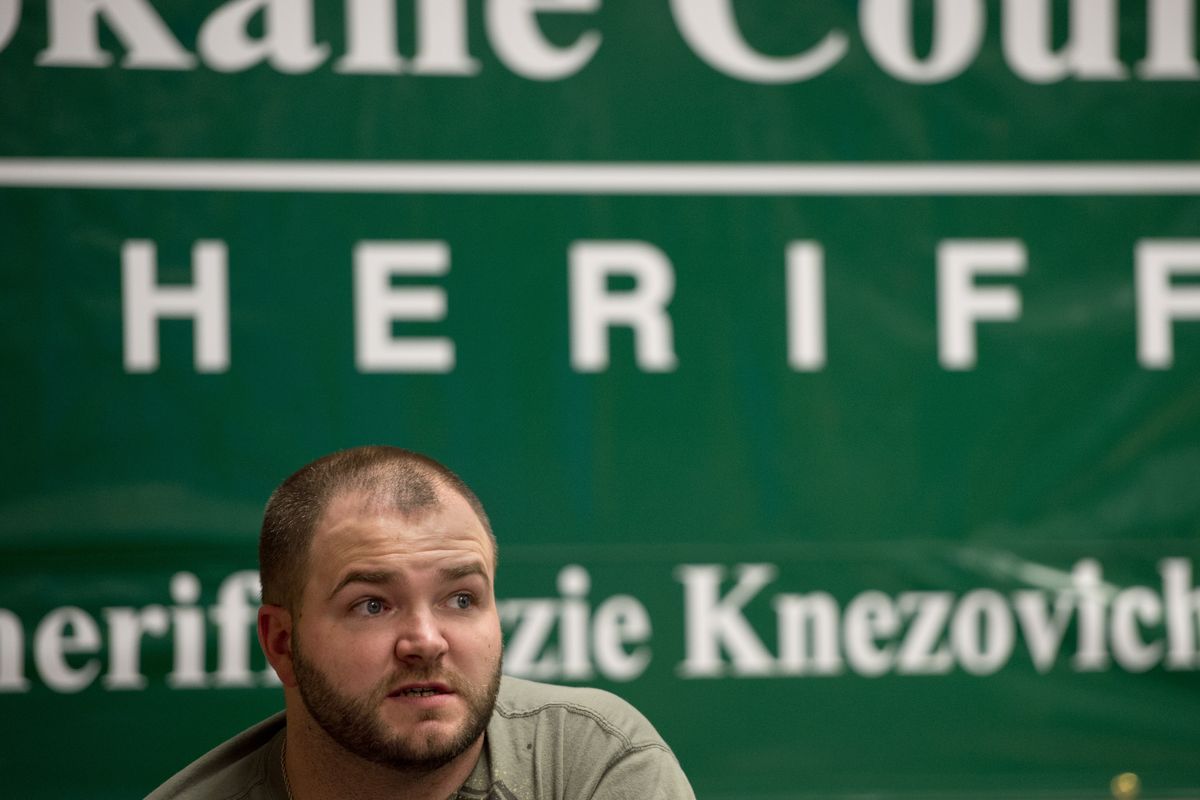 Taylor Pulliam attends the Spokane County Sheriff's Office Driver's Safety and Education Class on Nov. 17. He received a speeding ticket for going 42 mph in a 35 mph zone. (Dan Pelle)
Most people would expect traffic school to be boring. But the Spokane County Sheriff's Office has learned that with the right mix of videos, pictures, games and a dash of comedy it can be a fun learning experience.
Drivers caught breaking traffic laws who are given a ticket by Spokane County sheriff's deputies or Liberty Lake police officers have the option of taking a six-hour traffic school in exchange for having the ticket removed from their record. During a recent Saturday session, nearly 40 attendees appeared fully engaged rather than fighting boredom, speaking up to answer questions and laughing when one of the deputies teaching the class cracked a joke.
Deputy Rick Johnson, for example, showed a video of cars approaching a four-way stop in Spokane Valley. He asked which of the drivers in the video the students would stop if they were the deputy. Several drivers in the video paused briefly but didn't fully stop before going through the intersection, while the final driver didn't slow down at all.
"Would you guys stop just about everybody, if you were in our shoes?" Johnson asked.
Several people agreed that they would, but Johnson said he usually focuses on the worst of the worst. "That last one is the only one I would go after," he said. He recommended that people come to a full stop before looking left and right for oncoming traffic as a way to ensure that they don't just roll through a stop sign.
The class offers a refresher on the rules of the road, tips about defensive driving and information on the consequences of speeding and the dangers of texting. Deputy Craig Chamberlin, who is also one of the Sheriff's Office public information officers, talked about when drivers can make left or right turns on red.
Several people in the class seemed surprised to find out that it's illegal to cross half of a multi-lane road and then linger in the center turn lane before merging into traffic. "This one we violate every day," Chamberlin said.
Generally if people get into the center turn lane and then stop with their turn signal on they won't get a ticket, Chamberlin said. But if someone were to start driving down the center turn lane it would be dangerous, he said. "That will get you a ticket."
Near the end of the class the participants played a "Jeopardy"-style game to review what was discussed during the class, with prizes. "You're supposed to answer in a question," Chamberlin reminded one man after he gave his answer.
"I was supposed to stop for the stop sign, too," the man replied.
Taylor Pulliam signed up for the class after he got a ticket for going 42 mph on Appleway Boulevard. The $124 traffic school was cheaper than the $145 ticket, plus he will save more money in the long run, Pulliam said. "It keeps it off my insurance," he said.
Pulliam said he expected a long, boring day spent in class. "It was actually a lot more informative than I thought it would be," he said. "It was actually pretty entertaining."
Pulliam said he hasn't had a lot of contact with deputies in Spokane Valley and came out of the class with an improved opinion about them. Even the deputy who wrote him the ticket was nice, he said. "After coming in here and dealing with these guys, sure I have a better feeling about them," he said.
Having the deputies tell jokes during the class is deliberate, said Chamberlin. "We try to have fun with them," he said. "We know people aren't excited about coming to traffic school. We're able to put a personal touch on it. We don't want to do 'death by PowerPoint.'"
At the end of each class the participants are asked to fill out anonymous surveys that are seen by the class instructors, their supervisors, Spokane Valley police Chief Rick Van Leuven and Sheriff Ozzie Knezovich. The surveys fill dozens of thick binders and most of the responses are positive. Complaints seem to focus on difficulties finding the class location on the back side of the old University City Mall and the length of the class, said Deputy Mark Gregory, who oversees the program. "Usually we don't get a lot of negative comments," he said.
One evaluation read simply, "Great job. Time went fast. Thanks for the candy." Another read, "Engaging class. Well worth my time. Wish I could have brought my teenage daughter." Another participant wrote, "I'm surprised that I actually learned and enjoyed this class. I won't be back again – promise!"
There are limits to the program. People can only take the class once every 18 months. Certain tickets don't qualify, including speeding in school or construction zones, negligent driving or juvenile license restriction violations. It isn't available to people who hold commercial driver's licenses. Traffic school can't be used if a driver gets more than one ticket at once unless the second ticket is for not having liability insurance.
Since the program began in 2008, more than 11,300 people have signed up to take the weekend or evening classes. Spokane Valley and Liberty Lake both joined the program this year. No taxpayer money is used to run the traffic school, which is taught by deputies. "This class is completely self-funded," Gregory said.
If there is any money left over after running the program, the Sheriff's Office can use it to provide continuing education classes for deputies. "We haven't used very much of it for training yet," Gregory said. "There really isn't a lot left over. It's not a revenue type thing for us."
Local journalism is essential.
Give directly to The Spokesman-Review's Northwest Passages community forums series -- which helps to offset the costs of several reporter and editor positions at the newspaper -- by using the easy options below. Gifts processed in this system are not tax deductible, but are predominately used to help meet the local financial requirements needed to receive national matching-grant funds.
Subscribe now to get breaking news alerts in your email inbox
Get breaking news delivered to your inbox as it happens.
---