Sports > Outdoors
Landers: Private land hunting can be special
Thu., Nov. 22, 2012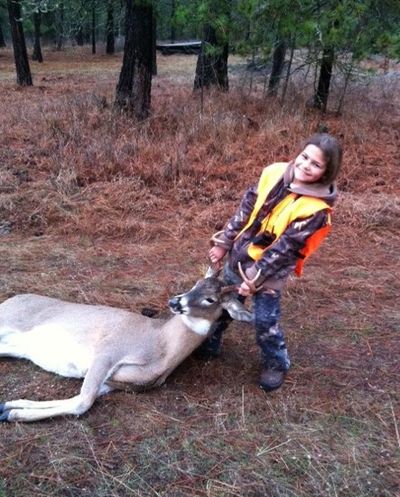 More people would hunt if they knew they had a place.
I understand this limitation, having lost access to fabulous hunting over the years as farms changed hands.
I am humbled by landowners who extend their generosity to hunters. I pay them back mostly looking out for their stock and fences, leaving my vehicle on the roads and walking to my hunt. I avoid being a game hog, pass up shots that might pose a threat or nuisance to property or people and leave the places in better condition than when I arrived.
And I always thank them, sometimes in creative ways, because I'm truly thankful.
The Inland Northwest has a wealth of public land open to hunting. Public access is what distinguishes the American West from most other places in the world. Hunters should guard it with a passion.
But there's nothing quite like telephoning a farmer friend, listening to his field report and getting permission to plan a hunt knowing you'll be the only party designated to enjoy that experience on that day.
This privilege is within reach of any respectable sportsman, but you must be able to handle being turned down far more times than you'll be accepted.
The process is daunting, but the potential is priceless.
Ask Mark Puzon, who drove from Western Washington to Stevens County last weekend unprepared but determined to give his daughter a shot at bagging her first deer.
Puzon and 10-year-old Natasha had left Enumclaw on Friday evening and were awakened in their pickup camper the next morning by Washington Fish and Wildlife biologist Dana Base and volunteers as they set up a hunter check station at the weigh station near Deer Park.
"They had driven all night and were so dog tired that they pulled over to rest," Base said.
  When Puzon asked for tips on where to hunt, he was referred to station volunteer Greg Koehn, who lives in the area. He's also the 2012 recipient of Washington's highest award honoring hunter education instructors.
Koehn sized up the situation. Natasha was a recent hunter education graduate out for her first deer on the last weekend of the late season. They were planning to hunt Deer Area 1050, where youth hunters could harvest any deer.
He could have directed them to state lands, timber company lands or national forest. But Koehn saw the potential in referring them to an area dominated by private land.
He warns his students to be prepared because most farmers or ranchers have had a bad experience with trespassers, poachers or slob hunters at one time or another. He told the Puzons it wasn't a sure bet, but a respectful father-daughter team had a decent chance of getting permission.
With that encouragement, dad and daughter went knocking on doors. Some landowners were not home. Indeed, a few turned them away.
"Mark just kept asking until one kind-hearted landowner finally said OK," Koehn said. "They got permission to hunt for the day, if not successful, a place on his property to park their camper for the evening and continue to hunt Sunday."
About 30 hours later, Koehn met the Puzons again while working the Chattaroy check station.
"Mark said they had seen five or six does Saturday evening running across a field, but had no safe shot or one-shot kill opportunity, so they passed," Koehn said, obviously pleased with their grasp of ethics preached to hunter ed students.
By this point, Koehn was telling me this story with the pride one might reserve for describing his own granddaughter's first hunt.
"Sunday morning, they spooked several does as they were walking in. They found a place to sit where the does came out the evening before. As soon as they got set up, out stepped this 3-by-4 buck. One shot at 35 yards – done deal!"
Koehn was equally eager to report the Puzons went back to thank the landowner and ask how they could show their appreciation.
"The landowner chuckled and said he was fond of Bud Light," Koehn said. "So into town they went, bought a case, returned and thanked him again."
Mark and Natasha jumped out of their pickup and were smiling ear-to-ear when they came to the check station Sunday before making the long drive back over the Cascades.
"I got the whole story," Koehn said. "Natasha gutted the buck, with Dad's help. They skinned and game-bagged it together. Not one hair on the totally skinned buck."
Koehn is betting Natasha and her dad won't forget that hunt.
Natasha could be hooked as a deer hunter-conservationist who'll respect private property and help others when needed, he said – all because a parent, a sportsman and a landowner partnered to give her the privilege.
Contact Rich Landers at (509) 459-5508 or email richl@spokesman.com.
Local journalism is essential.
Give directly to The Spokesman-Review's Northwest Passages community forums series -- which helps to offset the costs of several reporter and editor positions at the newspaper -- by using the easy options below. Gifts processed in this system are not tax deductible, but are predominately used to help meet the local financial requirements needed to receive national matching-grant funds.
Subscribe to the sports newsletter
Get the day's top sports headlines and breaking news delivered to your inbox by subscribing here.
---