News > Obituaries
Obituary: Litzenberger, Onabell
Age 91
Thu., Nov. 22, 2012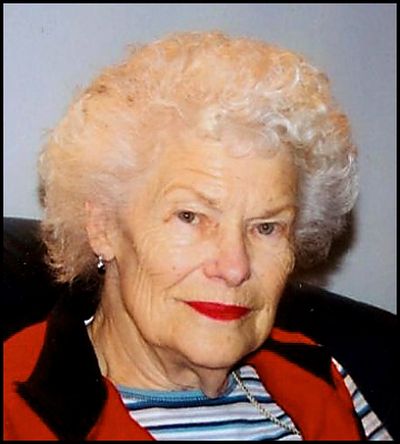 LITZENBERGER, Onabell Onabell Litzenberger of Spokane, Washington died peacefully on Monday, November 19, 2012, at Hospice House of Spokane, surrounded by family.
She was 91.
Born in Pushmataha County, Oklahoma on November 7, 1921 to Clarence and Ida Stiner, she led a long and adventurous life.
As a child, Onabell traveled by covered wagon from Oklahoma to Montana.
She spent most of her life in Washington and Idaho, but also lived for a time in Oregon and California.
She married and outlived three husbands, Warren Cook, Jasper Peterson and Aldine Litzenberger.
After retiring from her job as a housekeeper at Sacred Heart Hospital in 1981, she spent her later years helping raise her grandchildren, camping on the St. Joe River and picking huckleberries in the mountains.
She loved large family gatherings and her many travels to visit relatives.
She was regularly the life of the party and was often the last one to bed as the campfire burned down or after a night out with the girls.
She will be remembered for her incredible stories, mischievously beautiful smile and boundless capacity to love.
The grand matriarch of a large and loving family, she is survived by her nine children and their spouses; Sharon Eilers, Richard and Karen Cook, Barbara and David Smith, Ronda and John Deakins, Ronnie McMullin, Debra and Scott August, Gordon and Jill Litzenberger, Gary Litzenberger and Don Litzenberger; and 30 grandchildren, 71 great-grandchildren and 21 great-great-grandchildren.
Onabell was preceded in death by her five brothers and sisters, Lewis Stiner, Ethel McCaw, Fred Stiner, Troy Stiner and Rosalie Culp.
Her family would like to extend their deepest gratitude to all of the caregivers at St. Joseph Care Center, Holy Family Hospital and Hospice of Spokane who served Onabell in her final days.
A funeral service will be held at 1:00 P.M. on Thursday, November 29, 2012 at the Yates Funeral Home, Coeur d'Alene Chapel.
A celebration of life and potluck lunch will follow at Trinity Lutheran Church adjacent the funeral home.
Public viewing will be available on the day of the service.
Final placement will be at Forrest Cemetery, Coeur d'Alene, ID.
Yates Funeral Home, Coeur d'Alene chapel is entrusted with the care of arrangements.
Please visit Onabell's memorial and sign her online guestbook at www.yatesfuneralhomes.com YATES FUNERAL HOME, Coeur d'Alene, ID
Local journalism is essential.
Give directly to The Spokesman-Review's Northwest Passages community forums series -- which helps to offset the costs of several reporter and editor positions at the newspaper -- by using the easy options below. Gifts processed in this system are not tax deductible, but are predominately used to help meet the local financial requirements needed to receive national matching-grant funds.
Subscribe now to get breaking news alerts in your email inbox
Get breaking news delivered to your inbox as it happens.
---