News > Washington Voices
Salvation Army seeks help filling wishes
Donors may participate in Adopt a Family, Christmas Angel programs
Thu., Nov. 22, 2012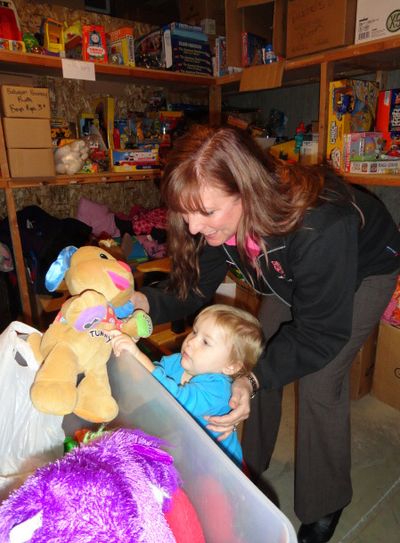 Christmas is going to be here soon, and at the Salvation Army that means fast-approaching deadlines for two programs that provide gifts for children living in Salvation Army housing and families who are transitioning into independent living.
The Adopt a Family program helps an entire family. The donor receives a wish list from the family, complete with ages of children and parents, and provides nonperishable food items for a Christmas dinner.
"Businesses and church groups traditionally love the Adopt a Family program," said Sheila Geraghty, business administrator for the Salvation Army. There are already 20 families on the list for Adopt a Family and Geraghty said the need is greater this year than last.
"The phones started ringing before we put anything out about the program," Geraghty said.
Family wishes run from slippers to a slow cooker and from aftershave for dad to Lego sets for the kids.
Grocery store gift cards for last-minute perishable items are very popular.
"If we get cash donations, we can buy those grocery cards," said Geraghty.
The Christmas Angel program provides gifts for children of the nearly 50 families living in Salvation Army housing.
"I always get an overabundance of toddler toys like dolls, Lego and Transformers, people just love buying that and that's great," said Geraghty, "but I also have teenagers, so I encourage people to buy gifts that a 12-year-old or an 18-year-old would like." Sweatshirts and hoodies, skinny jeans, sports gear and costume jewelry are high on the wish lists. So are personal hygiene items like lotion, body sprays, hair products and soaps.
"Last year we were able to purchase a couple of cases of Axe so every teenage boy got a spray or body wash," said Geraghty. "What was left over we gave to the dads."
Last year, 55 families including 121 children received gift bags from the Christmas Angel program and Safeway donated a gift basket to each family. The Adopt a Family program served 60 families including 90 children who otherwise wouldn't have had much for Christmas.
This year's goal is to serve 150 families.
Geraghty said volunteers are needed to wrap, sort and pack items eight hours a day, every day the week before Christmas.
"Last year I tried doing all of it myself," said Geraghty. "I will appreciate every little bit of help I can get this year."
Local journalism is essential.
Give directly to The Spokesman-Review's Northwest Passages community forums series -- which helps to offset the costs of several reporter and editor positions at the newspaper -- by using the easy options below. Gifts processed in this system are not tax deductible, but are predominately used to help meet the local financial requirements needed to receive national matching-grant funds.
Subscribe now to get breaking news alerts in your email inbox
Get breaking news delivered to your inbox as it happens.
---