News > Nation/World
Ethics panel investigating New York Republican
Mon., Nov. 26, 2012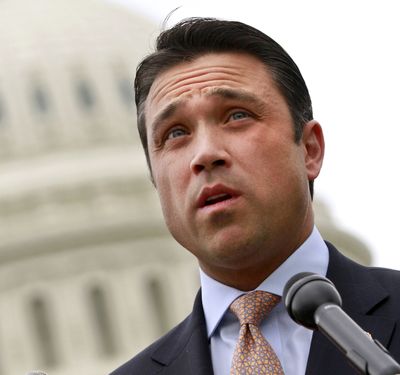 WASHINGTON (AP) — The House Ethics Committee announced Monday that Rep. Michael Grimm, a former FBI agent, is under investigation for possible campaign finance violations, but said it is deferring the inquiry because of a separate Justice Department probe.
The New York Republican may have violated campaign finance laws by soliciting and accepting prohibited contributions, actions that may have caused false information to be included in campaign finance reports, the committee said.
One focus of the investigation is whether the congressman improperly sought assistance from a foreign national, by soliciting contributions in exchange for offering to use his official position to assist the person in obtaining a green card, according to a committee statement.
William McGinley, Grimm's lawyer, said, "Today's announcement by the House Ethics Committee comes as no surprise. We appreciate the committee's decision to defer consideration of this matter while we continue to work with the Department of Justice to favorably resolve the false allegations against Congressman Grimm.
"Any fair and objective review of all of the facts in this matter will conclude that Congressman Grimm engaged in no wrongdoing. We are confident that the Department of Justice and the Ethics Committee will reach that result."
The independent House Office of Congressional Ethics had recommended dismissal of the case because it could not establish with sufficient certainty that a violation occurred after Grimm became a congressman.
However, ethics committee Chairman Jo Bonner, R-Ala., and ranking Democrat Linda Sanchez of California said the panel previously has investigated conduct that occurred during an initial campaign for the House. The Office of Congressional Ethics is run by a board that does not include members of Congress, but can only make recommendations to the ethics committee — which has five members from each party.
"Based on this precedent, notwithstanding OCE's view…the committee unanimously voted to continue to assert jurisdiction over matters relating to a successful campaign for election to the House of Representatives," the Bonner-Sanchez statement said.
The committee said the Justice Department sought the delay in the House effort — as it often does — when conducting a parallel investigation. Following precedent, the ethics panel voted to place its investigation on hold.
Grimm, whose district covers Brooklyn and Staten Island, was first elected in 2010 with 51 percent of the vote. He was re-elected this year with 53 percent.
It has been previously reported that the FBI was probing money donated to Grimm's 2010 campaign by followers of an Israeli rabbi. Agents last summer arrested an Israeli businessman with links to the adult entertainment industry who had helped Grimm raise hundreds of thousands of dollars from the rabbi's followers in New York.
Some donors have said they broke campaign finance law by donating more money than allowed, or by funneling donations from foreigners who aren't legally allowed to give to U.S. candidates.
Grimm repeatedly has denied knowledge of any improper donations or any other illegal activity.
Local journalism is essential.
Give directly to The Spokesman-Review's Northwest Passages community forums series -- which helps to offset the costs of several reporter and editor positions at the newspaper -- by using the easy options below. Gifts processed in this system are not tax deductible, but are predominately used to help meet the local financial requirements needed to receive national matching-grant funds.
Subscribe now to get breaking news alerts in your email inbox
Get breaking news delivered to your inbox as it happens.
---